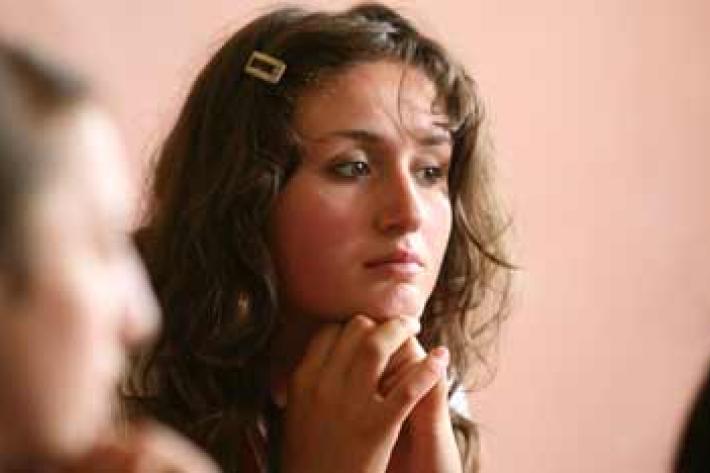 A coalition of agencies working to protect women from violence are pushing for Member States to reach agreement on key positions at the United Nations Committee on the Status of Women (CSW) meetings in New York this week. The priority theme this year is the elimination and prevention of all forms of violence against women and girls. IPPF and others are working behind the scenes to ensure that women's rights are given the priority they need.
Violence affects 1 in 3 women globally and is one of the most widespread abuses of human rights worldwide. In Colombia a woman is killed by a current or former partner every 6 days. In Somalia, 98% of women have undergone female genital mutilation. In Amhara, Ethiopia, 50% of girls are married by the time they are 15 years old.
IPPF is working with Oxfam, ActionAid UK, Womankind, Gender and Development Network and the Orchid Project to support Member State delegations and UN missions attending CSW meetings through training, briefings and letters to Governments. The coalition has been working to raise awareness of violence against women and the importance of agreeing key international standards to keep them safe.
Representatives of Member States will attend CSW between 4 -15 March to evaluate progress, set global standards and formulate concrete policies to promote gender equality and women's empowerment worldwide. In 2012, conservative and anti-choice movements were very active in restricting and limiting women's rights, they lobbied the discussions and as a result no formal "agreed conclusions" were made.
IPPF Director General, Tewodros  Melesse said:
"We need our governments to work together and agree to tackle the root causes of violence. This is central to reducing the cycle of discrimination that leads to abuse. Stronger and universally agreed protections for women will boost their empowerment, improve their health, and help them to participate politically, educationally, socially and economically. When women are protected, they will live for longer, make informed choices because they know their rights and take control of their own lives.
"There is no time to lose focus or to falter. We can't afford any more trade-offs or compromises. We are hopeful, that with our support and by being better informed, Member States will not sit on the side-lines. Instead, they will be stronger and more confident than ever before."
Melanie Ward, ActionAid UK Head of Advocacy said:
"It is unacceptable that in 2013, the world still has difficulty reaching a consensus to defend women and girls from the violence that for millions is a daily reality. Gender-based violence is not only a fundamental violation of women's rights, it is also a serious barrier to global development, sapping the resources of individual women and whole communities. Even conservative estimates put the global cost of violence against women and girls in the billions of dollars.
"This years' CSW is a chance for states to come together and commit themselves to building a safer and more prosperous world. Women across the world but particularly, the poorest and most marginalised women, are depending on them. "
Note to editors:
The Commission on the Status of Women was established in 1946 to promote women's rights in political, economic, social and educational fields. This mandate was expanded in 1987 to include the functions of promoting equality, development and peace, and monitoring the advancement of women at national, regional and global levels. It is the principal global policy-making body dedicated exclusively to gender equality and advancement of women. 
ActionAid is an international anti-poverty agency working in over 40 countries, taking sides with poor people to end poverty and injustice together.
Orchid Project is a UK-based NGO with a vision of a world free from female genital cutting. It partners with organisations that deliver a sustainable, proven end to FGC. Orchid Project communicates these successes and builds awareness about why, how and where female genital cutting happens, and what can be done to end it.