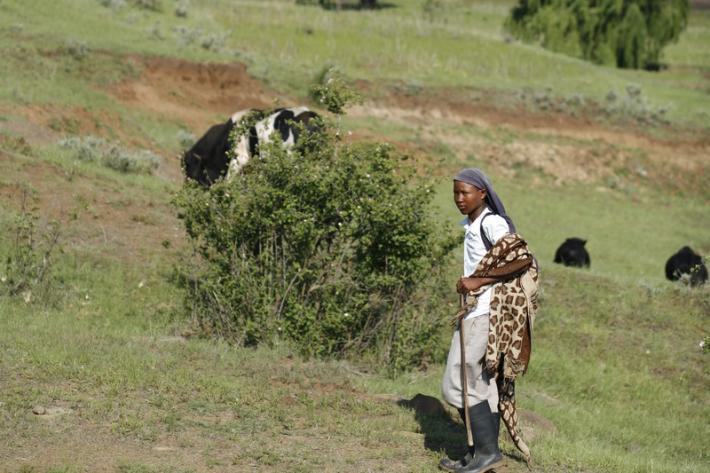 In the lead up to October's International Day of Rural Women and to celebrate World Contraception day, IPPF reached out to over 200 rural women on 26 September.
IPPF's member Association in Kenya, Family Health Options Kenya (FHOK), held a sexual and reproductive health day in Githuruini Village in Kenya.
According to Dr Richard Muraga of FHOK, the village is located about 300 kilometres from the Kenyan capital Nairobi, with limited access to SSRH services.
"The focus of this outreach was to provide access. FHOK is bringing services to the community," he said.
Accessing services is the main issue facing rural women.  The nearest FHOK clinic is about 32 kilometres from the village in Meru Town.
"To access these services a woman would need $4 for the bus, which many cannot afford," Dr Muraga added.
Kagendo Sebastian came to seek post-natal services and information at the outreach clinic. Now 24 years old, she is more empowered now than she was during her first pregnancy at 14.
"I was young and very immature. I was so naïve I didn't even know I was pregnant. But this time I made a well-informed decision and I knew the right time to get pregnant."
The women also received health education where FHOK service providers talked to the women about family planning and maternal health. 
More than 200 million women in developing countries who don't want to get pregnant lack access to contraceptives, information, and services. Without access to contraceptives, the world's poorest women and men are not empowered to decide if and when to have a child.
According to the Kenya Demographic and Health Survey (2008/9) 25% of married women are not using any form of contraception.
A beneficiary of IPPF's family planning services, Ms Kagendo had this to say.
"It is always good to first go see a doctor, get checked and know what family planning best suits you, other than going to a chemist and just buying any pills without any consultation, without check up." 
FHOK also provided family planning services, HIV and AIDS counselling as well as sexually transmitted infections testing and treatment and cervical cancer screening.