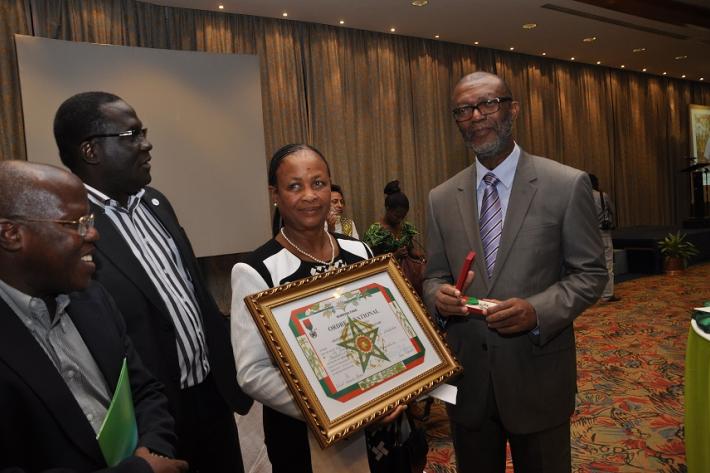 The International Planned Parenthood Federation (IPPF) has been awarded Burkina Faso's Legion of Honour partly for the work done by the organization's member association in the country, ABBEF (L'Association Burkinabè pour le Bien-Être Familial) but also for IPPF's contribution globally in 170 countries.
At the ceremony, attended by by IPPF Africa Region President, Mr Kweku Brenu and the Regional Director Lucien Kouakou, IPPF President Naomi Seboni was presented with 'la Médaille de Chevalier de l'Ordre National à Titre Exceptionnel' by Burkina Faso's Minister of Health, Mr Léné Sebgo in a ceremony in Ouagadougou.
Normally the award is given to individuals, very rarely to organizations and for a global federation like IPPF to receive it is unprecedented. ABBEF works with the country's government to carry out a large-scale civil society capacity building programme to support Sexual and Reproductive Health and Rights (SRHR).
During the award ceremony Mr Sebgo paid tribute to ABBEF for supporting Burkina Faso's work towards attaining its health targets.
IPPF Director General Tewodros Melesse said: "This is a great honour for IPPF and a tribute to the work done by our Member Association, ABBEF, in their efforts to build civil society capacity in Burkina Faso.
"This cements the partnership between IPPF and the government of Burkina Faso.
"The prestigious award is recognition from the government of the contribution of volunteers and staff from our federation who work for the advancement of sexual and reproductive rights in more than 170 countries in the world.
"It is their efforts, their energy and commitment that ensure vital improvements in the lives of individuals and communities in which we work."
At the award ceremony Mr Sebgo said: "I'm giving you this award on behalf of the Head of State, His Excellency Mr Blaise Compaoré who is well aware of the useful work IPPF does in this continent. We appreciate that this organization, through ABBEF, cooperates with the ministry of health of Burkina Faso in its quest of meeting our national health targets."
The IPPF Global President shared the award with the members of the IPPF Governing Council during their May 2014 meeting in London, UK.