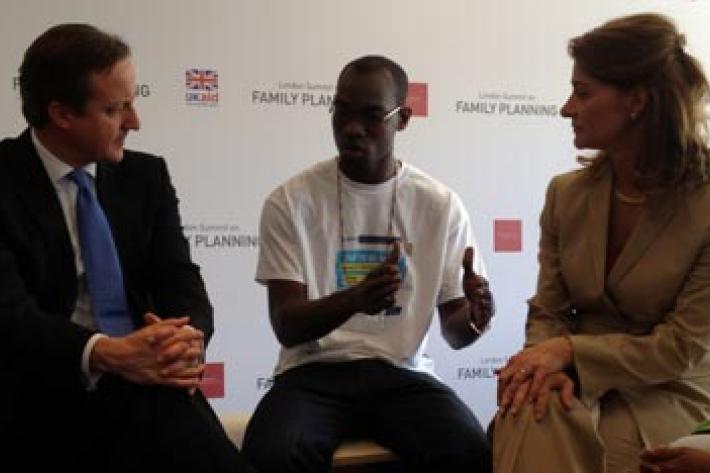 The London Summit on Family Planning, organised by DFID and the Bill and Melinda Gates Foundation, drew together government ministers, top civil society leaders, and pharmaceutical industry representatives.
Held on World Population Day, the mission was to secure at least $2.3bn dollars towards meeting the unmet need for contraception of 120 million women worldwide by 2020. 
IPPF made an unprecedented commitment to treble the number of women's and girls' lives saved each year by 2020. By 2020 we will have saved the lives of 54,000 women and girls, averted 46 million unintended pregnancies and prevented 12.4 million unsafe abortions. Additionally we have promised to expand its existing network of 64,000 clinics and community-based outlets to ensure it meets the needs of the poor and vulnerable. The federation will also triple its services to young people by 2020, and make commodities more affordable.
On a more personal level, two young people from IPPF Member Associations (Kokou form Togo and Syefa from Bangladesh) talked with Prime Minister David Cameron and Melinda Gates and told them of their direct, personal experiences, and the kinds of challenges that they feel lie ahead.
IPPF also hosted two major side events on 'youth challenges' and 'holding the Summit to account'. The strength of debate at these events demonstrated both the vigour of individuals' and organisations' commitment, and the complexity of the issues that the movement needs to address.
IPPF was instrumental at the Summit in bringing together global civil society to express, with one united voice, its commitment to the summit's ambition. That was shaped in the form of a unanimous Declaration, signed by 1,292 civil society organisations from around the world.
By the end of the day, the conference announced that the target had been met.