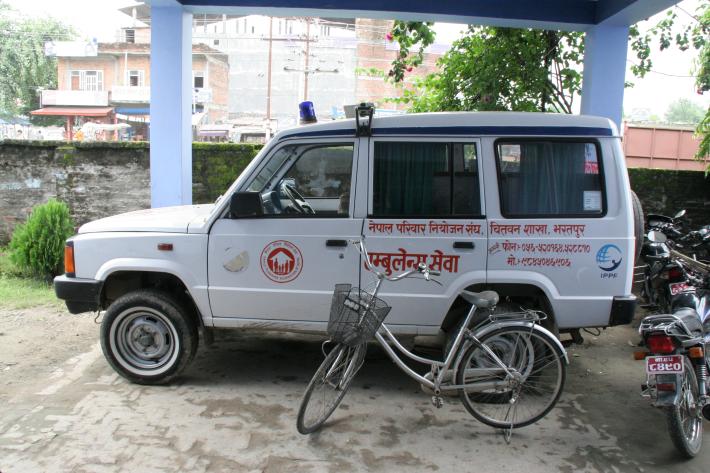 International Planned Parenthood Federation (IPPF), world's leading provider of Sexual and Reproductive Health (SRH) services is providing; pregnant women and lactating mothers; critical sexual and reproductive health services (SRH) along with general health services in Nepalin the wake of the devastating earthquake on Saturday. IPPF has been working in Nepal through its Member Association, Family Planning Association of Nepal (FPAN) since 1958.
IPPF is responding to the humanitarian crisis along with the Department of Foreign Affairs and Trade (DFAT) of the Australian Government which supports its emergency response project, SPRINT.  Seeing the widespread scale of devastation, IPPF through its South Asia Regional Office immediately pledged USD 50,000 to initiate the relief work in Nepal. In addition, it mobilised a matching support of USD 50,000 from DFAT, Government of Australia, under the SPRINT project.
In the aftermath of the earthquake, where at least 3,500 people are feared dead the need for crucial life saving medical care including sexual and reproductive health and services is being acutely felt. While other aid agencies provide basic services of food, water and shelter, specialised needs of pregnant women and lactating mothers, provision for safe delivery, protecting girls from unintended pregnancies is often not the priority. More than a third of maternal deaths worldwide occur in crisis settings due to lack of access to basic emergency-obstetric services and availability of skilled service providers. This leads to high maternal and newborn morbidity and mortality which is fully preventable and treatable.
Sexual and Gender based violence is a grim reality, as is the transmission of Sexually Transmitted Infections (STIs), including HIV. Thus, in a crisis, vulnerability of populations; especially pregnant women, and girls, drastically increases.
IPPF and DFAT through SPRINT will supportFPANto provide SRH and general healthcare services in the affected areas through its existing clinics.  IPPF is sending a five member team to re-establish the services. The clinics will provide health check-ups, ante natal care to pregnant women and post natal care for lactating mothers besides comprehensive sexual and reproductive health care including family planning and STI treatment to girls, women and men. A comprehensive referral system will also be set up. The plan is to reach out to over 18,000 people with these critical health services. The aid amounting to USD 100,000 will be provided over a five month period starting from May.
"FPAN has a strong presence across the country with 11,000 volunteers and 480 staff members across 28 clinics, which have been mobilised for the response. FPAN is a close aide of the Nepal Government and is a member of the various committees on health such as Reproductive Health Coordination Committee of the Department of Health Services and those chaired by the Family Health Division. We want to ensure that the vulnerable adults such as pregnant women are not left behind. There is holistic aid and relief work which ensures their unique health needs are met and their sexual and reproductive health and rights are secured," said Anjali Sen, Regional Director, IPPF, South Asia Region.
"SPRINT's life-saving SRH services will also include the provision of emergency obstetric and newborn care services and referrals, reproductive health medical mission in camps, delivery of dignity kits, family planning services, community awareness and the provision of syndromic treatment for sexually transmitted infections," said Paul Gimson, Director, The SPRINT Initiative.
SPRINT is implementing the Minimum Initial Service Package (MISP) for reproductive health in Nepal, to minimise negative health outcomes and ensure that the most marginalised and deprived communities are provided with basic SRH services during the emergency response.