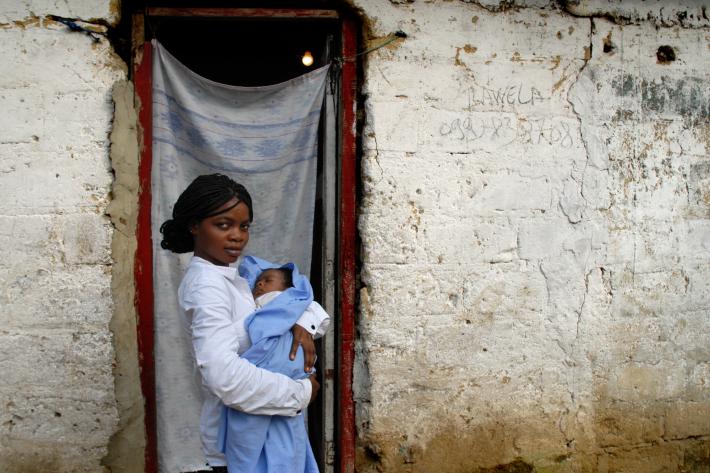 KINSHASA, Democratic Republic of Congo (DRC) — The International Planned Parenthood Federation (IPPF) and the DRC's Ministry of Health have struck a deal to work more closely together to help drive down the country's high maternal mortality rates and tackle the effects of sexual violence.
The agreement came during a three-day visit by the Special Representative of the UN Secretary-General on Sexual Violence in Conflict, Zainab Hawa Bangura, UNFPA Executive Director, Dr. Babatunde Osotimehin and IPPF Director General, Tewodros Melesse, to the Democratic Republic of Congo (DRC). They were accompanied by the IPPF Africa Region Director, Lucien Kouakou.
Between 6 and 8 October Mr Melesse held high-level visits with officials from the ministries of Public Health, Planning and Gender and Family, where he reiterated IPPF's commitment to support their efforts to improve access to family planning - an essential component of reducing maternal mortality in the DRC.
Public Health Minister Mr. Felix Numbi pledged his support to make IPPF's affiliate in DRC - Association pour le Bien-Etre Familial-Naissances Désirables (ABEF-ND) - a National Association of Public Utility and to provide it with the necessary infrastructure to allow it to expand its services.
The DRC's Ministry of Health also agreed to make IPPF a strategic partner and one of its implementing agencies to support CSOs, the private and the public sector in SRH education and service delivery.
The delegation visited Marechal Health Centre - an outreach clinic in Kigansani - where ABEF-ND has registered 360 new family planning users. More than 1,000 adolescents and young people in schools also received information on different Sexual and Reproductive Health and Rights topics.
During the visit, Mr Melesse also took part in a panel discussion during the official launch of a new UNFPA and Ministry of Gender and Family report on the scale of violence in DRC between 2011 and 2012. The findings from this report, he said, would guide IPPF's interventions in sexual and gender based violence in the DRC. "The establishment of a legal framework is very important," said Mr. Melesse, "but the community response focusing on behavior change also has its place in the process of the elimination of sexual violence."
The visit also took stock of the progress of an IPPF/UNFPA partnership launched in May 2013 to boost investment in family planning services for vulnerable groups particularly in eight countries in Africa, including DRC.
During their visit, Mr. Melesse, Dr. Osotimehin and Ms. Bangura appealed to political leaders and other partners to tackle the high maternal mortality rate and to improve the overall situation of every young girl, woman and family in DRC. "There's no peace at home if the woman is not at peace," he said.  "IPPF is ready to go along with DRC in its journey to bring peace to every woman."