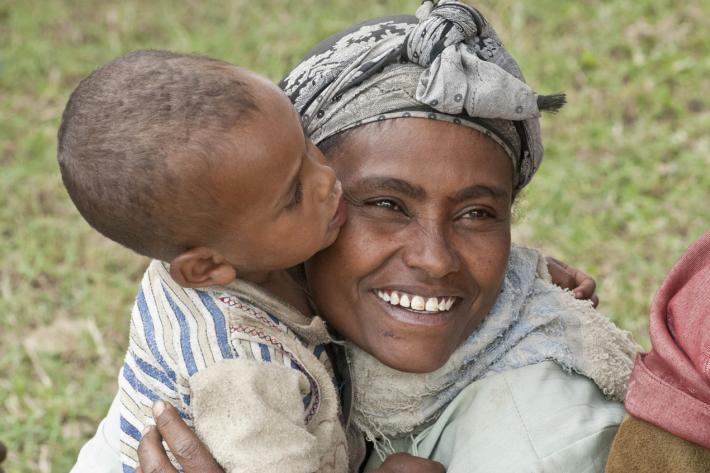 "I gave birth to ten children – three are no longer alive.  I would not have done it if there was a family planning opportunity. I would have had fewer children without the stress and difficulty I have had." – Jamilia, IPPF client
"Into the Hands of Women" follows Fulaas, a Community Based Distributor (CBD) in Oromo Ethiopia, as he dispenses family planning advice and contraceptives to villagers. Without him, and others like him, there would be very little access to contraception in rural areas. Fulaas works with the Family Guidance Association of Ethiopia, one of a world-wide network of IPPF Member Associations.
Securing access to contraception and family planning services is one of the central pillars of reducing maternal and infant mortality. It's key to achieving the Millennium Development Goals, which aim to improve countries' development prospects.  Providing these services to hard-to-reach women in the poorest countries is at the heart of what IPPF does.
CBDs like Fulaas live and work in the communities they serve, and unlike unwieldy government health ministries, they can reach the smallest and most marginalised of those communities.
Globally, more than 215 million women who want to prevent or delay pregnancy don't have access to modern contraception. Meeting the challenge of delivering these services is critical to improving the health and wellbeing of millions of women and their children worldwide.
View "Into the Hands of Women" (short version – 5 minutes)  or "Into the Hands of Women" (full version - 15 minutes) 
"Access to contraception is vital to the health of women and children in the developing world. The UK is working to give at least 10 million more women - and up to one million more young women - access to modern methods of family planning by 2015. Our work with IPPF means that we are able to reach women who would otherwise not have had access to contraception." 
Andrew Mitchell MP, UK Secretary of State for International Development