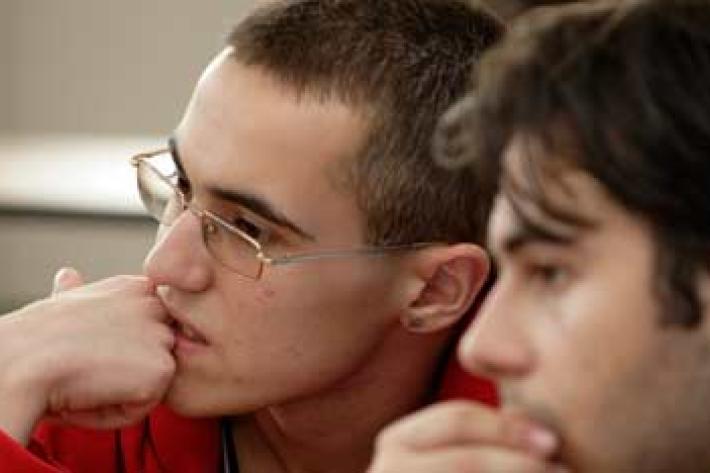 On 27-28 September 2012 IPPF will engage in a long term initiative to develop and sustain a network of young emerging leaders from diverse professions. The objective is to advance the prominence of sexual and reproductive health rights (SRHR) on the political agenda from the global, regional and national levels.
The 'Emerging Leaders' Summit' is supported by the Norwegian Government. It includes 42 upcoming opinion leaders and decision makers from vastly different backgrounds. They are all under the age of 30 from 6 different world regions.
Organised in close collaboration with IPPF's Norwegian Member Association, Sex og Politikk, the 2 day event will include key note speakers from the Norwegian Government. The leader of the Norwegian Health Department will also be attending.
These participants include an artist from Cameroon, a media producer from Afghanistan, journalists from Australia and Bangladesh, an Austrian magistrate, a doctor from UK, a managing director from Tanzania, and an engineer from Panama. Approximately 80% of participants are from organizations/individuals not currently affiliated with IPPF.
The aspiration is to capitalize on the recent victory at the United Nations Commission on Population and Development (CPD). There, IPPF succeeded in changing language around adolescents and young people's rights.
Though they have contrasting life experiences these individuals are all united in their common belief in social justice and social change.  By engaging beyond the SRHR network, IPPF is taking a progressive approach in promoting its worldwide movement. The collaboration of diversity will ensure consideration of the world's varied conditions and realities. Subsequently, the outcome will yield commitment from as many groups as possible and enable consensus building for international conventions.
IPPF's Director General, Tewedros Melesse, is very positive about the outcomes: "Young people whose human rights are protected can be fully productive and effective participants in their country's political processes. Empowered, they can contribute to building strong communities and vibrant nations. One reason for optimism about change is the critical role women in the Arab world are playing in framing their futures, and that of the region's future after last year's Arab Spring."
Participants will discuss the challenges that the largest-ever generation of young people face - including HIV/AIDS, violence and unintended pregnancy. The outcomes of the Summit will feed into IPPF's vision for the future and form the foundation of a multi-year initiative. This will be the advocacy strategy to influence the future of the ICPD and Millennium Development Goal (MDG) frameworks, including Rio+20.