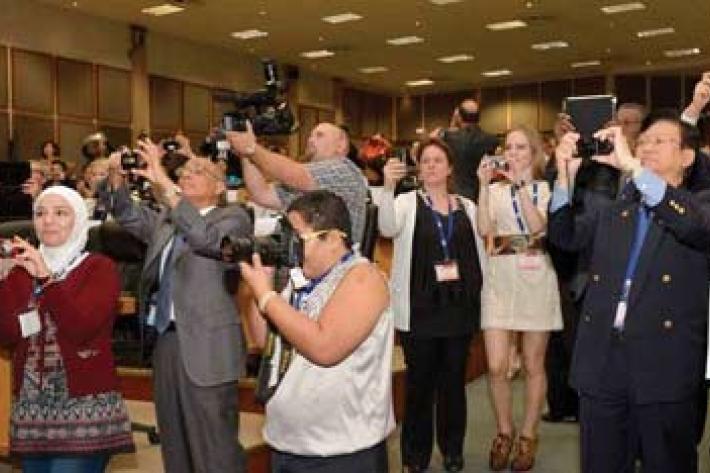 IPPF's work is carried out by 152 Member Associations, a global staff of 30,000, and millions of volunteers. Each year, IPPF honours individuals and organisations from within the federation who have made outstanding contributions to the cause of sexual and reproductive health and rights.
Awards are determined by a panel of 6 Governing Council members (1 from each region), supported by a Central Office staff member. Nominations come in from all over the world, in the following 5 categories: volunteer member, youth volunteer, Member Association, international individual, and Member Association staff member. This year's winners :
Member Association Award – Irish Family Planning Association
IFPA was chosen for its continued advocacy efforts over a period of many years in the face of vehement opposition, often at great personal risk to volunteers and staff, and in particular for its courageous campaigning on the issue of abortion rights. The award was presented by Steve Sinding.
Staff Member Award – Yasoda Nepal
Yasoda was the panel's unanimous selection. She is a hard-working, dedicated and skilled Senior Staff Nurse at the Family Planning Association of Nepal (FPAN). She is the longest-serving health service provider presently working in FPAN: she's been part of the organisation for 28 years, and is appreciated by her colleagues as "friendly, co-operative and supportive". Ingar Brueggemann praised her work over the years and presented the award.
International Award – Dorj Munkhuu
Dorj is one of the most influential political leaders on social affairs in Mongolia, who has fought tirelessly to create a positive legal environment for SRHR in her country. She's also dedicated her professional life to improving the quality of health services for women living in remote rural areas who often live a nomadic lifestyle. Presenting the award, ex-IPPF president Jackie Sharpe said, "She has fought for women's well-being and helped develop civil society policy to highlight women's rights" and her declared her "a very, very worthy winner".
IPPF Youth Award – Smaranda Constantinescu
Smaranda comes from Bucharest in Romania. As Project Co-ordinator, she will be well-known to anyone involved with YSAFE (IPPF EN's Youth Sexual Awareness For Europe). She coordinated the YSAFE network and steering committee, and was integral to the creation of a sophisticated operation developing and supporting youth projects across the sub-continent. Presenting the award, Angela Gomez commended her "incredible creativity, commitment, work ethic, and skills".
IPPF Volunteer Award – Barbro Leneer Axelson
Academic, advocate, activist and author Barbro is a campaigner for human rights who has spent her career linking the challenges that individuals face and the socio-political change that is required to improve those lives. She sat on the Governing Council for many years, she utilised Sweden's Presidency of the Council of the European Union to push for greater gender equality and access to SRHR services, and her book "Men's Voices, Men's Choices" (published 20 years ago when the subject was still taboo) is regarded as a seminal work on domestic violence. The award was presented by Nina Puri.