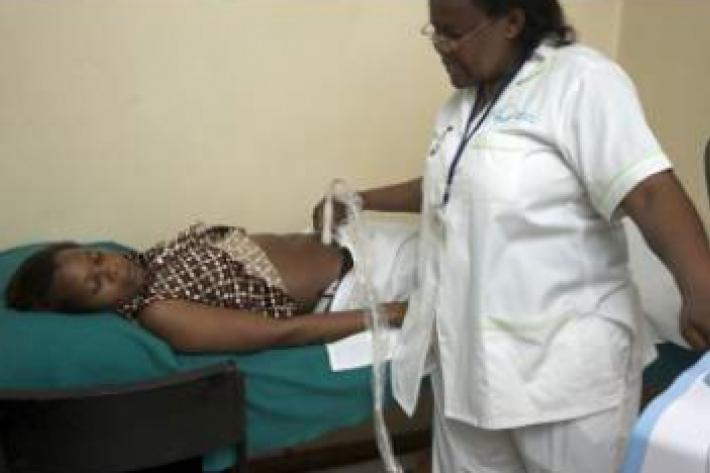 A new film being launched in South Africa on 6 December just prior to the 17th International Conference on AIDS and STIs in Africa highlights how Rwanda is delivering integrated HIV and sexual and reproductive health services to save the lives of women, their partners, and children.  In Rwanda, new infections in infants have fallen from 6,800 in 1999 to less than 1,000 last year.
IPPF and partners are heralding Rwanda's example so we can meet the 2015 targets of a Global Plan to reduce new HIV infections in children by 90 per cent and the number of AIDS related maternal deaths by 50%.
Progress is being made, inspired by this bold Global Plan towards the elimination of new HIV infections among children by 2015 and keeping their mothers alive. Globally, there was a 37% decrease in the number of new HIV infections among children between 2009 and 2012. But there is still a long way to go. Last year alone 210,000 children were newly infected – more than 80 per cent of which were in 21 countries across Africa.  Four out of 10 pregnant women with HIV did not receive antiretroviral medicine to prevent mother to child transmission of HIV.  And significantly there is still a high unmet need for family planning which will prevent new HIV infections in infants, save the lives of women and their infants, and help women and young people realise their full potential.
The film 'Glimpse of the Future' – and an accompanying case study highlight key initiatives that have been undertaken in Rwanda to offer rights-based integrated health services.
Coupled with political commitment from the highest level, these initiatives include linking HIV and sexual health services and supporting the sexual and reproductive health and rights of women living with HIV. In this way, women living with HIV can have their HIV and family planning needs met during a single consultation which leads to a reduction in unintended pregnancies. Other successful measures include community outreach through over 60,000 community health workers, scaling up education for young people who represent 67% of the population, and engaging men with almost 9 out of 10 men attending the first antenatal care session with their partner whereby both benefit from HIV counselling and testing, and HIV treatment as prevention.
Tewodros Melesse, the Director General of IPPF, said "We are working towards a world free from AIDS where there are zero deaths, zero new infections and zero stigma. Rwanda's example shows that by preventing HIV among future parents, the cycle of HIV transmission to children is broken. We would urge other countries to adopt similar policies."
The film was produced by IPPF in collaboration with the Ministry of Health in Rwanda and the Interagency Task Team on the Prevention and Treatment of HIV Infection in Pregnant Women, Mothers and Children (www.emtct-iatt.org). The film includes music by the popular Rwanda artist Cécile Kayirebwa who will perform live at the premiere.