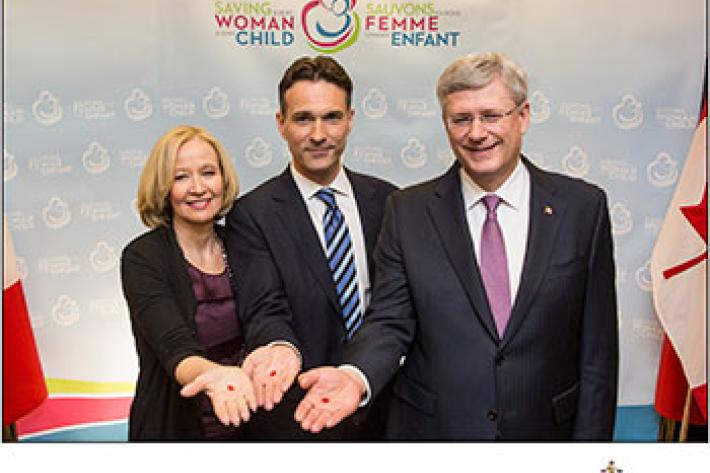 Image: micronutrient.org
As the High-Level Summit on maternal, newborn and child health takes place in Toronto, IPPF will deliver a letter from 10 civil society groups across six countries that receive funding from the Muskoka Imitative to Prime Minister Harper warning that family planning investment must not be neglected.
The summit - 'Saving Every Woman, Every Child: Within Arm's Reach' - builds on the Muskoka Initiative on MNCH (maternal, newborn and child health) announced by Prime Minister Stephen Harper during the G8 summit in June 2010. It commits governments to spend collectively $7.3 billion between 2010 and 2015 to reduce maternal, infant and child mortality in developing countries.
Canada's Muskoka investments have focused on countries with high child and maternal morbidity and mortality rates, demonstrating that countries with challenges can make progress on maternal, newborn and child health. 
However, despite clear evidence that family planning investments save lives, relatively little Muskoka funding has been directed towards family planning and reproductive health. 
Of the $2.28 billion spent as of March 2014, only 0.55% was spent on family planning, totalling just $12.8 million since 2010 - despite the fact that 222 million women lack access to a range of modern methods of contraception.
Research shows that serving all women in developing countries who currently have an unmet need for modern methods of contraception would prevent an additional 54 million unintended pregnancies, 16 million unsafe abortions and seven million miscarriages; this would also prevent 79,000 maternal deaths and 1.1 million infant deaths.*
The civil society groups call on the summit to recognise the vital role that access to life-saving family planning plays in maternal, newborn and child health.  
Family planning is not an 'add-on' for women and children's health programmes; it is central to achieving a healthy life for all.
The letter is signed by: 
The Family Guidance Association of Ethiopia (FGAE)
Partners for Health, Ethiopia
The Family Planning Association of Malawi (FPAM)
The Associação Moçambicana para Desenvolvimento da Família (AMODEFA), Mozambique
Noble Missions for ChangeIinitiative (NMI), Nigeria
International Centre for Women Empowerment and Child Development (ICWECD), Nigeria
Better Society for Child, Adolescents and Maternal Care (formerly. Association for Child Health, Nigeria
Niger Delta Women's movement for Peace and Development, Nigeria
Chama cha Uzazi na Malezi Bora Tanzania (UMATI)
bdnews24.com, Bangladesh
* (Guttmacher Institute & UNFPA (2012) Adding It Up: Costs and Benefits of Contraceptive Services - Estimates for 2012).