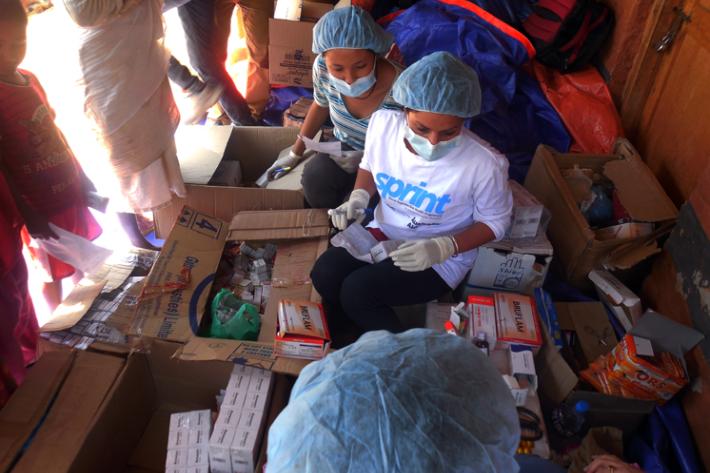 12 May, Bangkok, Thailand: The International Planned Parenthood Federation today renewed its call for donations to help its work in the wake of two devastating earthquakes in Nepal.
The second quake which hit Namche Bazar, near Mount Everest earlier on Tuesday came as IPPF's Nepal Member Association was due to receive an award for their work in Sexual and Reproductive Health and Rights (SRHR).
Family Planning Association of Nepal (FPAN) President Amu Singh Sijapati said: "The FPAN team reacted to the first earthquake and provided a range of support and services… today at 12.30 Nepal has been hit by another major earthquake.
 "We are happy to receive this award but our heart is with our country. To all the people across the world – we need to deploy more assistance we appeal to you to help us."
IPPF Director General Tewodros Melesse added: "Our thoughts are with all the people of Nepal and our colleagues and their families – but to help them we need to appeal to people all over the world to provide support. Let us show our solidarity at this critical time."
IPPF launched an appeal for the earthquake disaster on 26 April with 100 % of the donations being sent directly to FPA Nepal to deliver critical services in the aftermath. To donate please enter 'Nepal earthquake' as the purpose for your Paypal payment.
FPAN an International Planned Parenthood Federation (IPPF) Member Association was recognized for its exceptional services and advocacy on family planning, comprehensive sexuality education and work with Government and partners in a special ceremony today.
IPPF's Governing Council awards Member Associations annually for their outstanding contributions to sexual and reproductive health and rights. The award now in its fourth year celebrates the national successes and services for local communities and marginalized and vulnerable groups.
The Family Planning Association of Nepal (FPA Nepal) was established in 1959 and first joined IPPF in 1960 and became a full Member Association in 1969.  FPA Nepal has been successful in seeing comprehensive sexuality education included in school curriculum from Grades 6 to 10. Advocacy for youth friendly services will result in youth information centres in all 75 districts by 2015.
More recently, FPA Nepal is actively engaged in dealing with the aftermath of the earthquake of 25 April through IPPF's Sprint Initiative that specializes on immediate humanitarian response through life-saving sexual and reproductive health services. This includes the provision of emergency obstetric and newborn care services and referrals, reproductive health medical mission in camps, delivery of dignity kits, family planning services, community awareness and the provision of syndromic treatment for sexually transmitted infections. FPA Nepal has stepped up activities to respond to the second earthquake disaster of Tuesday lunchtime 12 May.
For further updates please see the IPPF website on how we are responding to the humanitarian crisis through essential and lifesaving sexual and reproductive health and rights services. http://www.ippf-sprint.org/
You can make a donation to our appeal.