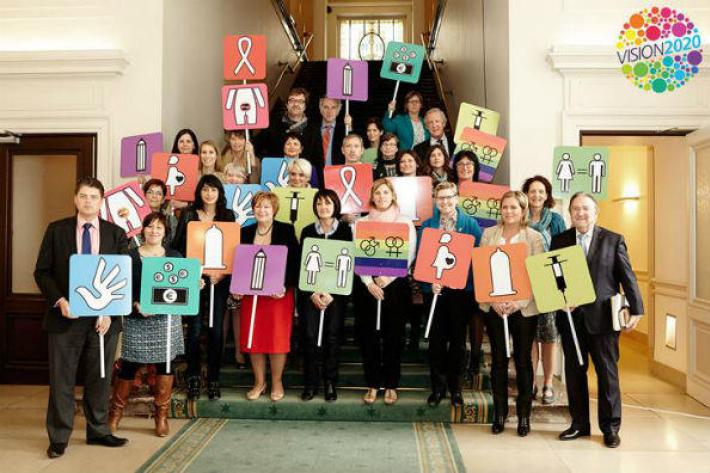 A new global campaign launched by the International Planned Parenthood Federation (IPPF) today is throwing down the gauntlet to world leaders to support people's basic sexual and reproductive rights – so people can decide what happens to their bodies, who they live with and whether or not they become pregnant.
The I decide campaign will have more than 50 IPPF Member Associations holding events across the world to highlight the situation of people who are not able to make decisions about their own lives due to stigma, discrimination or abuse.
The IPPF I decide campaign aims to get one million signatures to present to UN Secretary General Ban Ki Moon in the summer of 2015. www.ippf.org/vision2020
Sexual and reproductive health and rights concern people's everyday lives, their livelihoods, their opportunities and their aspirations. IPPF warns that as the next set of global goals are set for the world through the post 2015 process, sexual and reproductive health and rights cannot be left out.
Director General for IPPF, Tewodros Melesse, said as he launched the campaign: "Failure to recognize sexual and reproductive health and rights compromises the lives of women and girls, and people's ability to lift themselves out of poverty and to live sustainably within their resources.
"We believe that discrimination, coercion and violence play a large part in our societies. One in three women globally, experience violence and girls are still forced into marriage before the age of 15. We need this to change. People should have the right to decide – who they live with; what happens to their bodies; if, when and how many children to have; the right to determine their futures freely and safe from harm."
Events with politicians, media, civil society and youth groups, volunteers and public are being held in every continent. IPPF Member Associations are advocating for change to improve the lives of people they serve through a variety of information sessions, talks, carnivals, rallies, flashmobs, marches and other initiatives with dignitaries.
Examples of events:
Albania: Events in Tirana and Vlora, young volunteers, staff and representatives of the CSOs (partners) are launching the petition and calling on government and decision-makers to put SRHR and gender equality at heart of post-2015 framework. The events will be filmed for national and local TV: 24 News in Tirana and in Vlora  6+1 on the 13th May.
Liberia: The event will begin a day before (May 12) with a radio and television talk show. The United Nations Mission in Liberia (UNMIL) Radio Station will be hosting a Radio Talk show where PPAL executive director and a senior volunteer will be studio guests on May 12, 2014 at 9.00 AM. On May 13, a grand street parade will be conducted by youth (in and out of school), plus women's and men's groups for the promotion of action on SRHR issues, including UNFPA Liberia, Society Against AIDS in Liberia (SAIL) and the Youth Action Movement (YAM .
Palestine: An event with the Deputy Minister of Health attending. There will be theatre sketches, documentary films reflecting the IPPF manifesto for change. Politicians will sign up to the campaign.