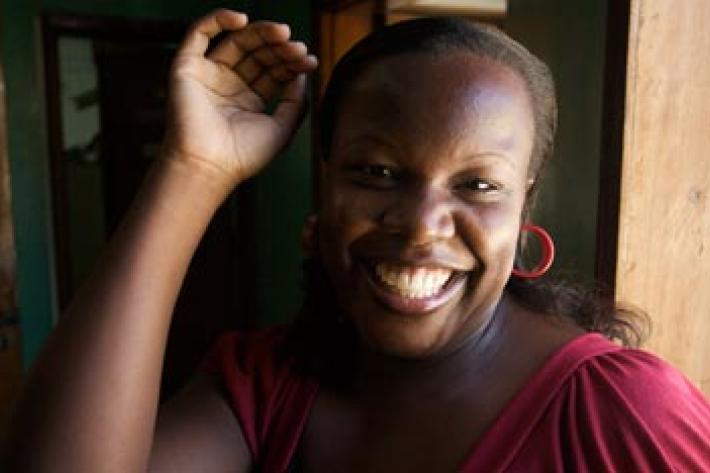 A new level of partnership was launched by UNFPA, the United Nations Population Fund and the International Planned Parenthood Federation (IPPF) today at Women Deliver. It will bring a significant boost in investment to family planning services in 13 countries focusing on vulnerable groups, particularly in areas affected by natural disasters and conflict, 
The initiative will contribute to fill the gap in health care infra-structure, boosting the quality of the health workforce and developing efficient family planning distribution systems, as well as ensuring affordable family planning supplies.
"Family planning has been at the heart of UNFPA's work for more than 40 years, and partnerships like this one are key to ensuring that hard-to-reach and under-served populations, particularly women, girls and young people, get access to the reproductive health they need," said UNFPA Executive Director, Dr. Babatunde Osotimehin. "We welcome this initiative and value our longstanding partnership with IPPF, considering its support for family planning and its substantial service delivery capacity."
The combination of IPPF's experience of service delivery and UNFPA's strong country presence will help address the unmet need for voluntary contraception and increase political and financial support for voluntary family planning and sexual and reproductive health services at the national level.
We are committed to spend 40% of our programme resources in #familyplanning - the initiative with @ippf is part of that #WD2013 #reproheath

— Babatunde Osotimehin (@BabatundeUNFPA) May 30, 2013
The collaboration between IPPF and UNFPA builds upon the institutions' long-standing history of co-operation on sexual and reproductive health. The 13 target countries all have low contraceptive prevalence rates and considerable unmet need for family planning: Bolivia, Côte d'Ivoire, The Democratic Republic of the Congo, Ethiopia, Haiti, India, Kenya, Liberia, Myanmar, Nigeria, Pacific Islands, Pakistan and South Sudan. 
The partnership, which will also ensure that innovative strategies are included and funded by national plans, is being fine-tuned with information collected during assessments carried out throughout the year. Assessments have so far been completed in Kenya, Côte d'Ivoire, Liberia, South Sudan, Nigeria and Ethiopia.
IPPF's Director General, Tewodros Melesse, said: "Our 2 organizations have worked together over many years, and I'm proud that we can have a key joint role as we work towards the FP2020 goals. There cannot be meaningful development without sexual and reproductive health and rights. We're the largest NGO dealing with these issues on the ground."
A series of innovative approaches will help increase access to family planning among hard to reach populations. The effort is intended to make significant contributions to enable 120 million more women and girls to access family planning by 2020. This was the goal committed to at the London Summit on Family Planning in July 2012.
As part of the initiative, 7 IPPF Member Associations will work in close collaboration with UNFPA to provide around 2 million family planning services by 2013, with plans to increase that to 25 million by 2015. It's expected that 30% of the beneficiaries will be young people .
Minorities and marginalized groups are also important beneficiaries. This is especially true in countries that have already made progress, such as Kenya. Despite advances, contraceptive prevalence rate is considerably lower in minority groups. Among migrants who cross the Northern border seeking refuge in the country, for example, contraceptive use is around 45, while the national average is around 50%.
Cultural barriers make it more difficult for women and unmarried individuals to seek and access the family planning services they need. UNFPA and IPPF are using their combined experience to reach these individuals and couples.
In Cote d'Ivoire, 60% of women who wish to delay or avoid a pregnancy are not using modern methods of contraception.
Only 36% of health facilities in the country offer a choice of modern contraceptive methods. The adolescent girls' birth rate has increased from 111/1000 in 2005 to 129/1000 in 2012.
UNFPA established a community-based contraceptive distribution programme in partnership with the Ministry of Health in the Toumodi health district last year. Since then the number of new family planning users has nearly doubled. The joint UNFPA/IPPF initiative will scale up other community-based contraceptive distribution schemes.
In many developing countries, it is not uncommon for girls who lack access to contraception to have early pregnancies. This is heightened in contexts that encourage early marriage or where information and access to voluntary family planning are limited.
In Little Bassa, Liberia, a 25-year-old mother of 6 recently told an assessment team that she had never heard of family planning methods. She asked if she could use family planning since she was tired of having so many children with no sustainable means of income. 
IPPF and UNFPA plan to address these gaps. They will contribute to a broader initiative assisting more than half a million Liberian women with micro-financing schemes, skills training and health support. This includes family planning.
Our approach will vary according to the context and needs. In Haiti, a new community-based project will be launched by IPPF's Member Association, Profamilia, and UNFPA. It will addresses sexual health and family planning to bolster the work of Haiti's Health and Population Ministry (MSPP).
Countries still recovering from prolonged conflict or natural disasters will receive support as part of rebuilding efforts. Other priority countries will focus on minorities, youth and vulnerable populations.
Family planning directly benefits women and girls through increased family savings and productivity, as well as better prospects for education and employment. It also improves health outcomes as fewer unintended pregnancies result in fewer complications during childbirth and fewer maternal deaths.