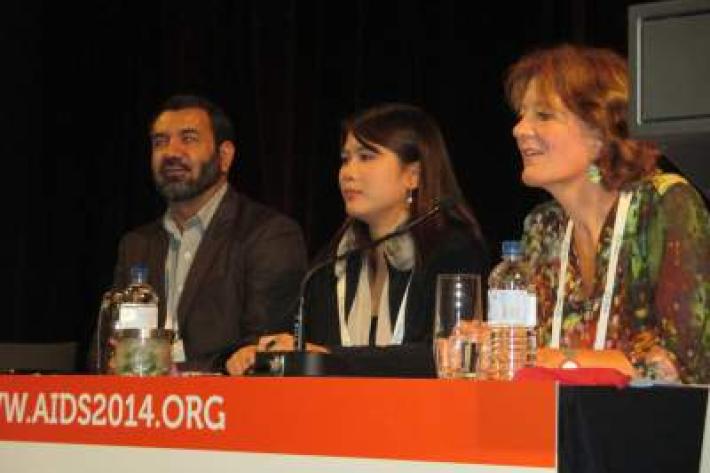 20 July, Melbourne: Gender and sexual and reproductive health and rights must be at the heart of the next generation of development goals to ensure services reach vulnerable groups affected by HIV was the overriding message at an event co-hosted by the International Planned Parenthood Federation and the Government of Japan at the International Aids Conference today.
Widespread discrimination, sexual and gender-based violence and cultural stigma leave at-risk groups such as women, young people and LGBTI populations often unable to access basic sexual health services and treatments, thereby leaving them at increased risk of HIV.
Every hour 50 young women are newly infected with HIV and 52% of all people living with HIV in low and middle income countries are women.
Gender inequality and lack of sexual reproductive health and rights (SRHR) have been fundamental obstacles for the slow progress made towards the Millennium Development Goals (MDGs).
Their successors –known as the post-2015 framework – need to include SRHR if leaders wish to make real progress in tackling global poverty which is why IPPF is pushing for a standalone gender equality goal and inclusion of sexual and reproductive health and rights as essential priorities across both health and gender goals.
Lena Luyckfasseel, Programme Director for IPPF European Network, highlighted the needs of sex workers who often get missed in service and policy provision during her speech at the event. "We have to make sure that when all is said and done in the post-2015 process, sexual and reproductive health and gender are very much at the heart of the framework. We cannot have those who are most vulnerable or at risk left behind in any national health response.
"Individuals who are empowered to make informed choices about their own bodies and sexuality are the cornerstone of achieving sustainable development. This will be important to achieve AIDS free generation".
As the UN forges new development goals, IPPF calls for universal health coverage (UHC) to include sexual and reproductive health and rights at its core and believes that if UHC is to deliver, it must strive for 100% coverage. This will ensure delivery of sexual and reproductive health services to all, regardless of age, gender, economic, geographical status or sexuality. Through this focus, services can ensure reach to the poorest, most marginalized groups.
The Government of Japan has made efforts to set UHC as one of the goals of the post 2015 development agenda.
Keiko Haneda, Consul-General of Japan in Melbourne, spoke of the focus on gender and sexual and reproductive health "Through the Japan Trust Fund, we aim at improving access to integrated services of HIV and sexual and reproductive health for vulnerable people, especially women. For the challenges of women living with HIV, it is indispensable to create an environment in which women can control their own bodies and health, and have access to sexual and reproductive health services.
"Japan has made efforts to set UHC as one of the goals of the post 2015 development agenda, because we now have to think about the way to ensure equity and respond to various health needs comprehensively. We should accelerate our efforts towards UHC to attain SRHR through addressing health inequity, creating sustainable health systems, ensuring financial risk protection and realising human security.''
Kate Gilmore, Deputy Executive Director (Programmes) UNFPA (the UN Population Fund)  –spoke of how the needs of young people must be prioritized, "For an AIDS-free generation, correct and timely information is critical for young people and we must collectively protect and uphold their rights to unfettered access to sexuality education, services and information; that is what UNFPA is committed to doing in cooperation with governments and civil society partners. Young people also experience added HIV vulnerability which impedes on their capacity to fulfil their potential, we must end all forms of discrimination."