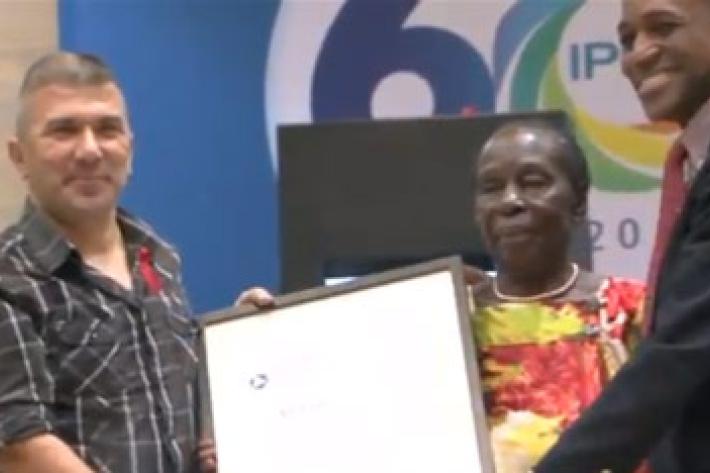 It is 2 years to the day since rights activist, David Kato, was murdered in his Ugandan home.

David was a fearless fighter for lesbian, gay, bisexual, transgender and intersex (LGBTI) people. He worked tirelessly to overcome the fierce ignorance, intolerance, prejudice and stigma to which the LGBTI community is subject in Uganda and the wider world.

The annual David Kato Vision and Voice Award was set up to support his legacy, and to honour individuals who show exceptional bravery, resilience and strength in fighting for the LGBTI cause. Globally, progress is being made in asserting and realizing LGBTI rights around the world. However, the community still face discrimination and grave danger from the law, law enforcement agencies, and the wider society.

The second annual award was presented on 29 November 2012 at IPPF's 60th Anniversary event in South Africa by Maurice Tomlinson (the inaugural award recipient) and David Kato's mother, Lydia Mulumba.

Kevin Osborne, IPPF's Senior HIV Advisor, spoke passionately of the "richness, diversity and strength" of the LGBTI movement, as exemplified by the number and range of nominations for the award. There were expressions of interest from over 120 countries, and a final submissions list of 150 individuals, nominated in a period of just 6 weeks. The final shortlist of 5 nominees included Aung Myo Min from Burma, Diane Marie Rodríguez Zambrano from Ecuador, Donny Reyes from Honduras, and Pepe Julian Onziema from Uganda. It shows that the fight for LGBTI rights is a global one.

Ali Erol from Turkey was selected as the 2013 recipient of the award. Over 20 years ago he wrote and distributed photocopied editions of Turkey's first ever gay paper. He has been challenging stigma and homophobia in his country ever since. Ali founded the campaigning organization Kaos GL in 1994 at a time when homosexuality was taboo and 'coming out' could lead to death threats. Kaos GL is now at the forefront of the campaign to reform the Turkish constitution.

At the presentation ceremony, David Kato's mother made a simple, moving speech in support of the movement and in memory of her son. The inaugural David Kato Vision and Voice Award winner Maurice Tomlinson was emphatic in asserting the importance of the honour. Speaking of how the award had given him access to decision-makers, he said:

"Access changes attitudes. If you're not at the table, you cannot challenge the hateful rhetoric that your opponents will relentlessly try to pour into the ears of the politicians and policy makers you seek to convince. Winning the David Kato Award has given me access on a global scale. You cannot underestimate its importance: it opens doors which would otherwise remain firmly shut".

He encouraged Ali Erol to "boldly use this award as a platform to make the world a better place for LGBTI people and all its citizens". In his thanks, Ali spoke movingly of his fight against the homophobic hate which "chokes our voices and blockades our lives on a global scale by imprisoning us in invisibility". He said, "receiving the award makes me stronger, makes me braver, and gives me more courage to continue with the work I do".

With the global financial crisis, Ali and his fellow campaigners are already witnessing a new struggle on the LGBTI front: a struggle to assert economic rights. They're planning to address the issue, urgently, by strengthening a regional network of anti-homophobia support groups in the Mediterranean Region, the Caucases and the Balkans.

"Ours is a struggle that we believe to be true. We will definitely win if we work decisively, persistently … and never reactively".

It was for this that the Vision and Voice Award was established: to keep David Kato's vision alive, and to strengthen, support and nurture the spirit of LGBTI advocacy and activism the world over.