The condom carrying soap star: Diana volunteers in Colombia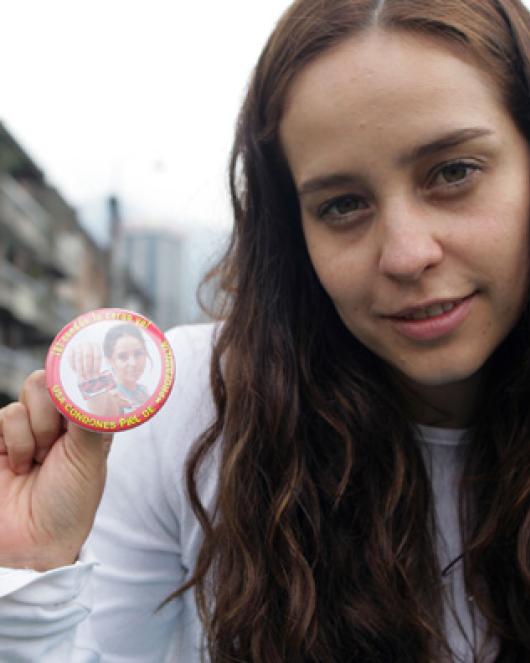 To hundreds of thousands of Colombian television viewers, Diana Angel is Gabriela, a high school student in a low-income neighbourhood in Bogota, star of the daily soap Francisco el Matemitico (Francisco the Mathematician).
Off-screen, she is a passionate campaigner for 'Girls Carry Condoms'. It's a project run by the Asociacon Pro-Bienestar de la Familia (Profamilia), the IPPF Colombian Member Association.
She explains, "'Girls Carry Condoms' is trying to put an end to false beliefs, like you don't feel the same pleasure with a condom, and if a woman carries a condom she's promiscuous."
Given that over half of the 220,000 people living with HIV or AIDS in Colombia are 15-35 years old, with the highest prevalence among women aged 15 to 24, it's a message which needs to be communicated urgently. Both Diana and her character Gabriela fall into that age-range, and the choices that they are seen to make are highly influential among youth.
The campaign is heavily supported by the municipality, with art contests centred on the condom and the free distribution of 7 million condoms at entertainment centres, schools, conferences and workshops. The purpose is to encourage healthy, responsible and pleasurable sexual habits among young people.
Profamilia trained Diana to campaign and be a spokesperson, and since then she has volunteered with the organization for 5 years. Sometimes she feels her celebrity status gets in the way of her social work. But in the case of Girls Carry Condoms, her fictional alter ego offers real and significant assistance.
Diana volunteered with Profamilia in the Western Hemisphere Region. Visit the Western Hemisphere Region pages for further information on volunteer opportunities.