On development: Being the change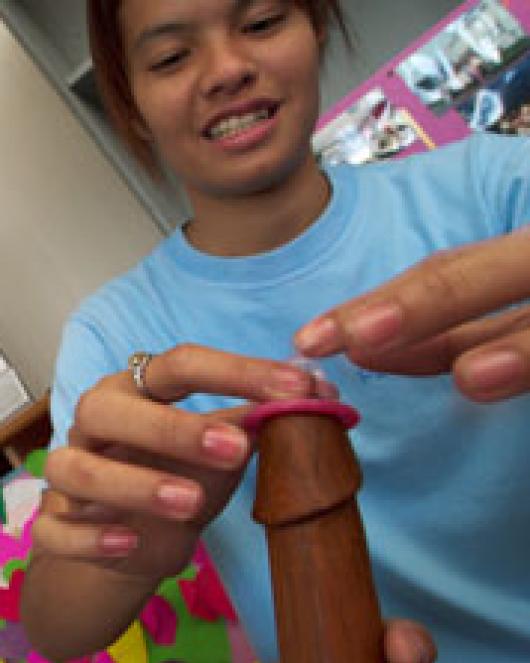 Rebecca is a youth intern at IPPF's office in East and South East Asia and Oceania. Originally from the UK, she has a degree in human rights law and has been working on activities to increase youth access to services, such as the one pictured.
When we use the word 'migration' in conjunction with 'young people', I, at least, am caught up in images of flight and desperation. The war in Syria springs to mind; youth robbed of the opportunities to learn and work, to have a normal life, forced into exile. Sadly, this is the lived reality of the majority of young migrants; my experience has been very different.
The aim of International Youth Day this year is to emphasise the positive contribution young migrants make to their new homes, in order to dispel often cruel conservative ideas about immigrant influxes 'taking local jobs'; to encourage communities to welcome them. But I will to come at migration from another angle, to describe what positive contributions my migrations have had on me, and how I have myself been welcomed.
I have been fortunate enough to have experienced an inconceivably different form of migration. After university I moved to Geneva and worked with an NGO to condense UN speak into something understandable. And during this time, I noticed how often the issue of sexual and reproductive rights came up in conjunction with the need for development. Empower women (and men, of course) to plan their families and project themselves, and you empower entire communities; girls begin to demand education, they begin to work, and everyone grows up in a more egalitarian world. I was inspired by the power of these repercussions.
And so I packed my bags and migrated to Malaysia, to work with the regional office of the International Planned Parenthood Federation.
I'm unsure as to how much of an impact my presence here has had on the organisation. But it has certainly changed me. One of the main projects I've worked on here has been the provision of 'youth friendly' contraceptive, abortion and STI and HIV treatment. I myself am technically a youth, as I'm still 25; coming from the UK it had never ever occurred to me that the provision of services in such as way as to protect young people from stigma and judgement would be a necessity. The cultivation of personal gratitude for my circumstances goes without saying. To hail from a country where sexual and reproductive health is a battle largely won makes me amongst the most fortunate young women in the world.
But the impact has gone far beyond this. I've lived in extraordinary places, met passionate people, expanded horizons, and if I'm very lucky, by the time I leave IPPF I will have been part of something very big.
I have learned that some forms of migration cannot expect to change entire communities for the better – as they can and do in the UK and around the world. In my case, the community – internationally, through IPPF, as well as right here in Kuala Lumpur – has changed me.