Ending sexual violence and possible death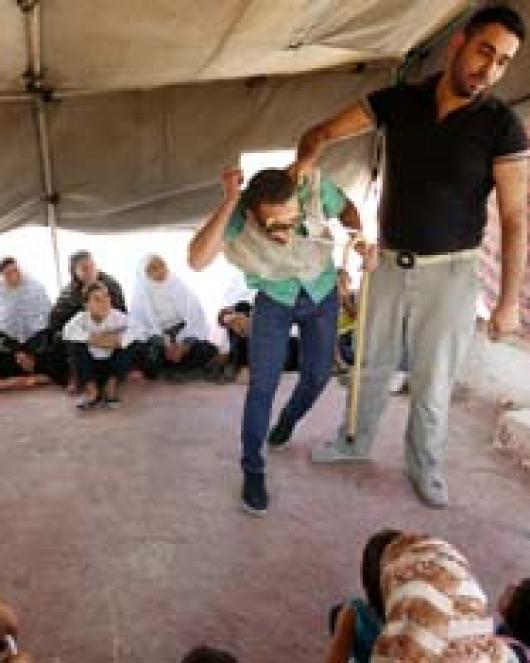 International Planned Parenthood Federation's (IPPF) Member Association, Palestinian Family Planning and Protection Association (PFPPA) is working to support women and girls and spread the message that  women should not have to live with sexual harassment or assault, and let them know where they can seek help safely.
In Palestine's deeply conservative, patriarchal society, sexual violence against women, especially within the family, is widespread. There is little statistical evidence available, but in 2011 the Palestinian Bureau of Statistics (PBS) reported that 11.8% of ever-married women had been suffered sexual abuse at the hands of their husbands in the previous year. Of those, half had been assaulted three times of more in that period.
Yet many women suffer in silence, because being open about assaults can be fatal. Women's sexuality, and in particular the virginity of the unmarried woman, are linked to the "honour" of her family. If that honour is "damaged" by a sexual assault, she may be killed by her own father, brothers or uncles.
The lengths to which Mariam goes to keep her identity hidden when she speaks about her experiences show just how real a fear honour violence is for young women here. The 23-year-old was sexually assaulted by a male relative, who was a little older than her, when she was 22. After around 4 months the assaults developed into a consensual relationship. They only ever had anal sex, to preserve her virginity.
Fearing for her life if her relatives find out what happened, she insists on meeting to tell her story in a near-empty children's playpark miles from her home, and keeps every inch of her face covered with veils and a large pair of sunglasses. Her hands shake as she begins to speak.
"In the beginning my relative and I used to laugh together and have fun," Mariam says. "After that he asked me to give him a kiss. But it wasn't a mere kiss. He wanted to kiss all of me.
"I resisted in the beginning. But he said 'come on, it's normal - there's no problem, you will like it'. So I accepted, and then every time he saw me he gave me a kiss.
"This is how it started, from there. He started touching my body. He started inspecting my body too. Our relationship started to develop more and more. It started becoming a relationship between two lovers. He knew when I was alone at home, so he used to come and visit me. It was really easy and it was pleasurable. He's so good looking, and he's very charismatic. He was able to seduce me.
"But I knew there was something wrong. I didn't know how to end it, who I should talk to, what I should do. I knew if I told my nephew's mother she would not have believed me, and she would have blamed me. I thought if my brother found out he would have beaten me - killed me."
At the PFPPA's clinics, social workers deliver awareness sessions on sexual violence in the waiting rooms, hoping to catch the attention of women there for other reasons who are hiding the fact they have been abused. It was this kind of session that proved vital for Mariam.
"When my sister was pregnant I went with her to the PFPPA clinic," she remembers. "The social worker there, Ruba, started speaking about sexual violence, and I felt that she was talking about me. So when my sister went in with the doctor, I went to Ruba's office and told her I needed help; I began to talk, and to cry. She said I needed to keep seeing her."
Mariam kept visiting Ruba, and ended the relationship. "I really benefited a lot," she says. "The first thing Ruba told me was that I had to do things that fill my empty time, so I started trying to develop and improve myself. I took courses in statistics and tried to read more English. I watch English movies and follow the translation. Titanic is my favourite.
"What happened to me is not rare. Maybe because we're a very closed community; our relationships are limited. It's also about poor awareness. Had it not been for my sister taking me to the clinic I would probably never have talked about it. It would have been impossible for me to approach a relative and tell them what what was going on; I would have been too frightened. And nobody would have believed me, because the guy is usually more credible than a woman in this community.
"I've found there are other women of my age who've had similar experiences to me. I tell them it's important to reject it, and if they fear they can't do it on their own they have to go to someone who can help them do so.
"Before, I despised myself. I used to feel I was really very weak. Now I feel powerful. I go out, I leave the house, I meet people. I feel I'm responsible for myself, that I have to protect myself, and that I need to help others if they need me. Everyone's telling me 'you've changed, you're stronger'.
"We have so many cases of sexual assault, but women are frightened to speak about it. I wish I could become a counsellor like Ruba, because there would be so many people who would benefit."