Growing up intersex in Uganda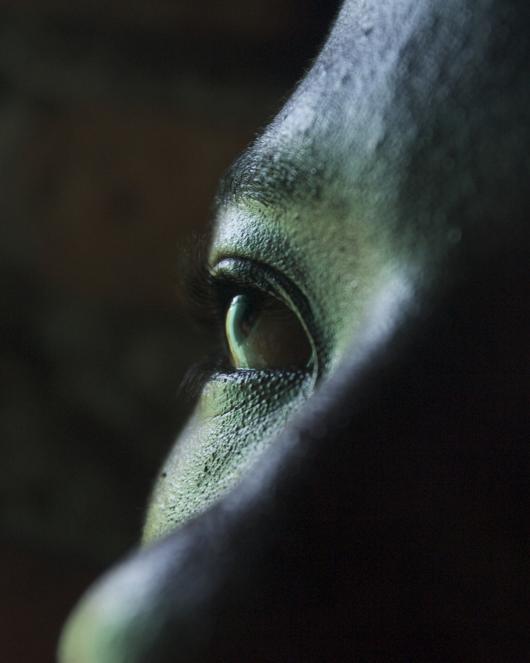 "My name is Kisaakye. I'm from a family of six children. I lost my parents at a very young age. I did not understand who I was. My grandmother said that my stepmother must have bewitched me.
As any growing child I expected bodily changes such as growing breasts and menstruation; but these things didn't happen to me. I kept telling myself that am still young and that I have not reached that age yet. So I waited and waited, and still nothing.  At the end of primary school I realized that I am not like the other girls. I began to wonder whether I was a boy or a girl or in the middle.
One day I decided to ask my aunt about it. She said, "Yes we are aware of that, but we decided to keep quiet. After all you're alive, so just try to live like a normal child." This hurt because it wasn't easy for me and I was angry with them for not doing anything.
"Why me?"
Secondary school was very miserable for me. Many of the students would wonder whether I was a girl or boy. One day we had a pregnancy check-up at school. Students started teasing me, saying what they were going to check on since I didn't have any breasts. I started crying there and then and asked: "Why me?" I told the nurse my story and she advised me to go see a doctor. In my second year of senior school I joined boarding school and it was really tough. I would wait for others to bath before I dared to. I dropped out of school, stayed home and did house work.
My turning point was when I saw an advert on TV: "Don't miss the show about the only boy in Gayaza High school, from Juliet to Julius". I listened to the story and finally knew that I was not alone. It also encouraged me to seek help. Afterwards I called the helpline number from the programme. They counseled me and referred me to a hospital. They also connected me with the Support Initiative for People with Congenital Disorders (SIPD). I met someone there like me who encouraged me and introduced me to other people with the same disorder, and also linked me to Reproductive Health Uganda (RHU, an IPPF member).
Building my self-esteem
RHU gave me the opportunity to share my personal experience with other young people. They also contributed to building my self-esteem and widening my understanding of sexuality issues. I now feel empowered and I can speak about it freely through the Youth Action Movement (YAM). I am very grateful that they are going to support me to do what I have longed to do in life - a course in computer studies.
My advice for the other children out there in the similar situation - be strong, be hopeful, and know who you are. Sharing with someone you trust will build your esteem. For parents, please don't decide for your child what sex they should be. When they grow up they can choose what they want. Be supportive in all ways."
---
Kisaakye lives in Kampala, and has an intersex-related condition. The lives of LGBTI people in Uganda are often constrained by social and political pressures, including discrimination and legal restrictions. Reproductive Health Uganda (RHU) organizes sexuality sessions targeting university students, inclusive of sexual and gender diversity, to dispel myths and ignorance around this subject. Kisaakye shares her personal story in these sessions to raise awareness of intersex issues.