"My needs as a new mother are being considered"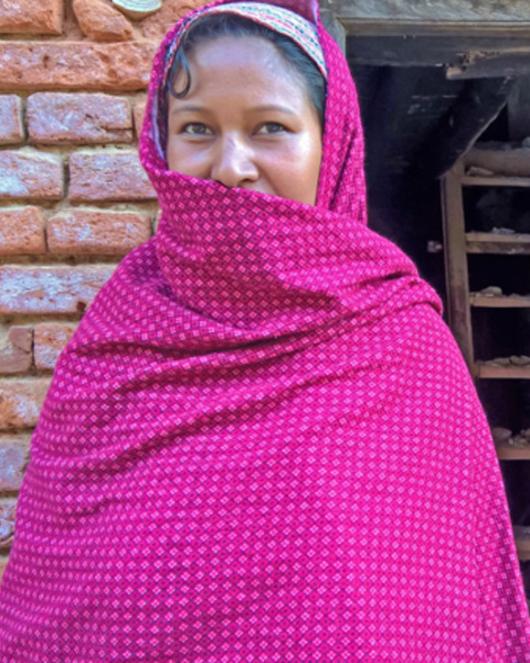 April 25 2015 was a regular day for Parvati from Nepal.
She had delivered a baby girl merely 26 days ago. She was busy with feeding the baby and taking care of her. She had just sat down to catch a breath; suddenly the floor began to shake. A deadly earthquake had struck.
Parvati's first instinct as mother was to grab her baby girl. Shouting to her husband to get out of the house, she headed to the stairs to reach the ground floor from her first floor residence. Her husband took the baby from her so that she could make her way down the stairs.
When they reached the flight of stairs they found the way blocked by the rubble. They ran back the flight of stairs to the roof, gained access to the neighbour's house and ran down their staircase to safety.
Parvati lived in the field under a tarpaulin with her husband and child. Having barely escaped with their lives, Parvati did not have anything with her. She borrowed clothes and blankets from other people to keep her baby warm.
Feeling anxious for her baby's life, recovering from the childbirth and reeling under the difficult living conditions, it has been a harrowing time for her.
When IPPF, through SPRINT initiative organised a medical camp with the support of Family Planning Association of Nepal, she was able to come to the camp and get the post-natal check-up done. The doctor at the camp prescribed multi vitamins and iron folic tablets to build her strength up post-delivery. She also received a dignity kit (which contains basic hygiene and protection items such as sanitary towels, underwear and soap) for her use.
"In these difficult times, any bit of help is welcome. I'm very happy that at the camp people have actually thought about a woman's needs, especially a new mother's needs. You know in our society we feel shy to say what we want and we adjust. I'm really grateful that for once, my requirements have been considered," says Parvarti.