Young motherhood in conflict zones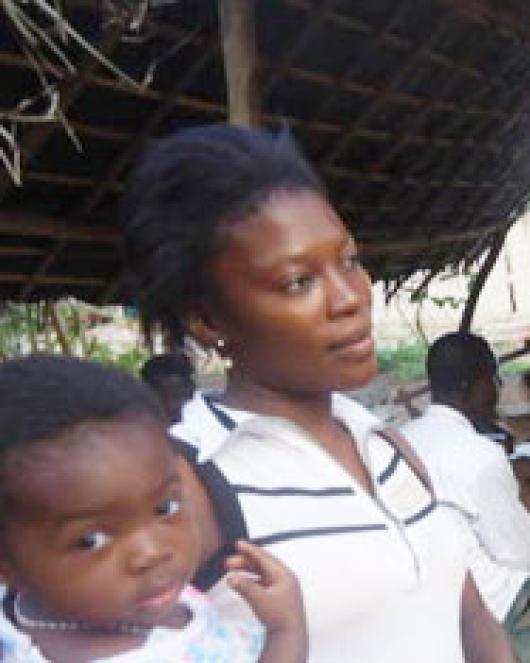 My name is Dié Guélassé Estelle. I am 20 years old. Having delivered at a very young age, I want to propose that more work is needed for young girls on behaviour change and family planning. I had to stop my studies due to pregnancy and I would not want to see other girls end up like me.
I was 4 months pregnant when the war broke out in Côte d'Ivoire. We had to run to the church where a camp had been set up.  I was really confused what was going to happen to me. I wasn't able to access antenatal and other reproductive health services, yet my condition required these services urgently. I was depressed.
It was while at this camp that luck presented itself. The Association Ivoirienne Pour Le Bien Etre Familial (AIBEF) was offering reproductive health services in the camp. I went to their tent and they took me through how they were going to support me. Throughout the pregnancy, I went to the AIBEF clinic for all my consultations. I delivered a baby girl called BOHI Esmonde at the same clinic. After delivery, I kept coming to this clinic for all my follow-ups.
The nurses at the clinic taught me about contraceptives and the methods available. I am currently using the injectable contraceptive method which has helped me to prevent unwanted pregnancy. It has allowed me the freedom to now run a small business and at the same time look after my baby without much pressure.
Were it not for the intervention of AIBEF at the camp, my life would not have been the way it is now. Perhaps I would have lost the baby or my life. For 2 years now, I have been coming to the clinic for all my reproductive health services. I like them so much because they take care of women and their services are free of charge. The nurses are caring and supportive.
They also help those who do not have the means to access good nutrition. For instance, when I was 8-month pregnant, they gave me rice, oil, several canned tomatoes, canned sardines, and pasta. Before AIBEF helped me, I would go for 2 days without eating. After delivery, they continued to give me the food ration to enable me breastfeed my baby.
In reflection, I sometimes think I would either have died or given birth to a malnourished child if I did not come across AIBEF at the camp. Now, my daughter and I are in good health. She is full of life and very beautiful. I feel that the clinic has helped me be in control of my sexuality and look at life from a very positive perspective.
Many times I wonder what would happen to poor people like me without organizations like AIBEF. This is why AIEBF has to remain in Duékoué and continue providing antenatal care, family planning and delivery services.