Young people are unique but we all need youth friendly services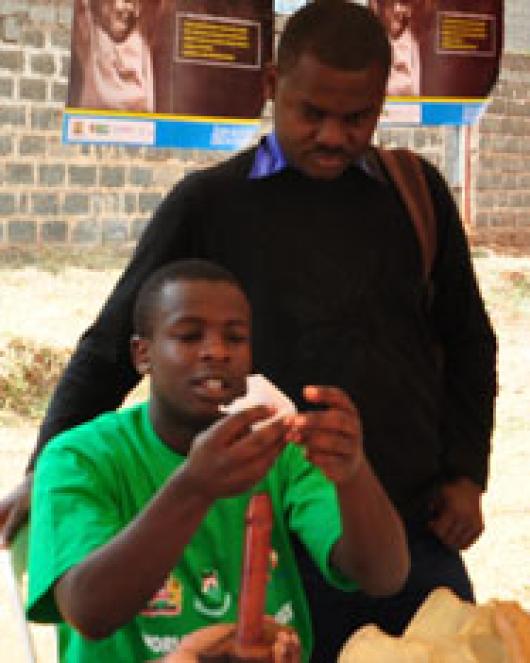 Momo Seh, standing, is from Liberia. He has been working as a youth intern at IPPFAR since May 2013. He is the National Youth Coordinator of the Youth Action Movement in Liberia. 
I have been living in Nairobi, Kenya since May 2013 where I work as a youth intern for the International Planned Parenthood Federation (IPPF) Africa Regional Office.
Leaving home to work and live in a new country has been both exciting and challenging. Exciting in the sense that I get to experience a new culture, languages and people and challenging because of issues like language barrier. In Kenya, people speak Swahili.
They do not understand the Liberian accent very well, so after I arrived, I found I had to repeat myself several times to be understood.
My move to Kenya was under positive circumstances. This is not the case for youths in Africa. Many are forced to flee their countries due to war, natural disasters or poverty. They grapple with limited access to sex education, contraceptives and other SRH services.
Earlier this year, I interviewed a 20-year-old Sierra Leone refugee. She was a school drop-out. She had two children.  She and her partner did not use condoms and she had never been tested for HIV.
This interview was during a fact-finding and outreach mission targeting teen mothers among Sierra Leone refugees living in western Monrovia in Liberia.
I was part of a team of youth volunteers from the Planned Parenthood Association of Liberia.
We wanted to find out two things. First, how accessible sexual and reproductive health services were to them and secondly to know the number of children each of them had.
Some of these teen mothers were single, some had partners. But most had two or three children. It was shocking to find out that they had very little information about sexual and reproductive health or where they could access services.  
The situation is no different in urban centres. Though these young refugees have access to health centres, they lack the confidence to use these services. Young migrants need to be free from harassment and intimidation.  Many of them feel SRH is the "business of adults" especially when you talk to them about family planning.
Here in Nairobi, the IPPF Kenyan Member Association (Family Health Options Kenya – FHOK) is working for young people to have confidence in ourselves.  Through them I can access SRH services. When I first arrived, I visited their youth centre in Eastleigh. They provide life skills including tailoring, pastry making, and beauty and hair training. These kinds of trainings empower young people to be financially independent, and this is essential for our development and decision-making.