Zambia's Maternity Waiting Houses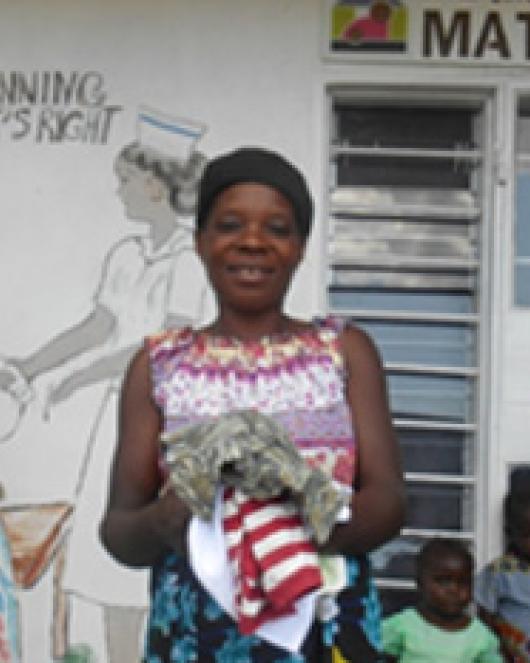 Twenty-year-old Prudence Mwelwa (not her real name) is convinced she would have died if she had tried to have her first baby at home in her village in Zambia. She said there was a lot of blood during her delivery and she really believes that her relatives would not have been able to stem the bleeding.
She had been feeling anxious anyway as it was her first pregnancy so a week before she gave birth, Prudence and her mother set out on a three-hour walk to one of Zambia's maternity waiting houses. She liked the idea of having skilled staff on hand to help her with the delivery.
She also found that a lot of her worries and stress were relieved by talking to other women who had already had babies and could tell her about their experiences. Not only that - staff at the maternity waiting house also gave Prudence baby clothes donated to PPAZ  through the  Japanese Organization for International Cooperation in Family Planning  (JOICFP) by supporters from Japan.  In fact, support for the Safe Motherhood Project in Masaiti District has always come from its all-weather partner JOICFP.
Zambia's maternity waiting houses are becoming more and more widely used. PPAZ's contribution has been the building of model maternity waiting houses - the first one was opened in August 2011 at Fiwale Rural Health Centre and the second two years later in 2013 at Mukolwe Health Post, both in Masaiti District in the Copperbelt Province of Zambia.  Both waiting houses were supported by JOICFP.
The maternity waiting houses were set up by the Planned Parenthood Association of Zambia (PPAZ) in line with the World Health Organization (WHO) decision in 2009 that expectant women should be encouraged to give birth in clinics or hospitals. Research had found that in many cases it was safer for mothers not to have their babies at home with traditional birth attendants.
This decision by WHO prompted PPAZ to start setting up maternity waiting houses at health facilities in rural areas.  The waiting houses reduced the distances covered by women in rural areas when they were in labour.
PPAZ had been working in the Masaiti District promoting access to sexual and reproductive health information and services through the Community Operated Reproductive Health (CORH) Project since 1986.
Over the years PPAZ has used different ways of providing services that seemed relevant at a given time. PPAZ through the CORH Project has always tried to find innovative ways to help people get access to family planning and other services including the prevention of HIV and AIDS.
The project had turned its attention to promoting safe motherhood services through the maternity waiting houses in 2011. It helped to build the capacity of Community Based Distributors (CBDs) and has trained traditional birth attendants (TTBAs) as Safe Motherhood Action Groups – SMAGs.
Maternal mortality rates in Zambia have been in the past unacceptably high. Most recent UN figures show 591 maternal deaths occur per 100,000 live births while the infant, neonatal and under-five mortality rates are at 70, 34, and 119 per 1,000 live births, respectively.
One of the main problems when it comes to maternal mortality is that only 47 percent of births are attended by a skilled health worker at health institutions. Home delivery is high – about 53 per cent and communities in rural areas have limited access to health care. It is currently, estimated that in urban areas approximately 99 percent of households are within five kilometres of a health facility, compared to 50 percent in rural areas.
PPAZ is working hard on the ground to turn these figures around so women like Prudence Mwelwa can be safe in the knowledge that there is somewhere to go and they no longer have to give birth feeling scared and vulnerable.