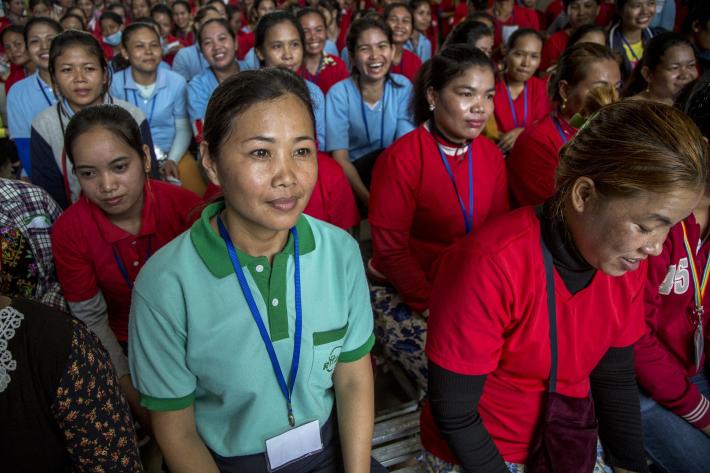 In the early 1950s, a group of women and men started to campaign vociferously and visibly for women's rights to control their own fertility.
Family planning as a human right challenged many social conventions. Campaigners faced great hostility to gain acceptance for things that we take for granted today. Some were imprisoned. But they emerged determined to work with different cultures, traditions, laws and religious attitudes to improve the lives of women around the world. And so, at the 3rd International Conference on Planned Parenthood in 1952, eight national family planning associations founded the International Planned Parenthood Federation (IPPF).
67 years later, the charity is a Federation of 133 Member Associations working in 146 countries, with an active presence in a further 20 countries, totalling 166 countries in which IPPF works. In 2018, we delivered 223.2 million sexual and reproductive health services.
Funding and structure
The IPPF Secretariat comprises Central Office in London and six Regional Offices, working out of five locations:
Africa (Nairobi)
Arab World (Tunis)
East and South East Asia and Oceania (Bangkok)
European Network (Brussels)
South Asia (Bangkok hub and Delhi sub-office)
Western Hemisphere (New York)
Each Regional Office oversees, promotes and distributes core funds to Member Associations in the Region.
The work of IPPF is overseen by its Governing Council as the Federation's main governance body.
In May 2019, Governing Council established an Executive Committee to provide additional support and oversight to the reform process the Federation has embarked on.
The Executive Committee is made-up of three members of Council: Alice Ackermann, Tracy Robinson and Olgah Daphynne Namukuza.
Volunteerism is central to IPPF's ethos and millions of volunteers work with the Federation around the world.
---
Vision
All people are free to make choices about their sexuality and well-being, in a world free of discrimination.
Mission
Building on a proud history of 65 years of achievement, we commit to lead a locally owned, globally connected civil society movement that provides and enables services and champions sexual and reproductive health and rights for all, especially the under-served.
Core values
Our core values guide the way we undertake our work. We believe:
in social inclusion with a demonstrated commitment to enable the rights of the most under-served to be realised
in diversity, respecting all regardless of their age, gender, status, identity, sexual orientation or expression
our passion and determination inspire others to have the courage to challenge and seek social justice for all
in the significant contribution our volunteerism delivers across a range of roles and as activists inspiring the Federation to advance its mission
in accountability as a cornerstone of trust which is demonstrated through high performance, ethical standards and transparency.
Read IPPF's Strategic Framework: 2016-2022