By her daughter,
Sarah Dhanjal
It is with great sadness that I report the death of my mother, Beryl Suitters Dhanjal on March 7th 2016. The family felt it important to inform the institutions she had played a part in. On calling IPPF I was pleased to hear that Mum's work is still important to the movement she contributed to.
Beryl worked at IPPF from 1966 to 1970. She worked as the organisation's Librarian/Information Officer and Researcher, during which time she organised an exhibition held at the University of Chile for the 8th Conference of IPPF Santiago, Chile, 9-15 April in 1967.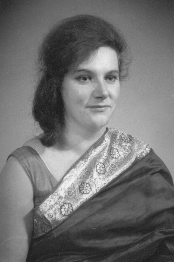 Her work took her to the Indian subcontinent, of which she became very fond. She spoke of an elephant which gave out condoms as part of the outreach work she was involved in there. Beryl co-wrote The Fight for Acceptance: A history of contraception with Clive Woods in 1970. She went freelance in 1971 when she was commissioned to write a history of the IPPF. Mum's first book as sole author (she always wanted to be a writer) was Be Brave and Angry published in 1973. This took her away from her new home and husband in Southall, researching in America where she became good friends with Blanche Horowitz whom I remember visiting us during my childhood. As Mum noted in her foreword to the book the title came from Elise Ottesen-Jensen, whom she affectionately referred to as Ottar, "a quotation from a Norwegian poet Henrik Wergeland". We are touched to hear that this sentiment still holds true in IPPF today. A leather bound copy sits on a bookcase in our study, signed by IPPF luminaries including Lady Rama Rau, Rufus Day, Avabai Wadia, Constance Goh, Lady Vera Houghton and Shidzue Kato.
After IPPF, Mum decided to explore her interest in the Indian subcontinent further by embarking on a degree at SOAS alongside community work in Southall. She took the chance to learn about anything and everything, focussing on anthropology, Indian history and art, becoming fluent in Punjabi but also dropping into lectures on archaeology. She once told of the students' disappointment in finding that a lecture on penis sheaths by the late Prof Peter Ucko (later my employer) was about anthropological fieldwork and not a new condom machine for the union. Her wicked sense of humour and thirst for knowledge was always strong.
Having had to put her daughter up for adoption in the early 60s, Mum went on to raise a family in the 1980s. She juggled motherhood with Punjabi-English translation, university level lecturing on world religions and later worked in adult education and ESOL. Alongside she wrote dual language fiction and reference books for children, and contributed to two series on world religions and several travel guides, including a best-selling guide to Pakistan. Her wanderlust, curiosity and courage were always remarkable.
Her final illness was short and painless. She also leaves behind my father, Amarjit Singh Dhanjal, my brother Ben, my sister Nikki and through her a granddaughter, Francesca, to whom she will always be Granny Awesome. The funeral took place on Tuesday 22nd March at Hanworth Crematorium. The laughter and chatter outweighed the tears, which was a befitting tribute to my strong, imposing, witty, intelligent, provocative, "Brave and Angry" mother.