Kiribati, a tiny island in the Central Pacific Ocean, is at the forefront of the climate crisis, despite being one of the least contributors to it.  It is one of five nations that may become uninhabitable in the next 77 years, creating 600,000 stateless climate refugees.  
"I think in 20 years this whole village will be underwater,' shares Theta Kiraneti, a member of the Humanitarian Youth Club in Kiribati. "Though we love it here, we have to believe the scientists that there is a possibility that it will sink underwater. It's quite sad news for us – it is our own country. And to be a refugee in another country. People are discussing migrating to Fiji, Australia, or New Zealand."
Low-lying land, coastal settlement, rising sea levels, and insufficient fresh water supply makes the small island nation more susceptible to climate-related dangers and natural disasters like tsunamis, earthquakes, high tides, droughts, and occasionally, cyclones. This vulnerability is compounded by the geographical isolation of its outer islands, which makes transportation and communication for post-disaster relief more costly and challenging.
region
East and South East Asia and Oceania
Related Member Association
Kiribati Family Health Association

When I was a child, you could go beyond the sea wall, but now the water is coming closer and closer. Soon there will be no land near the coast.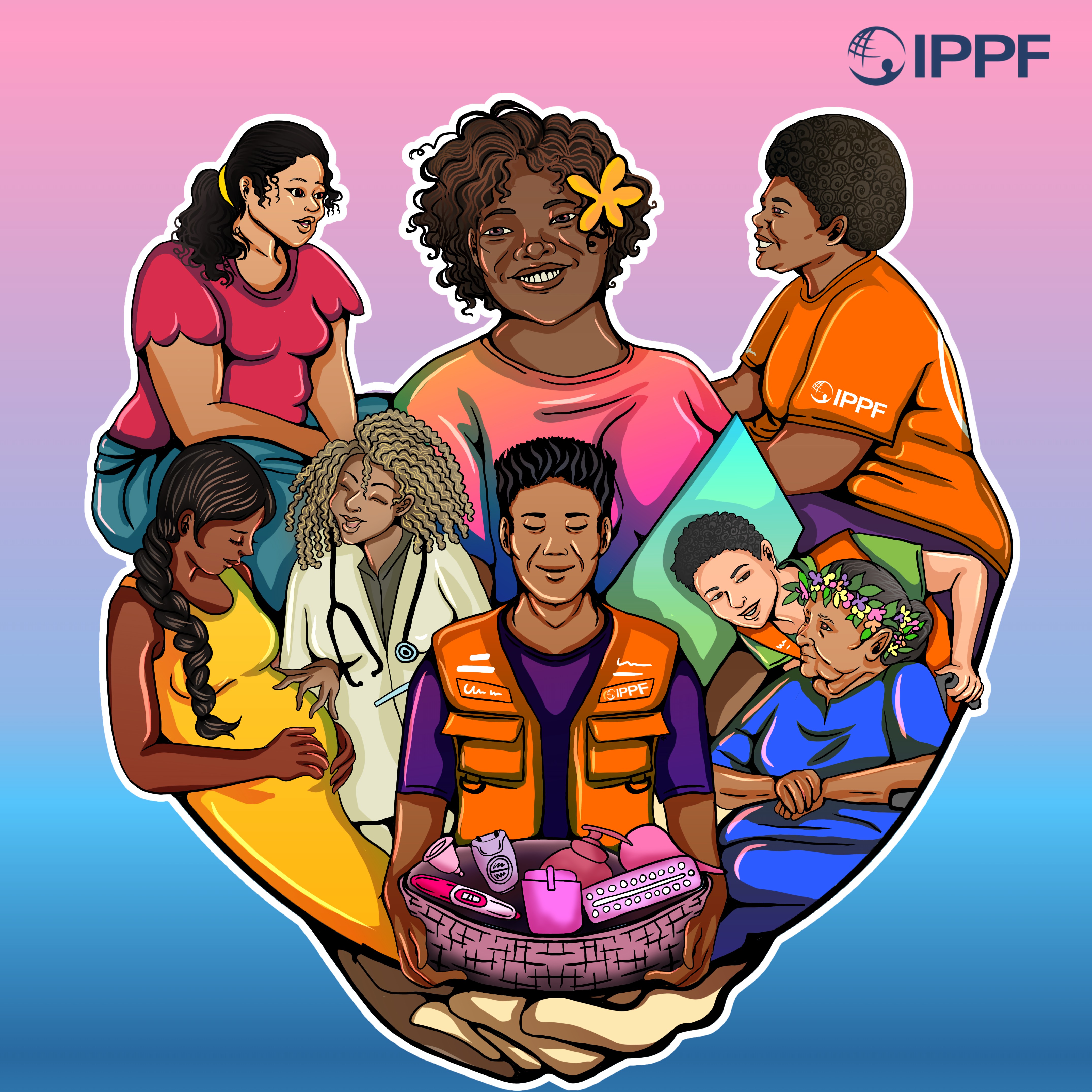 Illustration by Regina Vaka'uta
Regina Vaka'uta
SRHR crisis amidst climate-related humanitarian emergencies 
Humanitarian crises are increasingly prevalent in this small island nation, largely due to the sudden onset and slow-onset natural disasters, exacerbated by climate change. An often overlooked and underfunded aspect of climate-related disasters and humanitarian crises is the sexual and reproductive health and rights (SRHR) of women, girls and marginalized groups including trans, non-binary and gender non-conforming people. 
Abe Tata, the former Youth Officer of Kiribati Family Health Association (KFHA, an IPPF Member Association) stresses the critical need of SRHR awareness in Kiribati, especially among its youth. He says, "In our culture we can't talk to children about these [SRH] issues as it's considered rude. Because of this, young people grow up with little knowledge about SRHR, which is why teenage pregnancy is so high in Kiribati, we are the second highest in the Pacific. STIs and HIV prevalence is also getting higher."

Young people grow up with little knowledge about SRHR, which is why teenage pregnancy is so high in Kiribati, we are the second highest in the Pacific. STIs and HIV prevalence is also getting higher.

The general silence around SRHR issues and its limited services are further worsened by the climate crisis and, its resulting, humanitarian emergencies. An immediate impact of it on SRHR is the disruption of critical infrastructures such as roads and clinics due to extreme weather events. This in turn impedes the accessibility and availability of SRHR services including STI and HIV testing, safe abortion and contraceptive services. Where these services are unavailable, maternal morbidity, mortality and other adverse health outcomes increase.  
A lack of access to clean and safe water affects the quality and safety of SRHR services, including during pregnancy, childbirth and the management of menstrual health. Research shows significant associations between air pollution and heat exposure related to climate change and the risk it poses to pregnancy outcomes such as preterm birth, low birth weight and stillbirth.  
The breakdown of family, social networks and protective structures due to climate-related disasters increase rates of gender-based violence including sexual abuse, exploitation, rape, child/ early marriage etc. Some families may resort to forcibly marrying of their daughters due to food and income security.  
Kiribati's Youth Leadership on SRHR advocacy and Climate Crises 
SRHR is critical to climate change preparedness, adaptation and resilience as it helps advance gender equality, health and well-being of individuals in society. The Kiribati Family Health Association (KFHA) provides access to lifesaving sexual and reproductive health care including family planning, contraception, prenatal and postnatal care, and HIV/AIDS prevention and education. It also engages in capacity building and training programs to enhance skills and knowledge to deliver quality SRHR services across the country.  
KFHA is also preparing for climatic emergencies by undertaking humanitarian preparedness and response training. Central to KFHA's work is its Humanitarian Youth Club, where Kiribati's youth meet regularly to plan rapid responses for their communities during climate-related disasters.  
"Our youth have been organized as a club since we were younger, we were very active. Now we are leaders... We share our ideas on sexual and reproductive issues such as sexually transmitted-infections, and we discuss how it would feel to be a pregnant woman in a disaster", reflects Theta Kiraneti on her experience as a Humanitarian Youth Club member.  
Tikatake, a youth participant of KFHA's capacitating program on humanitarian emergencies, speaks about the lessons he received. "I learned we have to look out for people with disabilities and pregnant women … If a woman goes into labor during an emergency, we know we must call on the traditional midwife. It is my responsibility to look after our community members."  
In the face of adversity experienced by Kiribati due to increasing climate-related disasters and SRHR disparities, its youth, led by KFHA's Humanitarian Youth Club, emerge as powerful SRHR advocates and preparedness leaders. Through education, advocacy, and community action, they show resilience, embodying hope for a future for their upcoming generation. As Theta puts, 'I want my daughter to grow up in the same place I grew up in. Isn't that what most people would want?'  
Illustrations by Regina Vaka'uta (@reginaz_shiki)