The drought situation in Kenya is worsening every day, with an estimated 4.35 million Kenyans currently in need of food aid, according to the National Drought Management Authority (NDMA). The population in the affected areas, some of whom are living in refugee camps, is facing a significant deterioration of already elevated levels of acute food insecurity, which has put lives and livelihoods at risk. The NDMA believes there are at least 134,000 pregnant or lactating women acutely malnourished and in need of treatment. 
Sixteen-year-old Maria is among them. Seven months pregnant and living in the camps, Maria had been feeling unwell. She attended the medical camp where news reached her that there was medicine being given out by Reproductive Health Network Kenya, an IPPF Member Association. She had never attended any antenatal clinic before. 
"I never knew that a baby can be checked while in the mother's stomach. The nurse said she could even hear the baby breathing," she said, smiling. "I am happy if the baby is okay. And I have got some medicine for myself as well."

I never knew that a baby can be checked while in the mother's stomach. The nurse said she could even hear the baby breathing.

The IPPF Humanitarian team, through Reproductive Health Network Kenya (RHNK), have provided humanitarian aid in the form of sexual and reproductive health services to those affected by the drought.                                       
Maria was advised on how to take care of her general well-being and was paired with a young person to talk to her about available options for contraceptives after her baby was born.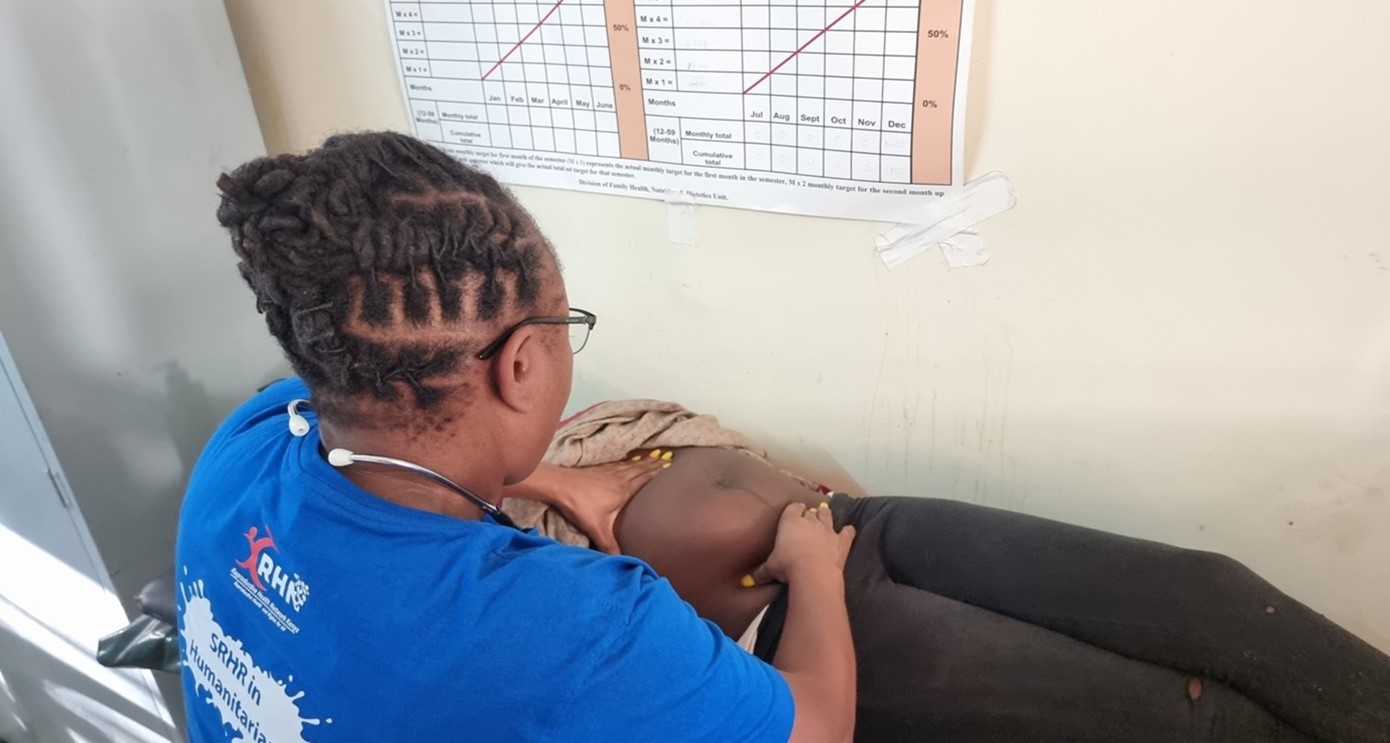 Maria receives antenatal care at the mobile clinic.
Mercy Juma
With over 90% of water sources dried up, women are being forced to walk for increasingly long distances in search of water. They often wait for hours at boreholes for water for their families and pasture animals.
In their search for survival, women have limited or no access to sexual health and reproductive services. They also have reduced access to antenatal and prenatal care, which has caused an increase in cases of unattended births and unsafe abortions. Sexual and gender-based violence, including rape and early marriages, has increased as families are marrying off young girls in exchange for food. The transmission rates of sexually transmitted infections, including HIV, have also been very high.
The IPPF Humanitarian Team and RHNK have successfully conducted outreach through mobile clinics in Kilifi, Samburu and Isiolo counties which are all in the 'alert' drought phase. They have developed a referral pathway for gender-based violence cases in counties where it did not exist and additionally sensitized health care providers on case management, including counselling for survivors of gender-based violence and community health volunteers on effective referral.
Patients lining up outside the mobile clinic.
Mercy Juma
In efforts to prevent infant and maternal mortality, the team has conducted sensitization sessions on safe delivery to traditional birth assistants in the communities. These birth assistants are instrumental in conducting deliveries since healthcare facilities are far and most deliveries take place at home or at the camps. They have further provided emergency obstetric and newborn care services, including the provision of pregnancy supplements and health talks to pregnant women. 
Despite the religious and socio-cultural background limiting the use of contraceptives in the affected areas, RHNK provided 3,021 clients with sexual and reproductive health information and services, including family planning and contraceptive services. They also sensitized the community leaders on the importance of contraceptives, including the importance of family spacing.
Samantha Akua, a 31-year-old mother of six, received reproductive health services from RHNK. She has never been to school and engages in small-scale farming and taking care of her children. Due to the drought, she is not able to plant any crops and spends a lot more time looking for water supplies and waiting for food aid. Samantha had previously never used any family planning method.
"I think it is time that I focus on just taking care of these six children. I cannot afford another pregnancy now. How will I feed the baby and myself? Even me, myself, what will I eat to sustain that pregnancy, if at all?'' says Samantha.

I cannot afford another pregnancy now. How will I feed the baby and myself?

RHNK healthcare providers create plans for comprehensive reproductive health services to be integrated into primary health care by signing memorandums of understanding with the county departments of health to strengthen reproductive, maternal, neonatal, child and adolescent health services, including sexual and reproductive health rights in humanitarian responses. In addition to sexual and reproductive health services, they offered treatment for general health conditions.
With looming fears of forecasts of failed rains during this October to December season, millions more vulnerable women and girls are at great risk of being affected by the crisis.
The IPPF Humanitarian team will continue to work closely with the Reproductive Health Network Kenya to deliver life-saving care to the people in need – knowing that women and girls' need for reproductive health care is not suspended in a crisis.