You may have noticed huge protests taking place in Poland at the moment, and wondered what they're about. These protests were prompted by the decision of the Constitutional Tribunal to impose a near ban on abortion on 22 October 2020. Specifically, the ruling struck down the possibility for women to access abortion care on the ground of severe foetal impairment, rejecting what is the most common of the few legal grounds for abortion in the country at present. 
This cruel, regressive move has been made possible by Poland's ruling PiS party's deliberate erosion of the rule of law and democratic values in the country, and is just the first concrete manifestation of how the current situation in Poland enables PiS to violate human rights.
The result will be agonizing for women and their families, forcing some to continue through pregnancies against their will, including in cases of fatal or severe foetal impairment, while others will have no choice but to travel abroad to seek care if they have the financial means to do so, or to seek underground abortions. Although the ruling is not yet officially implemented yet, Polish hospitals are already turning away women seeking abortion care. 
Tantamount to torture 
This decision will needlessly increase the suffering of women already facing very difficult situations. Such inhumane and degrading treatment has been described by the European Court of Human Rights as tantamount to torturing women. 
This act of reproductive coercion is in line with the agenda of PiS, which continues zealously to mount attacks against women's reproductive rights and freedom. 
The European Commission has already expressed serious concerns regarding breaches of the rule of law in Poland, and has proposed to make EU funding to Member States conditional on respect for this EU value. In fact, as of 5 November, this proposal is set to become a reality as a provisional agreement linking the EU budget to the respect of rule of law was reached.
Taking to the streets
The majority of the public support women's right to access abortion care, and the strength of protests that have taken place in the subsequent days since the ruling have highlighted this. Tens of thousands of people are currently taking to the streets of Poland daily to demand fundamental human rights, in the country's largest protests since the fall of communism. These protests are ongoing, and have drawn support from a wide variety of people, including miners, taxi drivers, farmers and trade unions, and condemnation for the ruling has come from all around the world. 
In response to these peaceful protests, nationalist groups have reacted violently, and the Polish government has deployed law enforcement and the military. Subsequent footage documented by activists and journalists on social media show police using teargas, pepper spray and physically assaulting protesters – this is contrary to standards set out in international human rights law and the EU Charter of Fundamental Rights, which guarantees the right to peaceful assembly.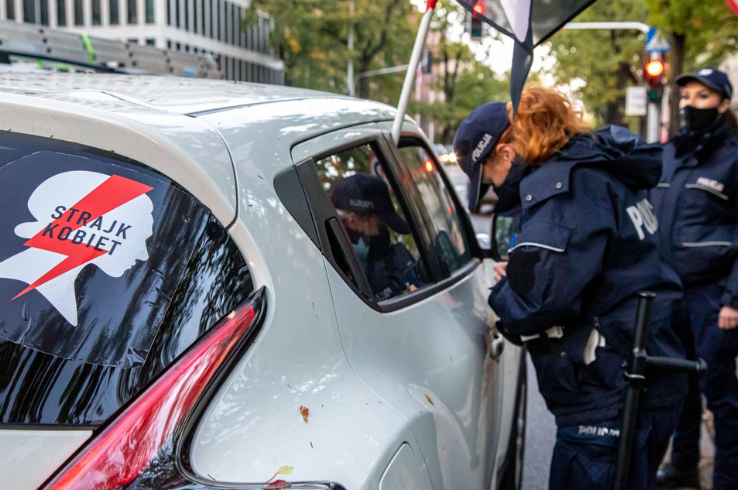 While the government claims this deployment of national forces has been for COVID-19 reasons, it is unacceptable that they use this as a pretence to repress peaceful protests. The Polish government has already been strongly criticized for using the pandemic to consolidate power and gag opposition, and it has previously done nothing to punish violence by far-right groups against peaceful demonstrations.
Delayed implementation
However, the demonstrations have had a powerful impact, and on 3 November there was a glimmer of good news when the government announced a delay in implementing its latest court ruling in response to the protests. On that day, Michał Dworczyk, the head of the prime minister's office, told Polish media that: "There is a discussion going on, and it would be good to take some time for dialogue and for finding a new position in this situation, which is difficult and stirs high emotions." But this is by no means a U-turn, and there are concerns that the government will propose a 'compromise' that will continue to harm women. 
We join our colleagues at IPPF European Network in urging the Polish government to reverse their harmful decision on the abortion ban, to end restrictions on peaceful protesters, as well as calling on EU leaders to condemn attacks and violence perpetrated by the authorities and non-state actors.
What can I do to help?
Given the COVID-19 situation and the risk of violence, you may (rightfully) feel unable to safely join physical protests on this issue. But there are plenty of other things you can be doing to help, including to:
Take a photo or video of yourself with a statement of support and sharing it on social media using the hashtags #StrajkKobiet (Polish for 'women's strike') and #YouWillNeverWalkAlone 
Share articles and information (including this blog!) on your social media channels to help keep the spotlight on Poland
Urge your government to put pressure on Poland to reconsider its latest ruling, and to support access to abortion for Polish women in practice. You can also urge your government to offer access to healthcare services for free in your country, and to financially support civil society organizations that provide abortion care to Polish women and defend women's rights and democracy
Sign online petitions in support of abortion rights in Poland and beyond
Donate what you can to organizations that fight for abortion rights and provide safe abortion care for Polish people.
Follow IPPF European Network for updates on this ongoing situation
Photo credits to:
Main image: Marta Bogdanowicz Spacerowiczka
Middle image: MBK/Spacerowiczka
Final image: Katarzyna Pierzchała – Obywatel KP Fotograf