Sarian Kamara is from Sierra Leone, but is now based in London, UK from where she runs her organization, Keep the Drums, Lose the Knife. As a survivor of female genital mutilation (FGM) and traumatic childbirth, Sarian was determined not to remain silent about her own experiences, sharing her story so that others can live free from the harm of FGM. 
My organization, Keep the Drums, Lose the Knife, is a community interest group which sets out to educate our communities in Sierra Leone and the Diaspora in the UK – communities from Nigeria, Gambia, Kenya, Liberia, Somalia, and Guinea. 
FGM is a global issue, and in London we have a big representative of all these different nationalities, and we all share the same concern about FGM for our families and friends. We wanted to make changes back home and here where we live, so we come together as a group of women who have already been through it. We use our experience as survivors of FGM to educate our people, and to help other people who probably have been through this practice at a very young age to understand what it means. We help people understand the laws around FGM in the Diaspora because there are some people who see it as cultural, and we want them to understand that it is actually against the law. 
The journey to activism   
I attend conferences, I train frontline professionals, local communities, schools, and we also engage people locally through outreach. But I've been an activist since I was cut [at the age of 11]. However, I didn't know that I've been active against this practice and campaigning at this age – I didn't even know about what activism was.  
When I was older and went into society and realized that there's so much violence going on and the horror of what happened to me, it just made me hate the practice, made me hate the people around me. And to even think that my mum and my grandmother and the rest of my family organized this kind of violence to happen to me. I didn't know what it means for me as the woman I would be, and as the woman I am now. After I was cut, any girl that I know that's been prepared to go get cut too, I would tell her what was going to happen – and my mum and my grandmother would have paid a lot of fines because of my actions. So, if you asked me how long I've been an activist, I can take it as far as that.  
Later, when I travelled to the UK as an adult, I realized women don't have to go through this, that this is just a bad practice that is a way of controlling you. So that was when my activism started in the UK. I started with my family and friends when I began to talk. People would walk away from me, but I'd continue to educate people to bring attention to how many women we know back home die giving birth. When I go back home, I talk about these issues. I engage people, and then that's how I begin to attend conferences. And then I begin to speak openly at conferences, training, and I went to study community development, writing my dissertation on FGM. That's how I started this journey.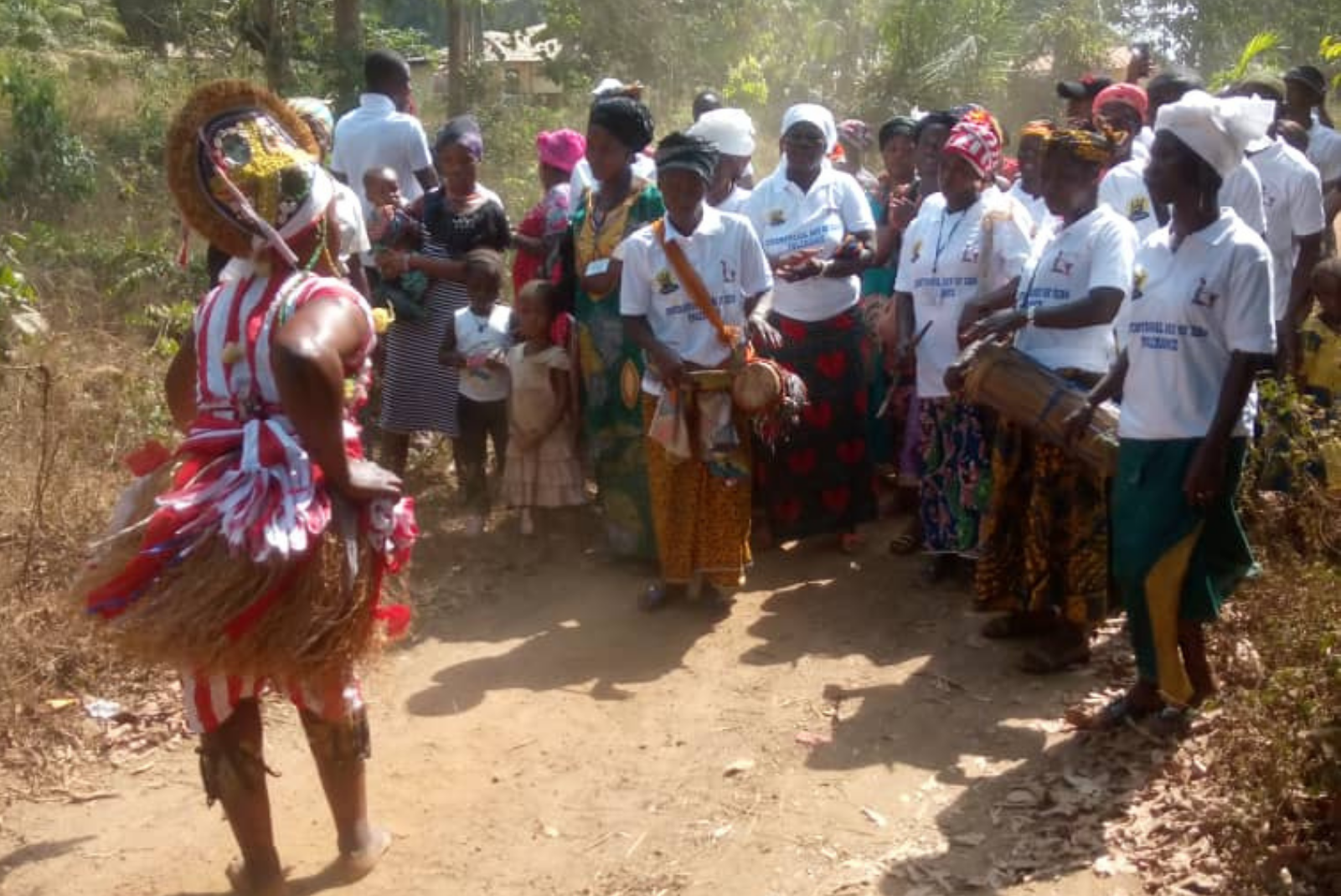 A community celebration with drums, in Sierra Leone
Sarian Kamara
In 2014, I went up to set up this community interest group called Keep the Drums, Lose the Knife, because in Sierra Leone, we used celebration. We use the drums to celebrate in this practice. And when they beat this drum, it brings the kind of community cohesion you've never seen. We can keep the drums because you can beat the drum, it brings people together. It brings community cohesion. But we need to take away the cutting out of the practice because we can still celebrate outside of the issue. 
Legal and cultural shifts  
There's definitely been a change legally and culturally. And we have been part of the movement here in the UK, supporting the government and lobbying to strengthen the laws and contributed to policies that are supportive, especially for doctors and midwives, caregivers, for them to realize that they have the duty of care. 
It's now mandatory to say something if healthcare professionals believe a woman or girl has been subject to FGM. If a woman is pregnant, they [medical teams] have to talk to you about that. Midwives and doctors are engaging women like ourselves and other women as well around this topic. There's room for full, open discussion and dialogue around these issues that's come out of all the campaigning that has been done.  
In Sierra Leone, we don't have any laws to say you can cut or can't cut. We signed the Maputo protocols, and my country committed, but they're not doing anything about it. So, we're working from bottom to top, working at grassroots level, educating our people. 
We share as people who have also been through the practice to help them to understand, and what we've been doing lately as well in the last three years is engaging cutters in Sierra Leone because we realize they are also victims of the same practices. Because for cutters in Sierra Leone, you cannot just cut because you just want to cut, you have to come from a cutting family – something that would pass on to you, you don't have any choice. We see them as also victims, so we don't see them only as perpetrators. We've been supporting them in training them and encouraging them to abandon the practice to become advocates within their communities.  
Navigating obstacles and biases 
We experience obstacles and biases every day. It's not so visible here in the UK, where mostly we struggle with funding. Back home in Sierra Leone, it's more political. For example, the practice is done with celebration, but it can be very expensive now. For families who cannot afford it, politicians will go to the local chief and ask them to bring together up to 150 girls. Last year, there was one village that cut 300 girls. When you see this taking place, it is organized and funded by prominent politicians – and this is how they secure the votes of those involved.  
So we are trying to change the laws. Recently, we joined a coalition in Sierra Leone, so different organizations that are registered and working on the ground. We are together and we've been lobbying government, so we wrote a petition against the government to live up to their responsibility and our commitments. We're yet to hear from them. We don't have any laws around this, but we could see progress. 
Creating a big impact through small grassroots  
We're always open for collaboration about how we manage our work together and share this space in terms of funding. Because there's not enough funding to go around, so grassroots movements like ours really struggle. We see a big organization using our work and some of them use it in a very positive light to say we need to engage local grassroots and local people. And the only way we can get to these people is by going through their local movements. Our people trust us more than these big organizations because most of them that access our services, they know we've not even been paid. But we always have time for them.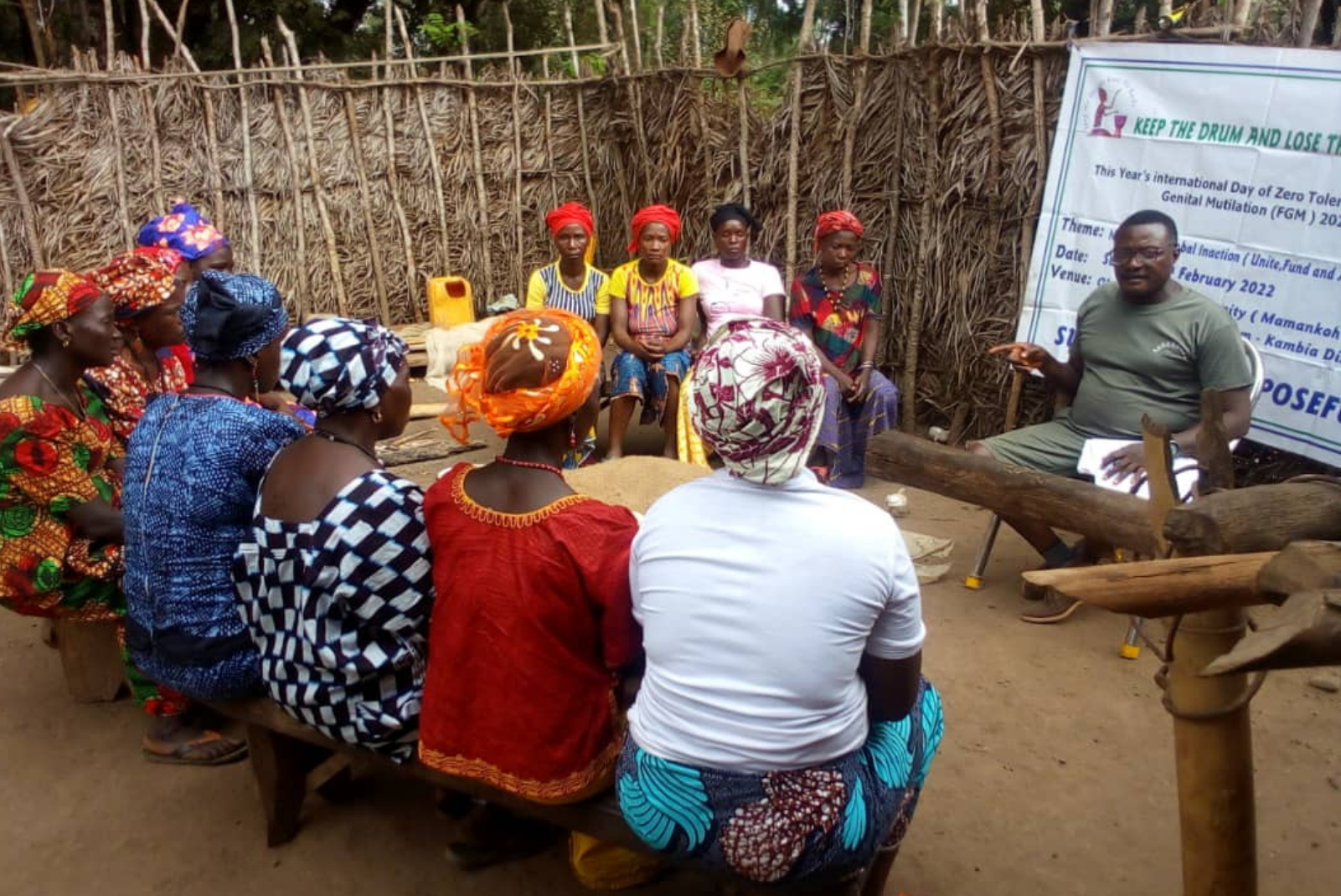 A community meeting in Sierra Leone, led by Keep The Drums, Lose the Knife
Sarian Kamara
I think our movement is very important and engaging grassroots communities is vital. When we go to Sierra Leone, we work in the small communities and villages and small groups and then we bring them together in a large community because it's very important for me to get to these people, build that trust and educate them. When they have issues, it is us they come to, and we will come to their aid. We will do the advocacy for them and the translating for them. Big organizations need to empower small grassroots movements like ours so that all our work can be done collectively to build those networks because you cannot work in isolation in this kind of work. 
I'm proud of many things, but the first time in Sierra Leone, where people brought all their cutting baskets and set them on fire in front of their community and denounced the practise was one of our proudest moments. It made it on all the news station in Sierra Leone. And now we have many women who used to be cutters advocating with us. Now we've got lots of people wanting to ban the practice, and we want the international community to take notice of it.  
Follow Sarian and her organization on Twitter: @kamsarian and @KDLK10