Restrictions to safe, legal abortion care are in place all over the world. A handful of countries ban the procedure in every circumstance, but nearly all place limits on who can have an abortion and when. Abortion is often criminalised, and nearly always stigmatised. Despite all this, abortions still happen.  
In fact, abortion rates in countries where abortion is heavily restricted are similar to those where it is mostly legal. Every year, millions of people are able to circumnavigate oppressive legal systems and practical obstacles to end their pregnancies by choice. They are able to do this because of abortion rights activists. 
Activists are succeeding in changing laws, as well as hearts and minds
News headlines are often dominated with stories about the devastating impact of abortion bans in the US. But the global picture is more positive.  
According to the Center for Reproductive Rights, more than 60 countries have liberalised their abortion laws in the past 30 years. Only four (including the US) have regressed. 
Center for Reproductive Rights Map of the World's Abortion Laws
Center for Reproducitve Rights
Earlier this month, Mexico's Supreme Court declared criminalizing abortion as unconstitutional, following a series of individual States removing criminal sanctions for those seeking or providing abortion care. Years of sustained advocacy from feminist groups really did lead to a majority Catholic country not only removing abortion from the criminal code, but also requiring public health institutions to offer abortion services. In its public statement, the Supreme Court used welcome, albeit surprisingly progressive, language: 
"Criminalization of abortion constitutes an act of gender-based violence and discrimination, as it perpetuates the stereotype that women and people with the capacity to get pregnant can only freely exercise their sexuality to procreate and reinforces the gender role that imposes motherhood as a compulsory destiny." 
This rights-based, gender inclusive language is no happy accident. This is the result of numerous conversations with feminist activists, who have not shied away from demanding recognition and respect of their rights. 
Abortion activists also work around oppressive legal systems 
Abortions continue to happen, even in the most difficult contexts, because enough brave and committed people decide to take action for what's right. 
In the face of potential legal sanctions, insults, threats, ostracisation and more, Safe Abortion Action Fund (SAAF) grantee partners around the world are speaking up and providing routes to safe abortion care.  
In 2019, when abortion was not yet legalised in Argentina, Socorristas En Red accompanied 12,575 people for safe abortions and advised them on doctors who can prescribe medication abortion. In Malawi, journalist Brian Ligomeka, who leads the Centre for Solutions Journalism, hopes to save lives by advocating for abortion law reform, after his niece died from an unsafe abortion. And the RAWSA network has recently launched an innovative mobile app to provide information, guidance and legal advice for people seeking safe abortion care in the Middle East and North Africa, where many countries heavily restrict access to abortion. 
Even in the most restrictive legal contexts, committed activists and health care providers find ways to support people to end their pregnancies safely. In the U.S, abortion funds continue to help people to travel outside of their state to access services, or to gain access to quality abortion medication. 
As the collective Shout Your Abortion stated:  
"They cannot stop us, and we will never stop. Abortion access was never guaranteed by the courts, and it cannot be broadly eliminated by legal decisions either. Abortion pills are now widely available by mail. Abortion funds and practical support networks have been building systems to help get people the care they need, no matter what." 

Abortion activists do this because they care. Because they want others to be able to continue with their education, their parenting, their careers and their dreams. Because they have seen friends and family members suffer from lack of safe abortion, forced into childbirth, or even dying from unsafe abortion.  

Global abortion solidarity is powerful 
Although there have been positive steps in the right direction in some countries, nearly all of us still live in places where our right to safe abortion is curtailed, where access to contraception is limited, and where reproductive health is a privilege for those with money, rather than a fundamental human right for all.  
But in this current reality, we must not lose sight of what's possible with global abortion solidarity.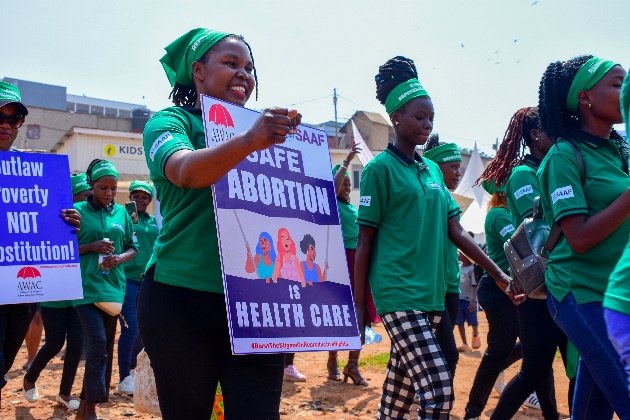 Ruth marches with SAAF's grantee partner in Uganda
IPPF
Earlier this year, SAAF grantee partner AWAC held a rally in support of safe abortion in Uganda. As Resty from the group made clear, this was inspired by other global abortion rights campaigns: 
"We decided to wear green scarves and green T-shirts in solidarity with and inspired by the 'green wave' movement in Latin America. This was the first ever green wave solidarity action on prevention of unsafe abortions, led by female sex workers with feminist and other human rights organizations in Africa. This was to indicate that abortion rights are not only needed in Latin America but also in the African continent and to indicate solidarity that we are one in this movement. Aluta continua! And we shall see ours and the next generations of women becoming free and having full control of their bodies and lives." 
The Safe Abortion Action Fund is hosted by IPPF and is the only international fund focused exclusively on the right to safe and legal abortion. 
Banner image credit: Wara Vargas/IPPF