Project period:

September 2019 – September 2021
Project goal
The JTF project aimed to address the SRHR needs of under-served people, particularly survivors of SGBV.
Project objectives
Objective 1: To increase access of 3,000 SGBV and HTPs survivors to SRHR services.
Objective 2: To economically empower the survivors of SGBV and harmful traditional practices (HTPs).
Objective 3: To reduce tolerance and acceptance of SGBV and HTPs, particularly against women and girls.
Project background
The district of Mardan in Khyber Pakhtunkhwa province has a deep-rooted culture of patriarchy and silence around all forms of violence against women. Khyber Pakhtunkhwa has shown slow progress towards advancing women's rights, particularly those related to SGBV and HTP. In Mardan, almost every household has issues related to SGBV and HTP.
Project achievement
By forming and training a project team in the area R-FPAP built strong relationships with local communities, engaging with medical professionals, tribal councils and religious leaders.
In order to reach SGBV and HTP survivors, the project team set up four static clinics run by Lady Health Visitors (LHV) and eight monthly medical camps. Further medical camps were held twice a month at Dar-ul-Aman.
The project team developed outreach clinics in remote areas and regularly shared their learnings throughout the project. Through this they achieved the following:
Local SGBV and HTP survivors have been given better access to SRH information and services and can now make informed decisions regarding their reproductive healthcare.
They have been economically empowered, through skills training, improving their self-confidence and enabling women and girls to attain a stronger social position where they are better able to fight stigma and discrimination and stand up to SGBV and HTP.
The community has been given both the capacity and the structure needed to address SGBV and HTP effectively.
Referral partners have been linked together effectively, to work for women's healthcare, protection from violence and social empowerment.
A particularly successful aspect of the project was engaging and connecting various groups of people at both a community and a district level, and involving local media and theatre groups in publicising the issues.
These initiatives enabled a holistic and joined-up discussion of the issues surrounding SGBV and HTP, at both individual and societal levels. By including government departments, public and private stakeholders and influential community members in these discussions, the project created support networks and collective consciousness to drive long-lasting social changes in the communities of Mardan.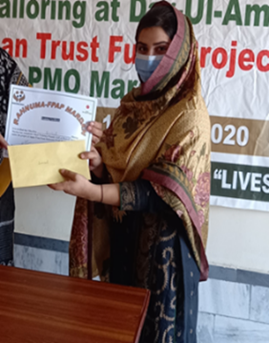 A survivor receiving her training completion certificate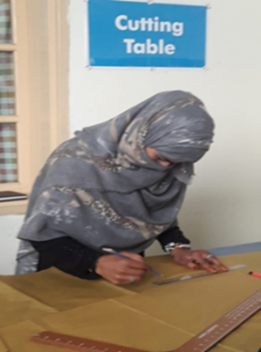 A survivor engaged in cutting session at Government Vocational Centre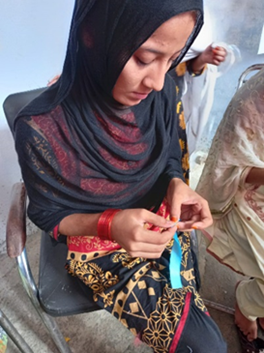 A survivor busy polishing her stitching skills
I have been facing violence for years, but because of the fear of my husband and in-laws, I never talk to anyone about this. It is only here, in this organization, that I got confidence and I shared my situation with them.
Gul Bibi [name changed]
A SGBV and HTP survivor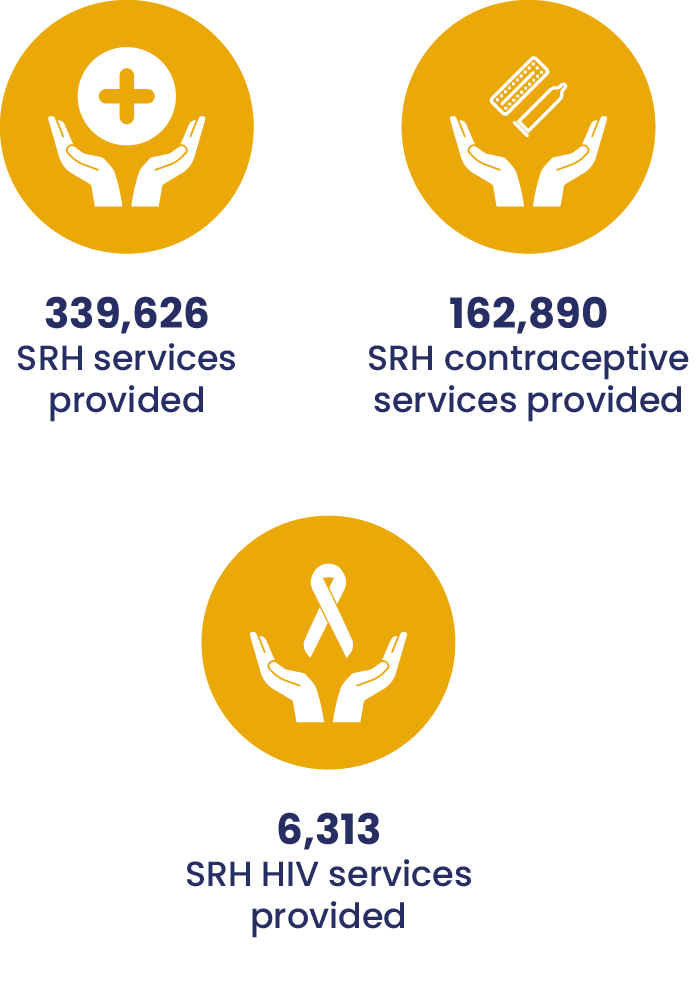 Key achievement in numbers
| | | |
| --- | --- | --- |
| Indicators | Project targets | Project total |
| # of SRH services provided |   | 339,626 |
| Of which contraceptive services |   | 162,890 |
| Of which HIV services |   | 6,313 |
| # of non-SRH services provided |   | 6,458 |
| # of condoms distributed |   | N/A |
| # of people reached with services |   | 54,111 |
| # of people reached with information |   | 54,112 |
| # of survivors enrolled in the project | 3,000 | 3,509 |
| Of which survivors who received SRH services through mobile clinics | 3,000 | 3,125 |
| # of SRH services provided to the survivors through mobile camps |   | 103,481 |
| # of survivors enrolled in skills development training | 450 | 448 |
| Of which # of survivors enrolled in the advanced training course of the Government Women Vocational Centre | 50 | 65 |
| # of survivors support groups set up | 4 | 4 |
| # of community support groups set up | 4 | 4 |
| # of meetings of community support groups | 32 | 32 |
| # of local journalists trained on SGBV and gender | 15 | 15 |
| # of newspaper articles published on SGBV and gender by the trained journalists | 30 | 32 |