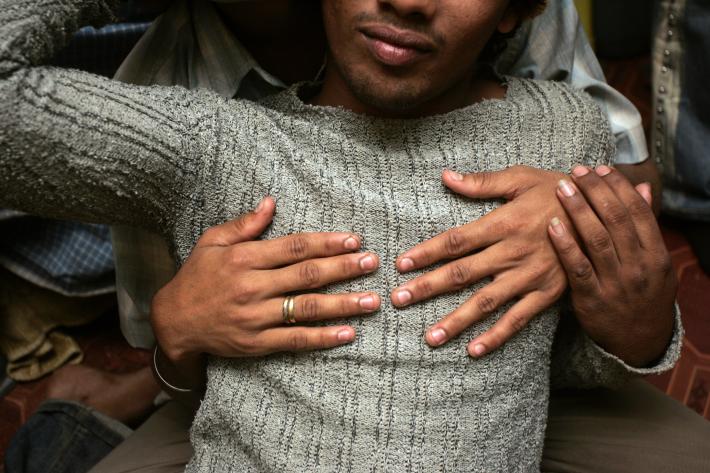 "Addressing sexual and reproductive health (SRH) and HIV needs among key populations: Men who have sex with men - the case of Cameroon" took place on Thursday, 15 October 2015.
The German BACKUP Initiative in collaboration with IPPF funded a three-year project, "Shadows and Light", which addresses the sexual and reproductive health (SRH) and HIV needs of key populations at higher risk of HIV within four IPPF Member Associations (MAs). This included a focus on transgender people in India; sex workers in Uganda; people who use drugs in Kenya; and men who have sex with men in Cameroon. 
This webinar series highlighted the importance of addressing SRH within HIV programmes for key populations, and how Global Fund to fight AIDS, TB and Malaria (Global Fund) is integral to their success and sustainability. Each webinar session focuses on one key population. Facilitated by IPPF and the German BACKUP Initiative, the webinars are held in cooperation with key population networks or organizations; the Global Fund; and IPPF MAs. 
The first webinar was held on 26 March: "Transgender People: The Case of India"; the second webinar was held on 18 June: "Sex Workers: The Case of Uganda", and the third webinar focussed on "People who use drugs: The Case of Kenya" on 27 August.
This fourth webinar focussed on "Men who have sex with men - the case of Cameroon". Besides highlighting the importance of SRH and HIV linkages including integrated service provision for people, the webinar aimed to:
Speakers included Sonya Arreola from the Global Forum on MSM and HIV (MSMGF), Arouna Tena from the Cameroon National Association for Family Welfare (CAMNAFAW), and Ed Ngoksin from The Global Fund to Fight AIDS, Tuberculosis and Malaria.
Background about Cameroon: In Cameroon, the SRH and HIV service needs of MSM are largely ignored.  Owing to the political sensitivity of this issue, NGOs and leaders of national programmes do not often adapt their programmes and do not create an enabling environment for action.  Discrimination from health service providers and a lack of sexual health information leave people of diverse sexual orientations and gender identities vulnerable to poor health. One of the consequences of this situation is a high HIV and STI prevalence among MSM. As a principal recipient under the Global Fund project, CAMNAFAW is contributing to the strategy to reduce the transmission of HIV among 'most-at-risk populations'. CAMNAFAW in collaboration with other principal recipients are identifying the current gaps, with a focus on providing services to MSM and the wider LGBTI community in Yaoundé and Douala.
The presentation slides are available to download.