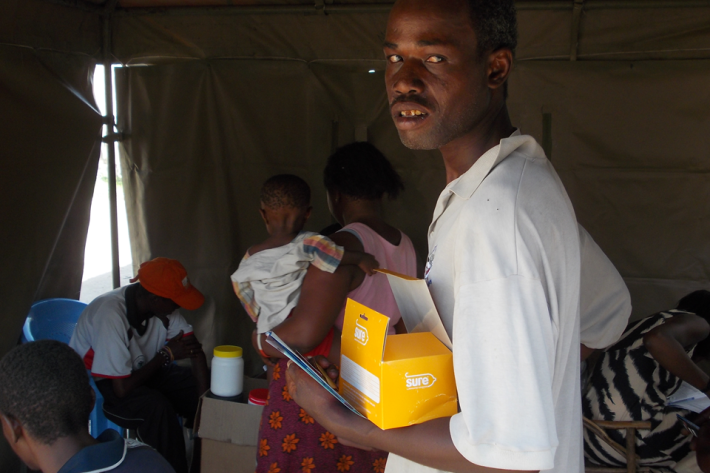 "Addressing sexual and reproductive health (SRH) and HIV needs among key populations: People who use drugs - the case of Kenya" took place on Thursday, 27 August 2015.
The German BACKUP Initiative in collaboration with IPPF funded a three-year project, "Shadows and Light", which addresses the sexual and reproductive health (SRH) and HIV needs of key populations at higher risk of HIV within four IPPF Member Associations (MAs). This included a focus on transgender people in India; sex workers in Uganda; people who use drugs in Kenya; and men who have sex with men in Cameroon. 
This webinar series is highlighting the importance of addressing SRH within HIV programmes for key populations, and how Global Fund to fight AIDS, TB and Malaria (Global Fund) is integral to their success and sustainability. Each webinar session focuses on one key population. Facilitated by IPPF and the German BACKUP Initiative, the webinars are held in cooperation with key population networks or organizations; the Global Fund; and IPPF MAs. The first webinar was held on 26 March: "Transgender People: The Case of India"; and the second webinar was held on 18 June: "Sex Workers: The Case of Uganda".
This third webinar focussed on "People who use drugs: The Case of Kenya". Besides highlighting the importance of SRH and HIV linkages including integrated service provision for people, the webinar aimed to:
Speakers included Ruth Birgin from the International Network of People who use Drugs (INPUD), Lilian Kayaro from Family Health Option Kenya (FHOK), and Mauro Guarinieri from The Global Fund to Fight AIDS, Tuberculosis and Malaria.
Background about Kenya: In Kenya the HIV epidemic has high prevalence among key populations including people who use drugs. There are clear indications of both rapid increases of drug use and HIV prevalence amongst this community, which was reported as 18% in 2011 (UNAIDS 2012). Government services are seeking to respond to this through the recent introduction of harm reduction interventions. These however face opposition from conservative and religious groups within Kenya, illustrating the stigma these populations face, and corresponding barriers to service access. Family Health Options Kenya (FHOK) have clinic sites in coastal areas of Kenya where this concentrated HIV epidemic is focussed, and so well placed to respond. In this first year implementing period, FHOK commenced the project with orientation meetings for the staff team both at Head Office and at the Coast Region Office and clinic. The project is building on a call for community partnership to increase access to harm reduction counselling and support for people who use drugs.
The presentation slides are available to download.