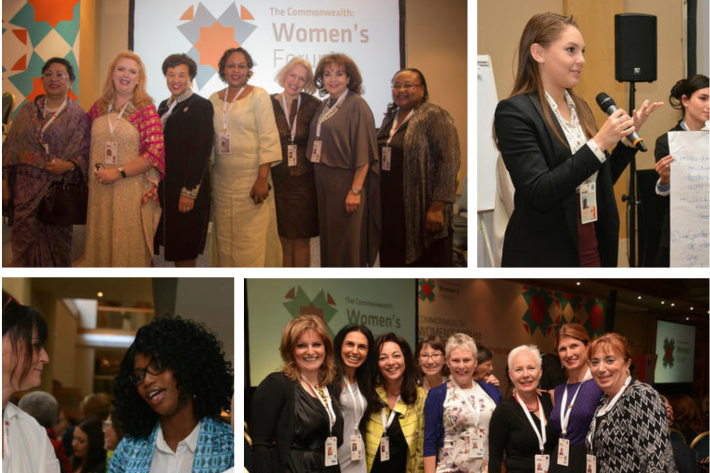 In April, the heads of the Commonwealth states met in London for the Commonwealth Heads of Government Meeting (CHOGM) 2018. The event was preceded by Youth, Business, People's and Women Forums.
The 2nd Commonwealth Women's forum (April 16-18, 2018) with its theme of "An empowered future for women and girls", brought together around 400 women making a strong lobby group of heads of government, ministers, senior official's business leaders, and activists.  
IPPF appreciated the opportunity to be a part of the event and to speak at one of the first sexual and reproductive health and rights (SRHR) panel of the Commonwealth forum.  The statements from the CHOGM highlights its commitment to mainstreaming gender in policies and institutions, with full support by the Commonwealth. Founded in 1949, the Commonwealth represents an estimated one third of the world's population, it is critical that SRHR is not left behind.
The women's forum concluded with an outcome statement that made recommendations for heads of Commonwealth states to address the widening discrepancies and evolving needs of the women and girls.  The outcome statement specific action points for ending Violence Against Women and Girls and on role of women In - leadership, peace and security, economic empowerment, climate change.
The adopted Commonwealth Heads of Government Meeting Communiqué "Towards a Common Future" , reaffirms the commitment towards the convention on the elimination of all forms of discrimination against women (CEDAW) and a stronger action to prevent and eliminate sexual and gender-based violence; child, early and forced marriage; and female genital mutilation. The heads of states also agreed to mainstream youth priorities and address the stigma around disability in all its forms and manifestations.  CHOGM 2018 communique also emphasizes on its focus for implementation of sustainable development goal 3 and universal health coverage.  
Through the women forums there is a beginning for a targeted intervention, but clearly gender issues are a late entrant in the overall Commonwealth paradigm.  Aligned with the MDGs, the commonwealth announced- "The Commonwealth Plan of Action for Gender Equality 2005 – 2015" that was monitored Commonwealth Gender Plan of Action Monitoring Group (CGPMG). Learning from the previous action plan, there is a need for converting the rhetoric commitments into practice by systematic overlap of these plans with aid and development assistance.
The Commonwealth countries such as India, Malaysia, Singapore and South Africa that are playing a role in aid assistance programmes could play a role for models on gender inclusive and SRHR focused support.  There is also a need for the Commonwealth secretariat to spread a wider net for engagement with and informing diverse CSOs and women groups.
In the changing landscape of policy platforms, it will be worthwhile to consciously enhance the visibility of Commonwealth forums and related actions plans and commitment.  Finally, there was a conscious silent on words "Sexual Rights", "CSE", "Safe Abortions" from the heads of government and from the CSO groups.
As a woman, as an activist, as an IPPF representative, I urge that women rights are not a subject to negotiation but are a priority.  We cannot wait for another 15 years to realize the importance of bringing SRHR at the core of development.
To move forward, a greater role from the Commonwealth forum is expected in gathering data on gender, regular impact assessment of its commitments and action, investment of resources for gender inclusive actions and framework linking actions on International Conference of Population and Development and other multilateral agreements such as the Sendai Framework on Disaster Risk Reduction, Addis Ababa Action Agenda.
No one should be left behind and IPPF welcome discussions and further advances on ensuring sexual and reproductive healthcare and rights are applicable and  accessible to all.
Neha Chauhan, Senior Technical Advisor- Advocacy and Accountability – South Asia Regional Office