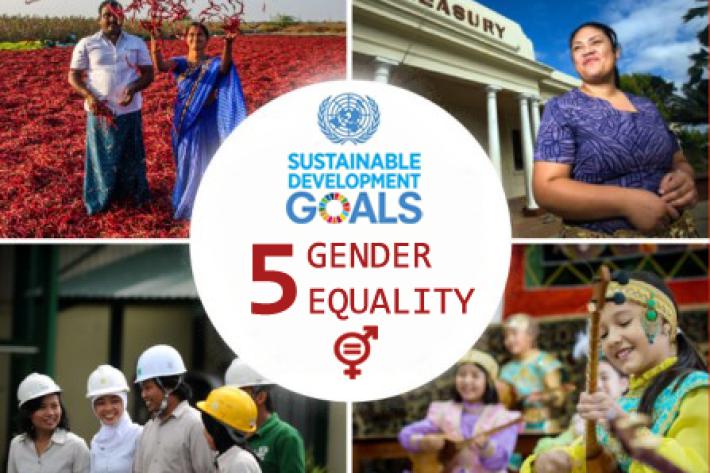 The International Planned Parenthood Federation (IPPF) has joined forces with Keira Knightley, Annie Lennox and a string of other celebrities and humanitarian organisations to call on the new International Development Secretary to lead the global fight for gender equality.
About 40 individuals and charities have written to Priti Patel urging her to show strong leadership, adding that progress towards achieving women's rights is too slow and under-funded. .
The letter says it's now time 'to tackle the unacceptable discrimination and injustices women and girls continue to face on a daily basis'.
Today @marthalanefox, @lovegwendoline + 38 more ask @patel4witham to invest in #fearless grassroots women's groups: https://t.co/yDMWmL4YDd

— ActionAid UK (@ActionAidUK) 12 August 2016
The issues facing women and girls, it says, range from the gender pay gap to online abuse, sexual violence in conflict, and girls' lack of access to education - gender inequality continues to be a major barrier and affects women and girls everywhere.
Statistics show that one in three women will face violence in their lifetime, nearly two thirds of the world's illiterate adults are women, and that fewer than four per cent of the world's leading corporations have female CEOs.
We stand with other #womensrights supporters in this letter to @patel4witham https://t.co/7h2RNNl793 #fearless pic.twitter.com/UHlXyih0Qm

— Womankind Worldwide (@woman_kind) 12 August 2016
Despite the problems facing women and girls it is an area that misses out on investment. An independent report found recently that funding women's rights organisations is a "neglected" area in Dfid (the Department for International Development) spending.
The letter says: "While there is no quick fix for achieving gender equality, we know that challenging social norms and prioritising women's voice and leadership are vital. There is also broad consensus that one of the linchpins of realising long-term, transformative change for women and girls is a strong, vibrant and sustainable women's rights movement, which remains chronically under-funded."
The letter calls for Ms Patel to invest further in grassroots organisations that support women around the world.
It says: "Across the world, women's rights organisations are at the forefront of providing services to survivors of gender-based violence; ensuring women and girls' participation at every level; holding their national governments to account for their policies and practices. Without them it will not be possible to keep the promises of the SDGs (Sustainable Development Goals)."
In July Ms Patel publicly committed to keeping the Government's promises to the world's poor, which was included in the 2015 poverty reduction targets (the SDGs).
The signatories of the letter include ActionAid UK, Annie Lennox, Anoushka Shankar,Barbara Broccoli, Care International UK, Caroline Criado-Perez, Christian Aid, Emma Thompson, Felicity Jones, FORWARD, Gwendoline Christie, Imelda Staunton, International Rescue Committee (IRC), Jane Wellesley, Jodie Whittaker, Keira Knightley, Laura Marling, Leith Clark, Livia Firth, Martha Lane Fox, Maryam D'Abo, Naomie Harris, National Alliance of Women's Organisations (NAWO), Oxfam GB, Paloma Faith, Plan International UK, Progressio, Sarah Waters, Shami Chakrabarti, Stars Foundation, Sophie Walker, Thandie Newton, The Circle, Vanessa Redgrave, WEN Wales, White Ribbon Alliance, Widows for Peace through Democracy (WPD), Womankind Worldwide and Women's Equality Party.
A story about the letter was published in the Daily Telegraph which can be read here: www.telegraph.co.uk/news/2016/08/12/keira-knightley-and-vanessa-redgrave-call-on-priti-patel-to-lead/