"I remember that I joined Pro-Familia on July 1, 2011. I had many fears and questions at that time, because I did not know about sexual and reproductive health issues, and had no experience working with contraceptive methods. It was something completely new for me, but I really wanted to learn," says Elga. 
Elga is one of the Community Health Workers in the Asociación Demográfica Salvadoreña's (Pro-Familia) Community-Based Program team. She remembers that when she first started her training, she felt that her role was small and unimportant – but over the time she learned and gained in confidence, understanding the positive impact she was having in the local communities. 
"I found the reason to live, I found a purpose: knowing people's situations, their difficult situations, that is special for me. Feeling they miss me when they spend days without seeing me because I am in different communities, that is something important, it means they value my work." 
Sharing knowledge and experience  
Elga believes that she has gained a lot personally. "I have learned a lot about women's rights; I apply everything about sexual and reproductive health in my personal life, I do not allow abuse by my partner and I teach my son to respect people. I learned to use contraception for my own benefit," she says. 
Communication was very difficult for Elga. She considered herself shy and was very quiet. Today she talks with people, in front of large groups of students in schools, expresses her ideas and provides counselling. 
"I enjoy what I do, I prepare to visit the volunteer promoters, to train them and resolve any doubts or questions that arise. They are very intelligent, and I intend to have the best volunteers. I enjoy visiting families in the community, having the opportunity to give family planning counselling, work on the prevention of cervical and breast cancer, work with young people, help them to change their lives, to find new paths, free from violence, just as I found my purpose." 
Communities benefit from access to care 
She admires the work of Pro-Familia, as no other organization has permanent programs and subsidized healthcare, which is of enormous benefit to the local community.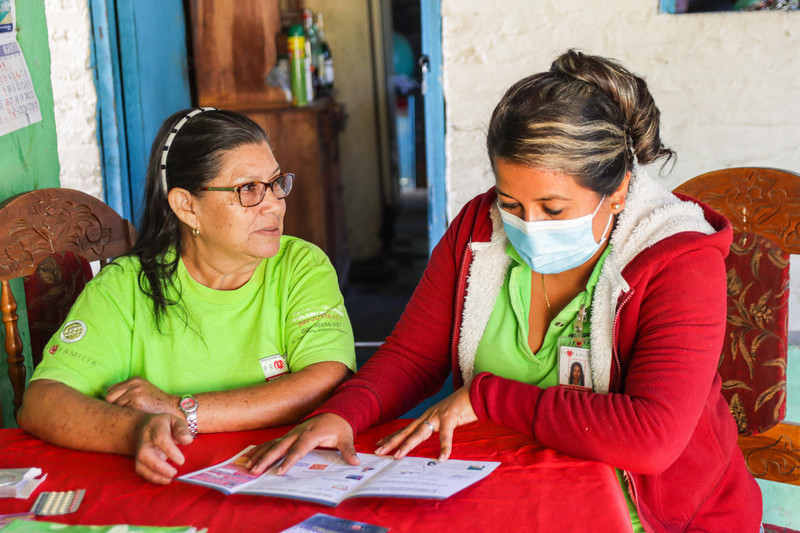 Elga has seen many clients since she started volunteering. She recalls encouraging a woman to come to the cervical screening clinic: "The lady had never had a cervical screening. I gave her counselling and a referral so that she could come to the Pro-Familia clinic. Her result was cervical dysplasia – level 1, I followed her until she received the treatment. Now, every time she sees me, she thanks me for guiding her and inviting her to the clinic," Elga says with joy. 
She also remembers the first time she suggested a vasectomy to a client. "First, I made the reference to the women client, but because of health reasons she could not be sterilized, and she was very sad because using hormonal methods also affected her health. So I decided to give counselling to the client's partner, who agreed to a vasectomy. The intervention was successful, and he is well, and grateful to me and to Pro-Familia", she recalls. 
The issues of sexual and reproductive health and contraceptive care are still taboo in many communities. Changing attitudes to improve the lives of individuals and families remain a vital focus. Counselling is key to recognizing that health and contraceptive care are fundamental rights, and to eliminate myths and beliefs that prohibit the use of contraception. Volunteers like Elga remain integral to this process to bring about positive change for the future. 
Related Member Association