In May 2017, flash flooding in Sri Lanka triggered landslides resulting in many people losing their homes, forcing them to seek shelter in camps. IPPF's member association the Family Planning Association of Sri Lanka (FPASL) assisted those affected and provided health camps with the support of IPPF Humanitarian. Chathurika Jayalath, a youth volunteer for FPASL, took part in the response.
---
Chathurika is a 24-year-old student from Kegalle, a large town about 80 km from Colombo, and she has been working with FPASL for the last three years. She started out as a youth volunteer and recently became a member of the Youth Technical Advisory Committee.
During her engagement with FPASL, Chathurika has learned about sexual and reproductive health and rights (SRHR) and gender issues and has organized workshops on similar topics in her own community. In fact, she runs a youth club at her university to inform her peers about SRHR.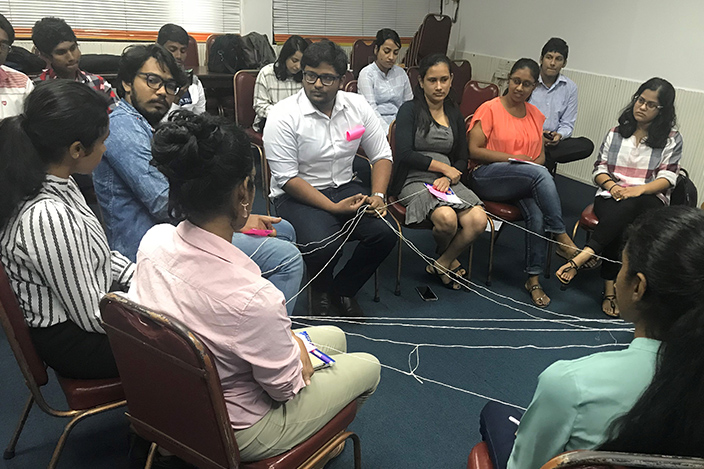 Shortly after the floods began, Chathurika received a WhatsApp message from FPASL where they called for youth volunteers to take part in the response. 
"I wanted to volunteer during the response," Chathurika told us. "As a university student I didn't have money to donate so I figured I could contribute with my strength instead. I volunteered in the health camp. There, I assisted the medical staff with basic things such mobilizing affected people, making sure they queued up when seeking health care and packed medicine."
Ongoing SRHR needs, even in a crisis
Chathurika is keen to learn more about humanitarian work. She received training with FPASL on the needs of people in humanitarian settings in which she and other trainees were presented with different case studies.
"There was particularly one story that struck me. We were told that when the flash floods came, women fled without anything, they fled with the only pair of clothes they were wearing," recalls Chathurika. "When they reached the camp, they received donated water and food. Some of them got their period while living in the camp. They did not have any sanitary pads nor additional cloths. Some of them even fled without underwear. This story made me realize that people's SRHR needs don't disappear just because there is a crisis."
Youth empowerment is important to Chathurika and she would like to continue this work while learning more about development and humanitarian work. She is a firm believer "that young people can contribute. Through my own experience I have seen that it is possible." 
 
Related Member Association
Family Planning Association of Sri Lanka