Dr Ratni Palullungan is a fearless doctor, mother, and selfless volunteer providing sexual and reproductive healthcare to marginalized groups in fragile humanitarian settings. 
Currently she is deployed with the Indonesian Planned Parenthood Association's (IPPA/PKBI) response team in Majene District, West Sulawesi, following a magnitude 6.2 earthquake which occurred in January 2021.  
In an open diary, Dr Ratni shares what a day in the life looks like for a volunteer doctor providing care to those affected by the earthquake.  
5.30 – 8.30am
I get up quite early and have my quiet time (prayer), then I gather my dirty laundry. Currently, I live with other volunteer teams in a place called PKBI Post in Majene, and there is a cooking schedule for everyone. After prayers, chores and breakfast, I get my daughter ready for the day as she accompanies me to work temporarily. After that, the team and I prepare medical equipment and medicine for the day's humanitarian mission.
8.30 – 11am
Today the first location is Maliaya Village Health Centre, in Malunda District, Majene. Here, I attend to and examine 25 pregnant women. The pregnant women, on average, get married at a fairly young age. There are definitely risks to their reproductive health. There is a 43-year-old mother who is currently pregnant with her 11th child. To limit health risks, we advise her on the various safe family planning options.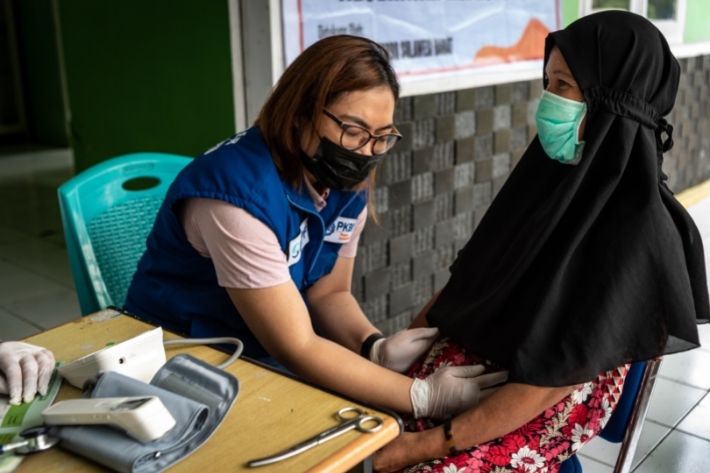 There is also a 38-year-old woman who is eight months pregnant. However, the size of her belly is very small for a woman in her third trimester. In fact, I initially thought that she was only four or five months pregnant. After I examined her, it turns out that she is categorized as a 'malnourished' pregnant woman.
It is very unfortunate because she admitted that she eats food without paying attention to her nutrition intake. In fact, she tends to eat instant noodles. So I advised her to drink milk, eat only nutritious foods, and always taker her vitamins. 
11am – 2pm
After visiting Maliaya Village, I travelled to Kabiraan Village. This village was severely affected by the earthquake. Here, I walk around the evacuation camp, most of which is still occupied by displaced people in this post-earthquake period. Even under the evacuation tent, I continue to conduct health examinations for pregnant women. 
Due to the large number of cases of young marriages in Kabiiran Village, the team and I decide to conduct counselling sessions for the teenagers here. I advise the teenagers to get to know the risks that might occur to their reproductive health if they marry too young. 
2 – 4pm
The health volunteer team and I are finally able to take the time for lunch. We have our lunch near the beach, and get to enjoy local seafood as our menu. Enjoying the seafood while looking at the beautiful sea view is a precious time. I certainly won't forget this moment.
4 – 6pm
We continue our journey to East Lombong Village. We have many elderly patients here. Yet interestingly, during one of the patients' examination, there is one mother who wants to get the contraceptive implant. For me, this is quite a shock, given that we rarely find women in this village who want to do family planning.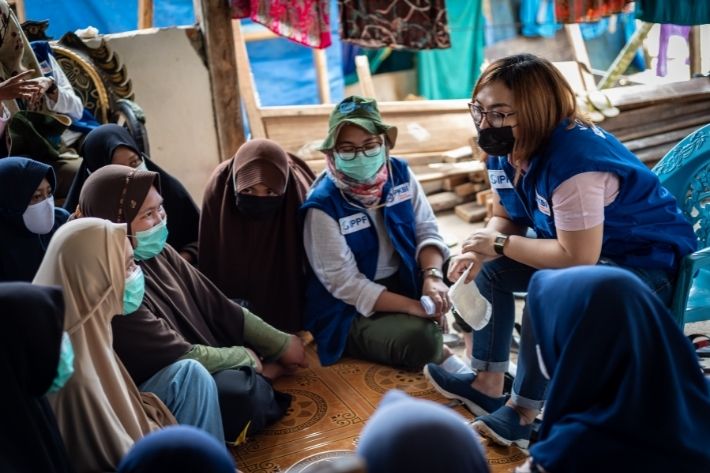 The mother admitted that she did not know much about the family planning program and has many children. She is grateful that the PKBI volunteer team and I came to their shelter camp for the health examination.
6pm
The team and I decide to return to the PKBI Post. Today's journey is quite tiring but there is a sense of pride and emotion for having carried out a humanitarian mission for teenage girls, mothers, the elderly and even toddlers who still stay in the shelter camp.
7 – 8pm
At the PKBI Post, after cleaning and tidying up the medical equipment again for the next day's program, I  prepare dinner for the team and assist my child with her studies.
I am so grateful for each and every day that I am involved in this program. I feel encouraged to continue to provide sexual and reproductive healthcare to marginalized groups
Related Member Association
Indonesian Planned Parenthood Association