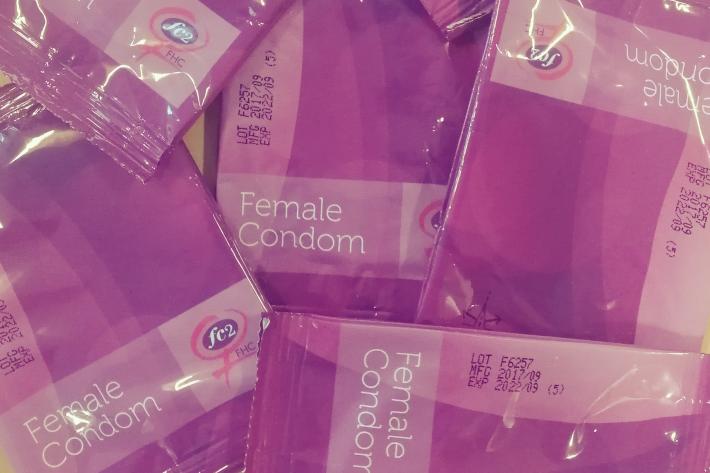 Condoms, both female and male, remain the only contraceptive method that can also protect against sexually transmitted infections (STIs), including HIV, and they have a whole lot of other benefits too. Find out more in our video:
The internal/female condoms are underused due to misunderstanding of how they are used, who can use them, higher prices and difficulty in accessing them. IPPF is working to change that – advocating and providing a wide range of contraception options (including female condoms) for the world's most vulnerable people who need them most.
Want to learn more? Here are some facts about the internal (or female) condom you may not know:
1. You can insert the internal/female condom ahead of time, so there's no need to interrupt sexual activity.
2. While older versions of the internal/female condom put some people off because they could be quite squeaky, they are now far more discrete, and are available with or without lubricant.
3. The female condom is not just for women, and can be used for vaginal and anal sex. To reflect this, some people refer to 'internal' and 'external' condoms rather than 'female' and 'male' condoms.
4. The internal/female condom can actually increase pleasure for both partners as it adjusts to body temperature during sex, creating a natural and intimate feel, and increased stimulation from the outer ring.
5. Unlike male condoms, internal/female condoms can be used even when the penis isn't erect. This allows couples to stay close after climax, which can enhance intimacy.
6. In fact, there are many benefits for men – using female condoms for vaginal sex takes pressure off to 'perform' or put a condom on correctly on an erect penis. They are also for men with penises of any size.
7. The internal/female condom can offer increased protection against STIs by partially covering the external genitalia.
8. internal/female condoms have no side effects and most are latex-free.
9. internal/female condoms do not require a prescription or clinician involvement and provide non-hormonal dual protection from unintended pregnancy, and STIs, including HIV.
10. internal/female condoms provide more options for safer sex and with this variety can actually contribute to higher rates of protected sex.
11. Pre-lubricated internal/female condoms may offer a solution to vaginal dryness, and can enhance pleasure.