"Even though we know we shouldn't be ashamed to seek medical treatments, sometimes we are ashamed to go to clinics for check-ups," said Dhriti* (pictured above), a 24-year-old sex worker in Kathmandu, Nepal.  
In nearly every country around the world, the stigmatization of sex workers creates barriers to sex workers accessing sexual and reproductive healthcare. These barriers have been compounded and exacerbated throughout the COVID-19 pandemic as a result of lockdown measures and the diversion of medical staff and resources. As a result, many young sex workers like Dhriti – who have a heightened risk of contracting COVID-19 due to the nature of the work – are reluctant to come forward and seek help, and they are largely excluded from government pandemic response measures and programs.   
22-year-old Anisha* is also a sex worker in Kathmandu. She added that during the lockdown, many sex workers faced significant or total loss of income and were forced to put themselves at risk to earn enough money to eat.  
"We lied to police officers at checkpoints in the city and made our way to places where we could get our clients," she said. "We were scared because of the coronavirus but there was no work or money for us." 
Related Member Association
Family Planning Association of Nepal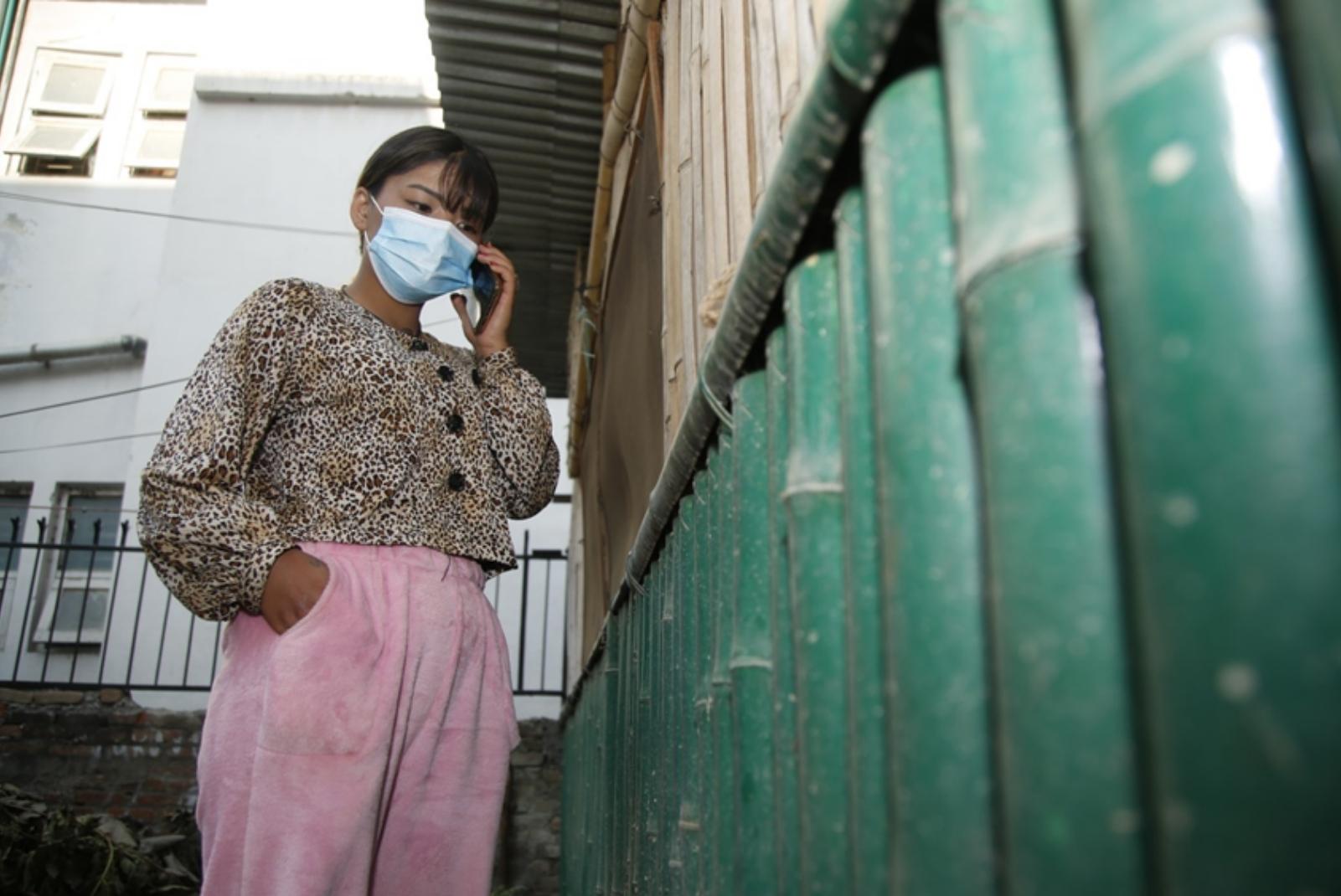 Anisha speaking on the phone
IPPF
On this International Day to End Violence Against Sex Workers (17 December), IPPF is highlighting the work of our Member Association in Nepal in supporting sex workers' access to safe and compassionate healthcare and support. IPPF is also echoing calls to draw attention to hate crimes committed against sex workers around the world, to end discrimination and to remember victims of violence.  
SRHR for sex workers  
Access to sexual and reproductive healthcare is a human right. During a prolonged crisis such as the COVID-19 pandemic, women are at heightened risk of rape and sexual violence, and the transmission rates of STIs, including HIV, increases in emergencies. However, public health programmes and policymakers often do not address the comprehensive SRH needs of sex workers. And though there is no specific law that directly criminalizes sex work in Nepal, many sex workers avoid authorities when seeking health treatment or they avoid disclosing their occupation, which makes it difficult for them to access vital healthcare such as contraceptive and abortion care, HIV and STI screening, counselling and others.  
As part of its emergency response to the COVID-19 pandemic and with funding from the Australian Government, the Family Planning Association of Nepal (FPAN) has continued to provide these essential SRH care in 15 districts most affected by COVID-19 through 15 family health clinics, 15 community clinics and 210 community-based distribution outlets.  
These services are designed and delivered to meet the needs of vulnerable communities, including people living with disabilities and sex workers. In addition to providing testing and referrals for HIV and other STIs, sex workers can get regular health check-ups at FPAN, as well as health and safety supplies to protect themselves against COVID-19. 
"We usually come to FPAN to get condoms and other sexual health materials because they give them out for free," said Dhriti. "They also supported us by providing masks and sanitizers. They tell us how to use these items and how to take care of our health." 
HIV testing and counselling 
In Nepal, new HIV infections have significantly reduced in recent years, due to targeted prevention interventions. But female sex workers remain at high risk; according to UNAIDS, sex workers are up to 30 times more at risk of contracting HIV than the rest of the population, which can be partly attributed to the difficulties they often face in negotiating condom usage.  
"We know that we must wear condoms for the safety of our health," said Dhriti. "But sometimes we get clients that don't want to... [and they] get angry about having to use condoms."  
Dhriti says she gets condoms and birth control pills for free at FPAN and she encourages other sex workers to go for health check-ups and get advice. 
"We tell young sex workers to take precautions to protect their health. We inform them about health risks involved in this line of work," she said. 
During the pandemic, medical equipment and staff that were usually involved in SRH delivery services including HIV treatment in Nepal were diverted to fulfil other emergency health needs. At the onset of the pandemic in early 2020, there was a shortage of HIV test kits at the National Centre for AIDS and STD Control, which meant that some FPAN branches could not continue HIV test services.  
To avoid disruption of this essential, life-saving service, FPAN coordinated with the district health office to get the test kits. In order to reduce the risk of COVID-19 transmission, FPAN provides testing, counselling and referrals on HIV and STIs through helpline and tele-consultation services.   
To ensure holistic care and support that target sex workers' specific needs, FPAN also provides referrals for legal support and psychosocial counselling to survivors of rape, physical and sexual assault, and domestic violence.  
Supporting sexual rights of sex workers 
IPPF's declaration on Sexual Rights states: "Sex workers have the right to safe working conditions and the ability to insist on safe sex practices in their work place. Everyone, including sex workers of any gender, has the right to be free from the risk of violence created by stigma and discrimination based on their sex, sexuality or gender." 
During and beyond the COVID-19 pandemic, it is crucial that the most marginalized and vulnerable members of society, including sex workers, do not face additional barriers when accessing sexual and reproductive healthcare. Sex workers deserve to be treated fairly and with dignity and respect, and FPAN is playing a crucial role in supporting them with their basic health needs as well as with relevant treatment and services throughout this challenging time.  
"As women, we can't always speak freely about issues affecting us. But at FPAN we can speak openly and freely about our issues, which gives us confidence," said Dhriti. 
Anisha added: "We are learning many things at FPAN which is why I continue to come here. I feel safe and secure here." 
*names have been changed