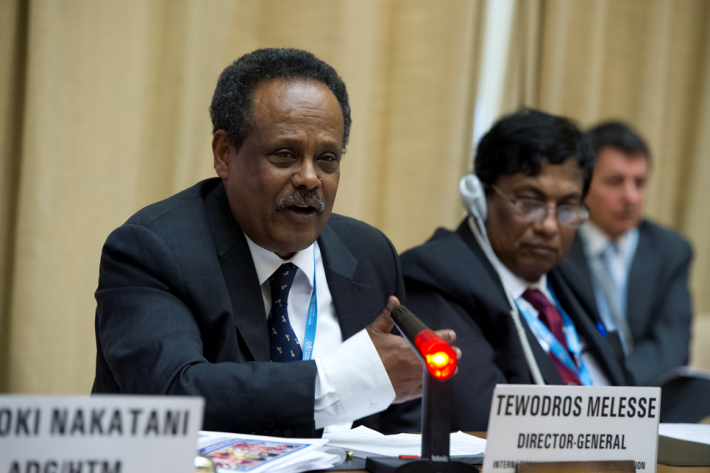 IPPF's Director General, Tewodros Melesse, has announced that he is to retire from his role of leading the global federation.
Mr Melesse, who has been Director General since 2011, will retire in May 2018, allowing time for the recruitment and appointment of his successor and an orderly process of handover.
Mr Melesse said:
"As you can imagine, this has not been an easy decision. I will have been Director General for nearly seven years when I step down, and it will be time for me to devote myself more to the needs of my family, of whom I have asked great sacrifices over those years."
Mr Melesse took charge of IPPF immediately after a year-long review of its 5As Strategic Framework.
Building on his many decades of expertise, he put in place three new change goals – Unite, Delivery, Perform – which formed an ambitious and successful plan to double service delivery, while expanding client reach to more of the world's poorest people than ever before. It was achieved by driving efficiency and effectiveness across the Federation's service delivery network.
In the same period IPPF also surpassed all of its advocacy targets, including the major achievement of contributing to the inclusion of SRHR or components of SRHR in the Sustainable Development Goals.
In 2016 IPPF adopted a new global strategic framework, developed from the ground, that set out its agenda until 2022. The framework was translated into strategic plans guiding the work of more than 120 Member Associations, making IPPF locally owned yet globally connected.
IPPF's Secretariat also aligned its organizational structure and approach to the needs and demands of the new framework. This included establishing an IPPF Hub in Bangkok as well as placing staff in cities such as Addis Ababa, Canberra, Geneva, Washington DC, and now Oslo in order to enable us to work more effectively.
Mr Melesse said:
"When I applied to become Director General of IPPF I wrote in my letter of application that I wished to see IPPF's renewal, so that it is a recognised force which delivers visible and recognised results, and sets the SRH agenda at national, regional and international level.

I believe we have done just that, and IPPF will continue to do so. Over the next year, I will work as hard as ever to lead the Federation, before I pass on this great role to my successor."
Mr Melesse said he knew there were challenges ahead, including the rise of highly organised and well-funded opposition and the election of populist governments and the implications for funding of SRHR services, most notably through the imposition of a particularly harsh Global Gag Rule by the new US administration.
However, he said, each fresh challenge also brought an opportunity.
Mr Melesse said:
" I have been so proud of how we have stood together as a Federation in global opposition to the GGR. I am also proud of how we continue to adapt to ever greater scrutiny and expectations from our funders and supporters, not least with a set of changes to how IPPF is governed that will make us even better run – with governance which is more professional, more representative and more responsive."
Over the next year, Mr Melesse will delegate operational, organisational and management issues and focus on Advocacy, Resource Mobilisation, External Relationships and shaping the strategic direction of the Federation, in consultation with the Secretariat Director Level Team and Honorary Officers and other Governing Council members.
The process of recruiting and appointing Mr Melesse's successor will be overseen by IPPF's Governing Council.