Feminist Opportunities Now (FON) is a programme that aims to build capacity of feminist organisations via subgrants to enhance more diverse and resilience Civil Society Organisations when addressing and responding to gender-based violence, inequalities, discrimination and other human rights violations related to gender.
International Planned Parenthood Federation Africa Region (IPPFAR) is the FON consortium lead, with the other consortium partners being Médecins du Monde (MdM-FR), Creating Resources for Empowerment and Action Inc. (CREA), the International Federation on Human Rights (FIDH) and Empow'Her (EH). The programme is funded by the French Government via the French Development Agency (AFD).
The action of the consortium's member organizations is based on feminist principles, a deep commitment to the promotion of human rights and the fight against inequalities and discrimination, especially against women and girls. They have a long experience of the themes of the programme mandates and complementary expertise that underpin the robustness of the holistic approach of the programme.
The Challenge 
Gender inequalities on a global scale affect half of the world's population. Gender inequality is one of the main obstacles to human development. The FON Programme seeks to address such inequalities. Some of the challenges leading to these inequalities include:
Lack of and/or effective implementation of comprehensive laws, policies, legal instruments to address gender inequalities worldwide, leading to increased gender inequalities.

Lack of or limited implementation of the frameworks, which widens inequalities and aggravate the precariousness of women and girls- particularly people with disabilities, living with HIV, sex workers, and those of diverse sexual orientation and gender identity (SOGI) 

COVID-19 that dramatically exacerbated social and economic challenges leading to an increase in gender-based violence (GBV). 

Inadequate involvement of people with disabilities (15% of the world's population), LGBTI+, sex workers and people living with HIV-AIDS, in initiatives to promote and defend their rights, and the least associated in preventing and responding to this violence.

Inadequate support to nascent or relatively new Civil Society Organizations many of which remain undeclared, and, despite their effervescence and dynamism, they continue to face challenges that restrict their ability to reduce GBV and protect and promote women's rights.

Limited creation of an innovative and flexible financing system in order to strengthen the contribution of CSOs in the South, in all their diversity, to the reduction of GBV.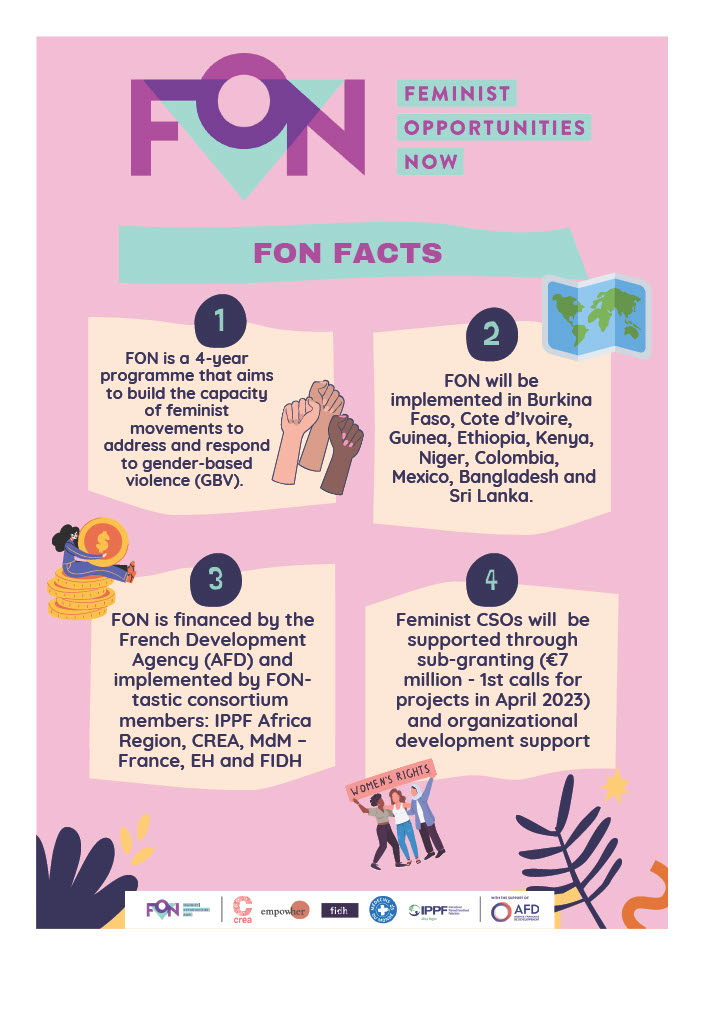 Objectives of the Programme 
To Improve the sustainability of feminist Civil Society Organizations (CSOs) at the organizational and technical levels by proposing an inclusive approach to capacity building.   To support the resilience and diversity of feminist CSOs through access to flexible sustainable financing mechanisms tailored to small and/or informal and/or marginalized CSOs.

To strengthen a networked movement of feminist CSOs in the Global South, linking these CSOs and national, regional, and international networks, to make their voices heard on the public stage.    

To promote innovation at all levels of the programme by the CSOs themselves and the consortium member organisations.
Targets of the Programme 
Feminist CSOs working with and/or for the various structurally excluded groups.

Activist organizations working with or led by people who may face particularly high discrimination.

Gender inequalities and GBV, such as members of the LGBTI+ community and in general people with diverse sexual orientation and gender identities and Gender Expressions (SOGIE).

People living with disabilities.

People with HIV/AIDS.

 Sex workers.

 Indirectly, targets of advocacy activities (regional bodies, national / local authorities, etc)
Approaches of the Programme 
Feminist Opportunities Now (FON) aims to build capacity of feminist organisations via subgrants to enhance more diverse and resilient Civil Society Organisations when addressing and responding to gender-based violence, inequalities, discrimination, and other human rights violations related to gender.
FON will set up Regional Coordination and Advisory Committees in each region (Africa, Asia and Latin America), whose role will be to help ensure inclusiveness and identify advocacy opportunities. The Sub-granting will be phased into three categories or funding windows below, and for which the first call for proposals is scheduled to be launched in April 2023:
Window 1 / "Boost" The objective is for the feminist CSOs or young feminists to have the enhanced capacity to face external events (political instability, insecurity, etc.) and/or internal hurdles (organisational difficulties, necessary a project co-funding or additional programme component etc.). This window should also allow CSOs to apply for a grant in case of an upcoming opportunity such as in programming, advocacy, etc. Key words are therefore flexibility and opportunity.
Window 2/ "Programmatic & Organizational Development" will support small and middle-size CSOs and young feminists that are trying to grow from an organisational, technical and programmatic point of view. The objective is to simultaneously fund a programme while reinforcing the capacities of the recipient organizations programme.
Window 3 / "Synergies" will fund networks, movements and alliances to implement advocacy activities on GBV, and organizations that want to get involved in existing networks.  It will promote network and alliance building and promote visibility on national, regional and international platforms.
Location Justification 
Equity is a pillar integrated in the FON implementation strategy. The programme will be implemented in 10 countries including six in Africa (Burkina Faso, Ethiopia, Cote d'Ivoire, Guinea, Kenya, and  potentially Niger), two in Latin America (Colombia and Mexico) and two in Asia (Bangladesh and Sri Lanka). FON put great consideration to determine the location of the implementation of the programme using below criteria:
Countries where the needs of CSOs for support are strong and the potential for exchanges and collaborations is high.

Existing normative and policy frameworks but little or no implementation and respect in national law.

The needs of the populations are immense and in varying proportions from one country to another, also revealing a wide potential for learning and training.

Contexts that exacerbate gender-based violence and increase the need for support for feminist CSOs.
Potential for collaboration with other existing and/or new interventions

. 
---
To read more about the FON consortium partners' workshop, click here.