A young man stops by a pile of rubbish at the side of the road. He fiddles with an abandoned umbrella, snapping off one of its broken ribs and slipping it into his backpack.
Eric Fairchild spots the signs. The HIV prevention specialist greets the man like an old friend.
"We got condoms, leaflets, testing right here," he says standing in front of Planned Parenthood's mobile medical unit. The man refuses initially, stepping into a nearby grocery store, before returning a few minutes later with his girlfriend to hear about the services on offer.
The umbrella rib, says Mr Fairchild later, was a giveaway. It makes a perfect tool for scraping the residue from a substance pipe.
Understanding and overcoming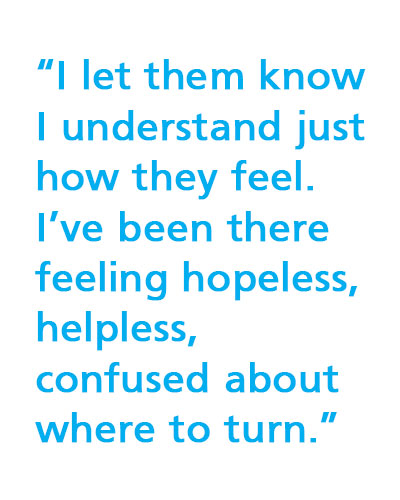 Eric has worked for Planned Parenthood for 12 years, using his experience growing up in the Brooklyn neighbourhood of Brownsville to help spot others who are in need of help.
"I was part of the streets," he says. "I was a substance abuser. Never injected, but I smoked, sniffed... stuff of that nature."
He has been clean for 26 years but explains that his experiences help him connect with other users.
"The first thing I do when I have hardcore substance abusers sitting in front of me, I first show them identification," he says. "I let them know I understand just how they feel. I've been there feeling hopeless, helpless, confused about where to turn."
Some occasions might mean he has to use the training and education he has received as an outreach worker. Other times it is a case of using his 60 years' experience of life in Brooklyn. "That's my benefit to the programme," he says. "I'm street savvy as well as educated in the classroom. I have the best of both worlds."
Eric already had an extensive background in community work before joining the project, prompted by a desire to learn more about HIV prevention following the death of a relative and a friend died from the illness.
He is often the first point of contact for clients, handing out pamphlets on the street corner, conducting HIV tests and explaining Project Beat Street– and the facilities available on the mobile unit to wary newcomers. From there he can offer advice and guidance on other services, from home care managers to sources of funding for people with HIV and setting up appointments at clinics.
He follows up with phone calls and meetings, often at every step of a client's progress.
"I saw when they came in," he says. "I saw them come in from a struggling situation, uncomfortable with their lifestyle at the time. Going from being an unproductive member of society to taking better care of themselves and being in a healthier situation that they were before. I am always happy to know I was part of that process."
Watch Project Street Beat in action
Related Member Association
Planned Parenthood Federation of America