It might not be quite what you expect from a medical clinic in New York. But the compact room at the back of a truck parked on a street corner in Brooklyn's Brownsville neighbourhood, a neighbourhood with the highest concentration of public housing anywhere in the country, is fitted with everything needed for a mobile health unit.
For 30 years, Project Street Beat's mobile medical unit has been working on the streets of New York, travelling to some of its most deprived zip codes offering HIV testing, sexual health screening, emergency contraception and a slew of services that have evolved to keep up with changing needs.
Five days a week the colourful mobile unit travels between the Bronx, Brooklyn and northern Manhattan as part of a mission to provide care to people living beyond the traditional medical system.
Brownsville is a regular stop off on the mobile clinic's route. Left behind by the gentrification sweeping across the rest of Brooklyn, mainly due to investors fear of crime and lack of transportation links to the wealthier Manhattan, Brownsville has the highest murder rate in the city and the lowest life expectancy in the district.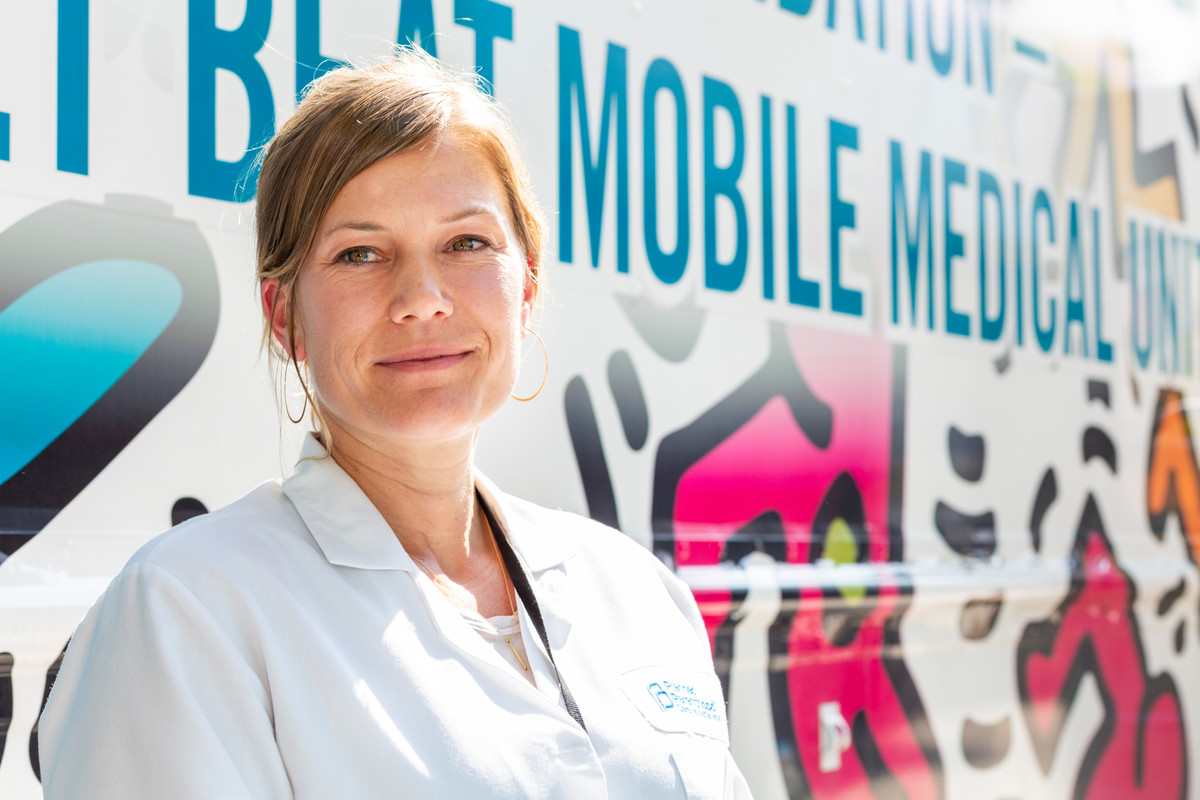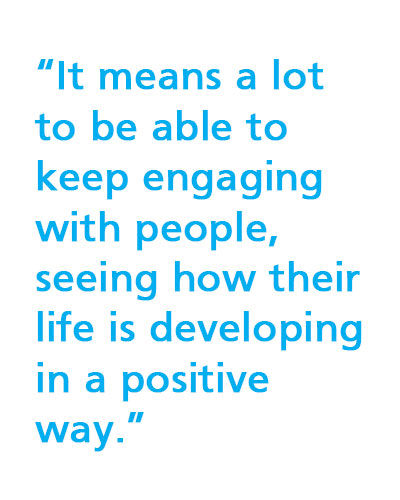 "This is my exam room," says Sarah Zuercher, a women's health nurse practitioner. Barriers to treatment can include drug addiction or a lifestyle that brings suspicion of authority, explains Zuercher – the mobile unit's lead clinician – or simply living without health insurance. Without insurance, any doctor's appointment, prescription or hospital visit can run to hundreds, if not thousands of dollars.
Life without medical insurance
In Brooklyn, about 10 percent of people are trying to get by without insurance. Some are gambling that they can save a couple of hundred dollars a month if they stay healthy enough to avoid visiting a doctor's surgery or hospital. Others, such as undocumented immigrants, fear that any interaction with officials carries the risk of deportation.
"Then there are people who are just busy. Small business owners, people who don't have flexible work schedules," says Zuercher.
"There aren't a ton of medical services in this area. To travel into the city to go to one of our health centers is just not an option for women in jobs that don't have a lot of flexibility."
And there are people like Bernard Andrews, whose heavy use of crack cocaine, marijuana and alcohol meant that although he found his way to free clinics after being diagnosed with HIV, he never managed to stick to a drug regime and treated doctors' appointments as an inconvenience.
"To tell you the truth I wasn't managing at all. I was a wreck. I was at that point, where I didn't care," he says. "All I wanted to do was use drugs and sell medication because I was going to die anyway."
Mobile outreach projects might be more often associated with the developing world than one of the richest cities on the planet, but even in New York, it is the only way some people access medical services.
These are the people who fall between the cracks of a city without a universal health care system, where the onus is on individuals to buy insurance and navigate their way through a complex web of competing providers as an informed consumer. Even the safety nets of Medicare and Medicaid, which pick up a chunk of the costs for the elderly and the poorest, require battling through an intimidating amount of bureaucracy.
The result is hundreds of thousands of people across the city who don't have regular check-ups and who cannot get treatment for niggling worries before they turn into full-fledged problems unless they can pay thousands of dollars out of their own pockets.
Meeting people where they need services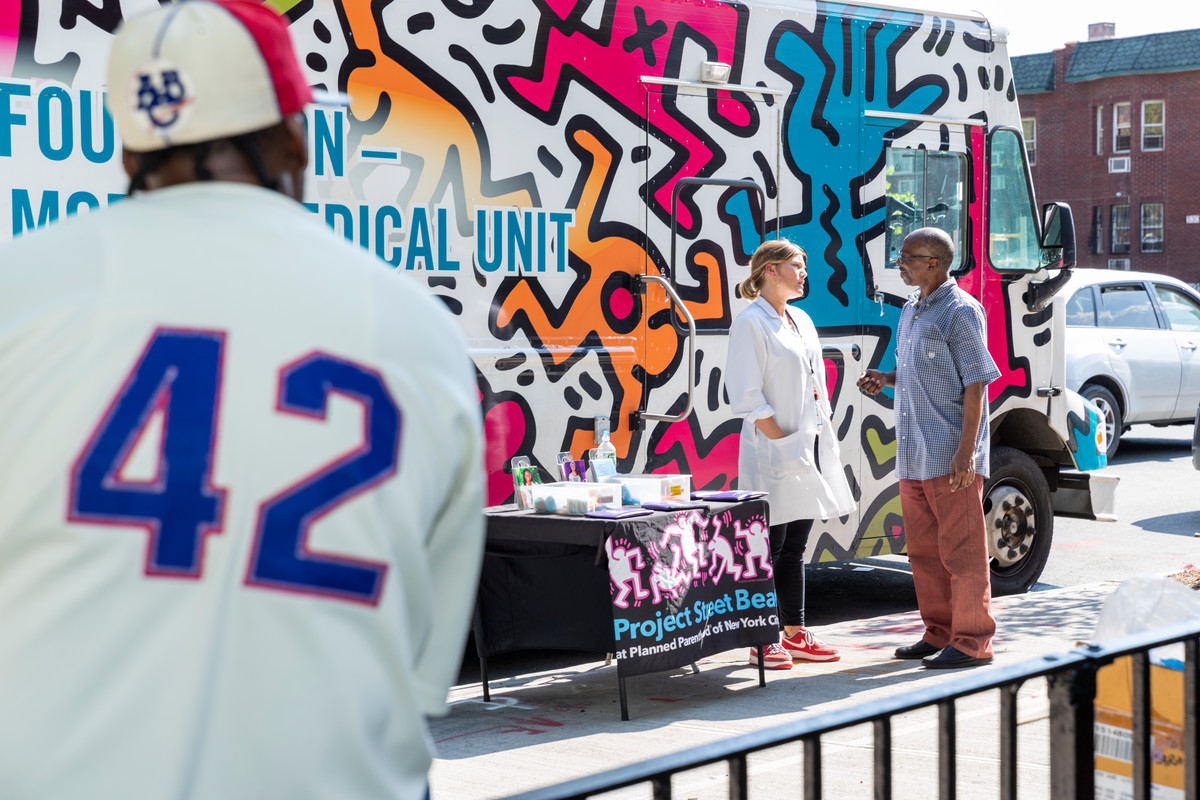 In recent years, America's opioid epidemic has also had an impact. Now the unit offers training in how to use Narcan – a fast-acting antidote to overdoses. But the key to it all is meeting patients where they need services.
"It only works because we come to where people are," says Zuercher, who has worked on the unit for the past three and half years. "That's the real difference. We are in neighbourhoods where people live and where people are." On the fourth Wednesday of the month, the schedule brings them to Brownsville. By 9 am, a table is set up on the pavement displaying condoms, leaflets outlining available services and a sharps box for disposing of used needles.
Eric Fairchild, an HIV prevention specialist, is on hand to explain what's available and to use his experience of growing up in Brooklyn to put potential clients at ease. Fairchild's job is to be on the frontline. Or at least the pavement. He grew up on these streets, he knows the people and the language. It is his job to engage passers-by, distributing leaflets and explaining the services on offer.
He uses his own history of substance abuse to spot people in need and to put them at ease, offering them a non-judgemental reception. He also knows the pitfalls they face, perhaps better than they do yet.
"I know the consequences – the things they don't know," he said. "It's not a textbook conversation," he says of his technique. "I'm not talking in ABCs, I'm talking to them in a language they understand. That's my benefit to the programme. I'm street savvy as well as educated in the classroom."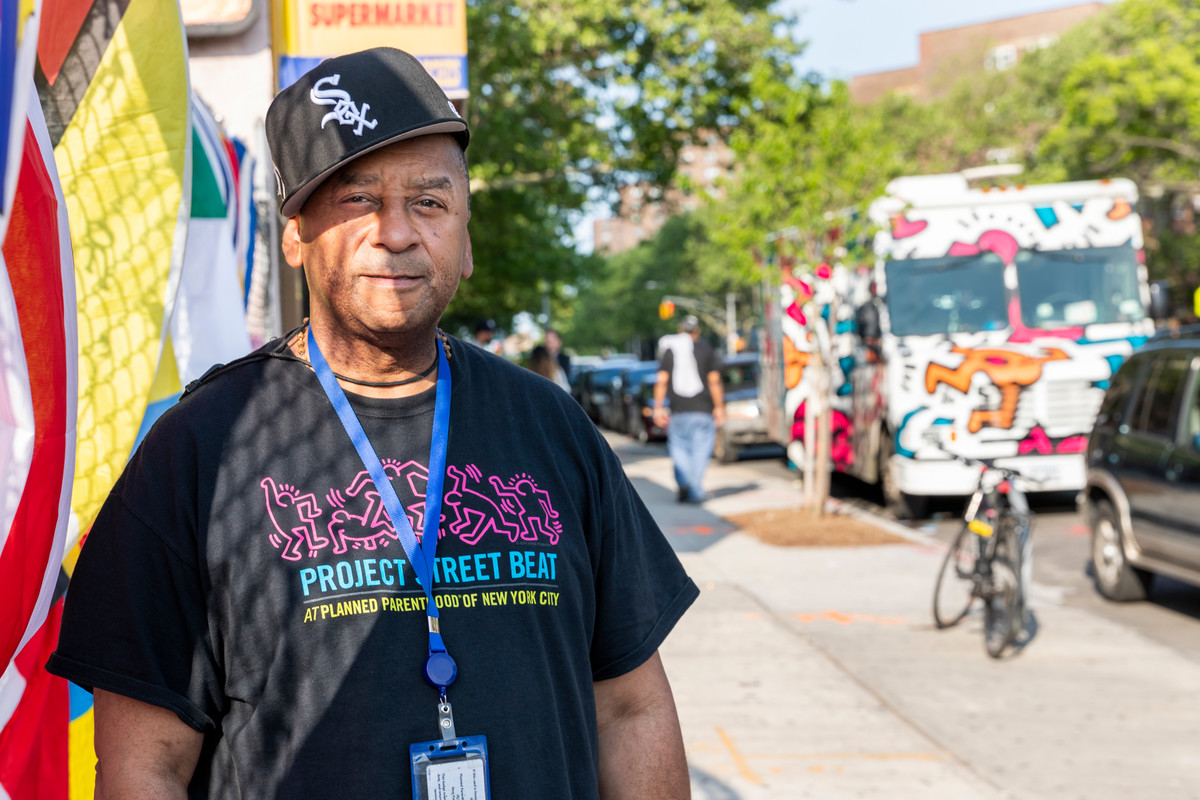 For those that make it inside the mobile clinic come away with a dignity pack – a plastic bag containing some of the essentials of daily life including a toothbrush, paste, soap, deodorant, juice, potato crisps and oatmeal. "It's an incentive to get them to stop and look. People are hungry. Maybe they don't have money to get to appointments, so we have two-ride metro card tickets," says Fairchild.
At every step, the staff try to put clients at ease, offering a relaxed environment where they can feel comfortable talking about intimate issues such as sex. Last year, the clinic saw more than 2000 clients enrol for services. In addition, staff reached more than 6800 people informally on the street and conducted more than 1400 HIV tests.
"Once people meet us and come on, it breaks down the distrust that many people feel about the medical system," says Zuercher. "It might not erase it, but at least between us and our clients they feel we are offering something that is useful to them and can make their lives a little bit better."
The mobile unit manages to include a small counselling room and a bigger space to hold meetings. But its days are numbered. A new truck is scheduled to come into service in the summer. It is all part of a strategy to ensure the very highest standards, says Zuercher.
"Even though we gear our services to specific populations but what we strive to do is provide the highest possible quality services so that anybody who walks in here would feel like they were getting appropriate care and they were getting high-quality care." Some patients use the mobile unit is an introduction to other services offered by Planned Parenthood, setting up appointments at clinics or getting help with sources of funding to manage the costs of HIV care.
For Zuercher the most rewarding clients are the ones who return to the mobile unit year after year. "It means a lot to be able to keep engaging with people, seeing how their life is developing in a positive way."
Watch Project Street Beat in action
Related Member Association
Planned Parenthood Federation of America