Eleanor* is a mother of three children, she lives in Vlora, a city in south Albania. Eleanor and her children rely on her husband's modest income to survive. She is only too aware that her economic situation is a major barrier for her to access healthcare. Most treatments are referred to the capital, Tirana, or are at private clinics; incurring costs she simply cannot afford.
When she heard about the Aulona Centre offering free PAP tests, she booked an appointment. "I have always admired women who take care of their health. Taking care of ourselves is decisive for our family wellbeing, children and relatives. But in our areas, it is difficult to get proper services, especially for reproductive health", she says.
Eleanor's first pap smear was in 2012, the results came back negative. The doctor informed her that she had to come back in 3 years for another test. In 2015 she returned to the center, convinced that the results would again be negative. The results came back positive. "I remember the doctor underlining my name with red pen. She said to go to Tirana for further treatment because they had better equipment and staff there."
The encouragement from the staff of Aulona center helped Eleanor decide on her next steps. "While making my decision, I had this vision of my name underlined with red colour, which was an alert sign. So I contacted a doctor in Tirana and had the surgery in 2016. Nowadays I feel much better and I am clean from signs of cancer."
From a client to an activist
Her experience with Aulona center has made Eleanor an ardent activist of reproductive health for women. "Every cousin in my family knows about my case. I encourage them to have a PAP screening although they don't have any concern. For some of them is a matter of shame, because they think if you don't have any problem, why you should expose intimate parts of your body to the doctor? I challenge them asking what it is more difficult: when the doctor says: Madam, you have few years to live left or just booking a visit? They listen to me more now because they see I recovered."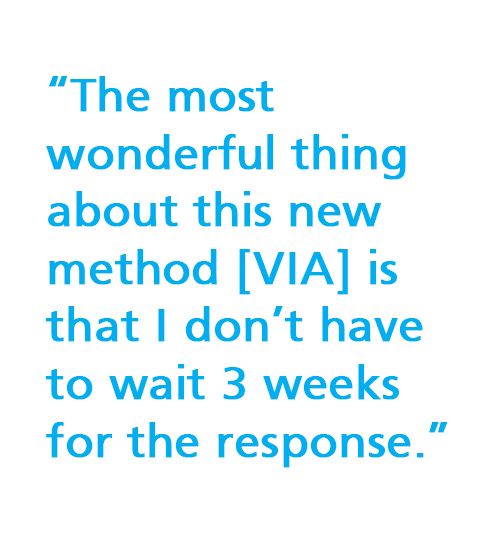 Through her activism, Eleanor has recently become aware of the VIA testing method and is enthusiastic about it. "The most wonderful thing about this new method [VIA] is that I don't have to wait 3 weeks for the response. I recall the waiting period for the second test with my eyes attached to the telephone screen. Why are they not calling? Is there anything wrong with my results? VIA avoid all this anxiety, and you can start the therapy immediately."
Eleanor feels confident about her knowledge on sexual and reproductive health. Her own experiences allows her speak more openly with her 20-year-old old daughter, reminding her of the importance of regular screening. "The disease does not ask if you are rich or poor. I could have let myself at risk, but when interventions are at the right time, they save lives."
What is VIA & Cryotherapy?
Show more +
*Name has been changed
Related Member Association
Albanian Center for Population and Development