"For people who live too far from the hospital to receive treatment, this programme saves their lives."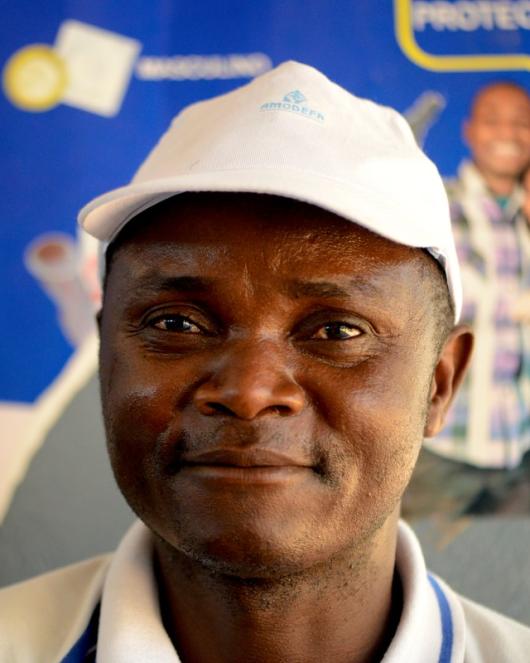 Marinho, 30, works as an activista for Amodefa's Challenge TB programme, bringing treatment to remote villages in the Ribaué district of Nampula. Since August last year he has identified 84 cases of TB in the eight communities in which we works; "75 patients are in treatment at the moment, the rest are recovered," he says.
Before Amodefa started work in Nampula, Marinho says, "people were dying because they couldn't reach the hospital, but with this programme it is becoming easier because we bring the medication to the patients." However, lack of transport means it is a challenge for him to keep on top of all his cases. "The distances are far and the few bikes we have are breaking," Marinho says. Yesterday he travelled 40 km to visit his patients. Some of the communities he visits are up to 50 km away.
In the first quarter of this year 1,318 people were tested for TB in the eight districts where Amodefa operates; in the second quarter, 2,106 were tested; and in the third quarter, the number reached 3,154. More than half of these people were diagnosed to have TB.
The surge in the number of people going for tests is in a large part due to Amodefa's 'Day of the Cough'.  On the 27th of each month teams of activistas and volunteers go into communities, schools and jails to educate people about TB.   Before volunteers had to go from house to house to identify patients, "but now, with the lectures, it's easy to find people who are TB positive because they are identifying themselves," says Marinho.
Children are particularly receptive to Amodefa's message, Marinho says. He remembers one woman who had been sick for a long time and her daughter, knowing he was an activist, sought him out. The patient's initial test for TB came back negative, so she was given alternative medication.  "She took the tablets but she was still sick - she was unable to walk or to eat," Marinho says.  "We brought her here to the clinic, examined her and she immediately started TB treatment. Now she has started her recovery and is able to sit."
Lessons taught during the 'Day of the Cough' means communities are also now taking greater precautions against the disease, he says. Steps such as opening windows, cleaning the house, not eating from one communal bowl, and practising 'coughing etiquette' have all helped limit the spread of TB.  "People understand now and are taking serious measures to prevent it," Marinho says.
However, the US decision to withdraw funding from Amodefa following the introduction of the Global Gag Rule , could halt the Challenge TB programme just as it is gaining momentum.
"If the programme stops the people will suffer," says Marinho. "For people who live too far from the hospital to receive treatment, this programme saves their lives. Knowing Amodefa has come to eliminate TB, it can't stop. If they stop now the TB will get resistant, so we've got to keep going, we've got to get stronger."