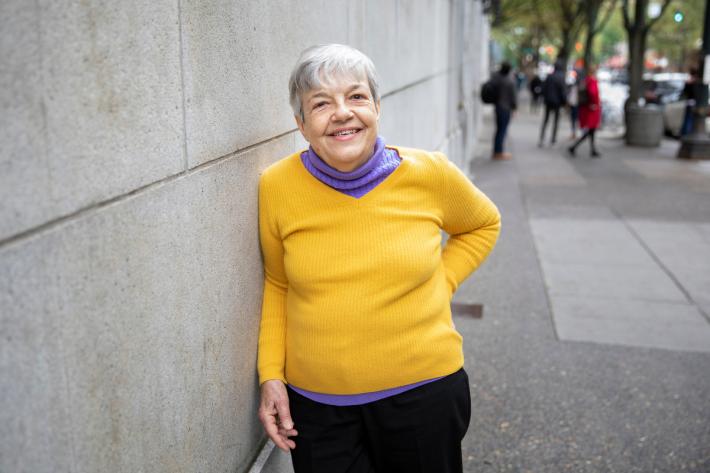 On a recent rainy morning in Portland, USA, Carmen Barroso, aged 75, stood amongst thousands of demonstrators who took to the streets to advocate for climate policies. She held her Planned Parenthood sign which simply read: "March. Vote. Win."
Her pleas at this rally have everything to do with how she believes the environment impacts women's health and in turn the health of children around the world, explaining: "I'm a grandma concerned with my grandkids."
"Women's ability to control their bodies and decide when and how to get pregnant is very important to their resilience to climate change," she said.
Climate crisis & healthcare
Access to food and water – or lack thereof as the globe gets warmer – have real consequences, she argues. The climate crisis threatens not just people's health but also personal wealth. The price of basic necessities can easily soar beyond modest budgets when local resources are scarce.
The issue of resources and access to basic health needs are not dissimilar to the concerns Barroso has been hearing from women across the globe for decades. But in the era of real-time climate change crisis, women's reproductive health and rights are presented with a new hurdle: a transforming environment.
"If we're not poor, we have more opportunities to adapt to a new climate," she said. "People who are concerned with reproductive rights and reproductive health of those left behind should be engaged in the fight against climate change."
This isn't her first exposure to activism. The Brazilian-born Barroso has a storied career that spans decades, garnering prestigious recognition from civil society organizations and from the United Nations.
Fighting for equality from an early age
But her fight for equality began over half a century ago as a high schooler when she marched for fairer treatment of students and better schools for her nations young people. 
"I was striking for better education, better public systems," she said, "and that was part of a broader led movement."
"Brazil was a very unequal country. The public schools were being neglected and the poor kids would go to public schools. Fighting against this injustice is how I started my civic life."
After reading the works of writers such as Simone de Beauvoir, she discovered she had been a feminist since childhood. As a graduate student at Columbia University, Barroso witnessed the growing feminist movement happening across American college campuses. Upon graduating and returning to Brazil, she was inspired to establish the country's first women's studies center within the Carlos Chagas Foundation.
"It was a broad concern with gender equality," she explains about her work in her home country. "And there was this issue of reproductive health. It became my passion."

Changing the global conversation
In 1990 she joined the Chicago-based MacArthur Foundation, leading their Program of Population and Development. Her work focused on shining the global conversation from 'population control' to the idea that women are owed the basic human right of controlling one's own body and reproductive choices. She has also worked for the International Planned Parenthood Federation and Global Doctors for Choice.
One of the most notable global recognitions of her accomplished career was receiving the 2016 United Nations Population Award. The annual award recognizes the outstanding contributions by institutions or individuals to population, reproductive health and solutions.
Before retiring three years ago, Barroso most recently served as the Regional Director of International Planned Parenthood Federation, Western Hemisphere Region where she brought a new emphasis on advocacy, especially for youth rights.
The impact of the Cairo conference
Twenty-five ago, while with the MacArthur Foundation, she was an integral voice at the United Nations Population Fund's International Conference on Population and Development in Cairo, a ground-breaking forum that continues to be a road map for women's reproductive health and reproductive rights.
At the time, women's groups gathering in Cairo were seen by organizers as being potentially disruptive. It took collaboration between foundations and the women's groups to ease fears about women's reproductive health being part of the dialogue in Cairo. The conference brought forward the idea of women's health as a basic human right to the global stage.
"Let's empower women and have them decide how many children they want and act accordingly," said Barroso. Sex, she felt, was no longer something to be whispered about among the global community. Sex was something to be talked about.
"If you look at the laws and the policies of the majority of countries in the world, they have something that is supportive of women's reproductive health," Barroso explains about the continued impact of the Cairo conference. "It made a huge difference, but there are still many laws and policies that need to be changed or better implemented."