Olgah Daphynne Namukuza, a 25-year-old Ugandan Executive Committee member, has never let traditional gender roles hold her back. "When I was younger I was very argumentative", she says. "I used to take part in a lot of debates, I used to participate in school competitions for delivering speeches. I wanted to be a lawyer." Now Olgah is channeling those same skills into advocating for sexual health and reproductive rights for young people in Uganda.
Currently the youth country coordinator for the Sexual Reproductive Health and Rights Alliance in Uganda, she was elected as the IPPF regional representative for the Youth Action Movement in 2016, and has volunteered at Reproductive Health Uganda, a non-governmental organization (NGO) since she was a student.
Challenging gender roles from a young age
Brought up primarily by her mother in a middle-class family in Kampala, she says her mother tried to raise Olgah and her two brothers and two sisters outside of traditional gender roles, asking each to take their turn to cook and do other households chores. But soon, she says, tradition took over.
"The more we grew up, it wasn't up to her [Olgah's mother] anymore, because she would tell the boys to cook and they would just not do it", she says. "They'd be like, "Why should I cook? There's girls in the family"."
In school, traditional gender roles were reinforced, especially when it came to sex education. "It was a fear-based message", she says. "Many of the talks were centered around: you need to abstain in order to not get pregnant and not get HIV, so that you can be successful in life." Olgah says shame and fear were the main tools used by teachers and matrons, but she is thankful for her mother and aunts who taught her to speak openly about sexuality and pregnancy.
Stigma & society
Living in a country where one in four girls give birth before the age of 19, Olgah saw the repercussions of teenage pregnancy early in life, when two of her classmates dropped out aged fifteen because they were pregnant. Aside from the potential health complications, teenage mothers in Uganda face huge social stigma, and often struggle financially, falling into a poverty trap from which it's almost impossible to escape.
"It was very difficult for them. People in school were scared to talk to them", says Olgah. "They seemed like they were these people who had some disease…They were rejected by their families, they were rejected in school...they had literally no support."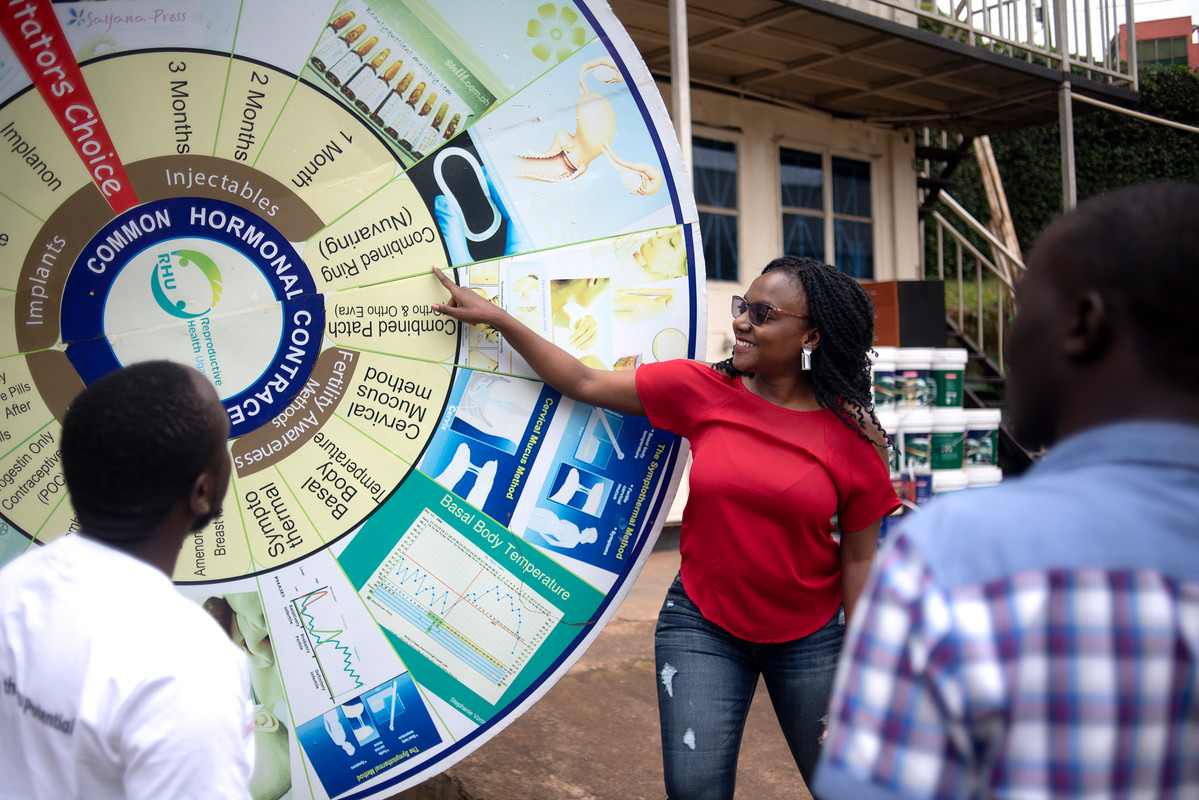 Volunteering at Reproductive Health Uganda
While working towards her degree in Development Studies in Makerere University, Olgah was introduced by a friend to Reproductive Health Uganda, IPPF's Member Association in Uganda. After completing an internship during her university course, she continued to volunteer there after she graduated.
"During my internship, I saw that there were a lot of young people who are employed, a lot of young people who were in positions of power, who were making decisions on behalf of the organisation". She says this innovative approach was inspiring.
"One thing became clear: that it's not about how old you are, it's about what you can do and how you can do it."
Olgah is determined that young people need to lead the way on sexual health and reproductive rights. "The current reality is, young people are very dynamic and the times we are dealing with are very dynamic. You need to involve young people because they understand those issues more. We're at a crossroads between breaking that generational hold of traditionalism and conservativeness and embracing the new reality of the influence of technology."
Throughout her career, Olgah has been using technology to help young people in Uganda access the information they need to empower them. As a volunteer and ICT coordinator with Reproductive Health Uganda, she worked with the organisation on a project which used ICT to improve access and utilization of SRHR information and services.
Investing in youth
She now helps run several programmes, including a club for teenage mothers which offers them a small investment and financial advice, to help them to start their own businesses and escape poverty, and the Get Up Speak Out programme, which aims to change the conversation around sexuality and education, and create a more open dialogue between young people and parents, teachers and service providers.
The programme trains school staff in sex education, and uses music, dance, drama and lively debates to explore love and sex in an open atmosphere, free of the fear and mistrust she experienced in her own school days.
And it's not just women who benefit. Olgah runs programmes for men and boys to access contraception, and says it's crucial for both partners to be comfortable discussing and using them. She is determined that men have to be a part of the change.
"It is very important to bring them on board, to help them understand the issues", she says. "And to help them know that sharing power is not so bad after all - it will actually have greater results for them".
Related Member Association
Reproductive Health Uganda