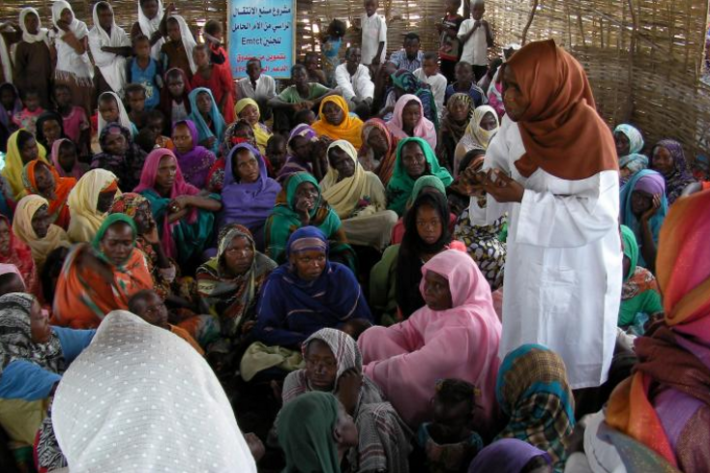 Mention Nyala in South Darfur and red flags go up, alerts of a lawless place, a place of insecurity – a volatile place.
But the less told story of the camps in Nyala - the story behind the headlines - is one of resilience and hope. Of people displaced and hemmed in camps, yet hopeful in a future of peaceful engagement and a return to law and order. When one community leader despairs: "We are living as if we are dead. It's better to die. There's nothing. We can't get anything here" and a young man whose mother is living with HIV says: "In the camp we are the poorest. My mother is sick and my father died a year ago. If I had something to do, I could support my mother in her illness, but now I go to the market and there are very few jobs" - friends extend a supporting hand and help dispel the momentary hopelessness.
Friends who remain when others leave: SFPA and the Japanese Trust Fund
The Sudan Family Planning Association is at the forefront in Nyala, working with internally displaced people, women and young people to enhance lives. With support from the Japanese Trust Fund for HIV and Reproductive Health (JTF), SFPA, a Member Association of IPPF in the Arab World Region, provides integrated sexual and reproductive health services to women living with HIV, together with their children and partners, through VCT, provision of ARVs, as well as health and nutritional information.
The Government of Japan has been supporting IPPF for the last 47 years and remains a leading donor. Through JTF, the partnership has grown from strength to strength, enabling IPPF to be at the forefront of humanitarian intervention. This support has enabled SFPA to become a key player in the Sudan Government's Humanitarian Aid Commission. In 2016, SFPA provided 171 awareness raising SRH and HIV messages for 13746 in Nyala as well as in Gedarif and Maddani.
Partnership: A cornerstone for unmet need
SFPA works proactively with a number of key partners, including with UNICEF on child protection and training; with UNFPA in SRHR awareness raising and advocacy; with the Sudan Aids Network (SAN) in making services accessible and building self-confidence to reduce stigma and discrimination. In collaboration with the State Ministry of health, SFPA leads on service provision and leads on policy advocacy for SRHR. In a meeting with the State Minister of Health, during our visit, SFPA was able to secure institutional commitment, 'guaranteeing support for EMTCT and removing obstacles impacting safe motherhood.'
Through twice weekly mobile clinic visits 768 women have received 2688 integrated HIV and SRH services. At the static clinic, we meet with Hawa, a 55-year-old widowed woman accompanied by son and daughter, Hassan aged 21 and 16-year-old Amina (not their real names). Hawa has been sick for a long time and has recently been diagnosed with HIV. She has come to meet us because she wants to tell her story, but too weak to speak or answer any questions, she gazes into the distance. Her children share their experience of rejection and isolation – in their words, it is the story of 'those who are poorer than all the others'. Her daughter, sobs looking at her mother as she retells the family's story: 'our father died last year and our mother has been poorly. I want to take care of my mother and cannot take a job while she is unwell. I live in silence, I don't go out of the house, nobody speaks to me'.
The family of three is at the clinic today, thanks to SFPA staff, who reached them through their mobile clinic and referred them to the Nyala centre. The family knows without SFPA, they would never have known about the Muslim Zakat charity, which will now support them with food, build their confidence and reduce their sense of isolation. It is through friends like these, that the people in the camp are able to face tomorrow. SFPA is their bridge to accessing services; through SFPA, poor people like Hawa and her family can get health insurance cards. 
Love and hope in adversity
SFPA's partnerships with others in the area has been significantly successful as indicated from all the discussions and meeting we held. The members of SAN, close partners with SFPA who are also peer educators in the camps are, 'happy, we have space to meet and share our experience. There is still stigma and discrimination here, but together we are stronger. Some of us have since married one another. Nobody else will marry us and that is ok. We don't mind what they say about us. We thank SFPA for introducing us to the Muslim Zakat and for providing us with health insurance certificates. Without them it would have been very difficult.'
Marching forward: Voices from Sakali and Otash
In Otash, we meet with men and women camp leaders, they count us as friends. UNAMID (the joint African Union United Nation mission) has been here as in Sakali, while SFPA has provided SRH services, UNICEF has been training in child protection and providing a nutritional package for pregnant mothers and children. The leaders express their gratitude for the services that have often meant the difference between life and death. Many have been living here, for the last 12 years, the camps are the only home known to the children who follow us around. But the leaders come to speak of a key challenge facing them where pregnant women are concerned: "We are grateful for the twice weekly mobile clinic visits. However, where pregnancy complications arise, it is a matter of life and death and this does not wait until the next time the clinic comes round. It is worse when the wadis (seasonal rivers) flood, because the clinic cannot come across to us. Having a static clinic here in the camp would go a long way in helping these women. Furthermore, there are no midwives here (in Sakali). Many of us here, have the capability, if trained as midwives, we can help with delivery and bridge the gap where there is no health provider."
As we leave the camp, foremost on our mind are the two young people we met earlier – Hassan's wish was to have the means to support his mother and his sister. Daily visits to the nearby market in town yield no job: "If I had a donkey, I would be able to do business, help my mother and others in the camp". Reliving his sister's tears and her commitment to caring for her mother, we commit to sharing their story with friends from far and near – to partner with SFPA in empowering this growing community of young people, to attend and remain in school, to gain livelihood opportunities, to bring relief to those forced into adulthood, caring for families. Partners who can provide gender and sexuality education to enable boys and girls to forge happy healthy relationships – free from violence - that enhance them as they march towards Peace.
Step forward friends, stand with SFPA, help build the evidence base for sexual and gender based violence – many of the young people in the camps are orphans, many households are headed by women, we are informed of many cases of child early and forced marriage, many of the pregnant girls we encounter are adolescents – there still remains a lot to be done to prevent violence before it happens and respond once it has been identified. According to one leader in the camp: "These issues can be addressed where there is trust, when the researchers are people we know."
Support is needed to support SFPA and SAN's advocacy to prevent stock-outs and mobilising for early and timely supplies and commodities.
The IPPF Japan Trust Fund has enabled SFPA to make a significant difference to the internally displaced people of Nyala. It continues to demonstrate its friendship with IPPF, by staying behind when others leave and going where others do not dare; supporting women, children and their partners, enabling them to hope once more in a future that will one day bring peace.
Authors:  Samia Adada, Oussama Azri, Nagat Al Hadi and Seri Wendoh